Nitrogen vs. Air in Tires, Which Is Better, Disadvantages

If you came to find out about the differences between nitrogen vs. air in tires, Principle Volvo Cars has you covered. Our master tech (and racecar driver) is ready to take you through all the details of this hot topic so that you can decide if a nitro-fill upgrade is right for you and your vehicle. No matter which gas you choose to use to fill your tires, make sure that your shop's tire & auto service specials come with 100% replacement coverage on select tires, just like we offer. More on that below.
Tires Filled With Nitrogen vs. Air 101
Where does the topic of nitrogen vs. air in tires come from anyway? To better understand any potential benefits of putting air in tires with nitrogen, we need to take a quick look at the evolution of the wheel itself. The modern tire/wheel as we know it is designed to be a more resilient mobility feature against any unforeseen change in a road's surface. If only the early pioneers had a flexible rubber wheel & tire. Fewer of them would have broken down on the side of the trail during westward expansion.
With durability at the top of wheel makers' minds, steel (and sometimes leather) driving surfaces were nailed to the wheel. This helped, but wheels were still pretty rigid. Eventually, wheel-makers affixed solid rubber tires around wood wagon wheels. By the mid-1800s, air-filled tires were introduced on bicycles. By 1895, the "pneumatic tire" found its way onto the first race cars to accommodate the performance & durability needed by heavier vehicles at speed. Air-filled tires are still used today, and filling technology has evolved right along with them. The question is, "Is this new technology worth it?"
N2 VS. O2. Which Filling Gas Is Right for You?
Over the last ten years, we've seen more and more car tires filled with nitrogen. But why? Isn't air air? Yes and no. Nitrogen has always been the filling gas of choice in heavy equipment like earth-moving machinery, airplanes, and the space shuttle. Those extreme use cases caught the attention of race car teams, and now nitrogen is used almost exclusively in race cars. Let's weigh in on the pros and cons of why you might (or might not) want air in tires with nitrogen.
The Benefits Of Nitrogen vs. Air In Tires
Nitrogen is a larger molecule than oxygen. This property allows it to remain inside a tire for longer periods. With tires inflated to & remaining at their target pressure, you can see improvements in fuel economy, steering, handling, comfort, braking, & more.
The Disadvantages Of Nitrogen vs. Air In Tires
Availability is a possible issue here. If you have tires filled with nitrogen vs. air, you might be at a loss when it comes time to air up on a road trip. Nitrogen is more expensive than oxygen, and many shops off the beaten path will be hard-pressed to carry it.
Filling Car Tires Nitrogen vs. Air: A Buyers Guide
In some states, many gas stations are required to let you use the air pump for free when you fill up with fuel. That's not the case with nitrogen (if it's even available). When you have to pay to air up your tires with normal oxygen, you typically use the change in your pocket to make it happen. And those few quarters cover your entire set of wheels & tires. You can expect to pay up to $20/tire with nitrogen.
Nitrogen vs. Air In Tires - Can You Mix & Match?
The short answer is yes. But should you? No. Not if you can help it. Let's face it; if you're on a road trip and need to air up a nitro-filled tire with oxygen, you can do it safely. Contrary to myths floating around out there, mixing them will go unnoticed to you. Over the long haul, however, the oxygen will reduce the effectiveness of the nitrogen almost completely. Oxygen will eventually release water, and water will dissolve nitrogen.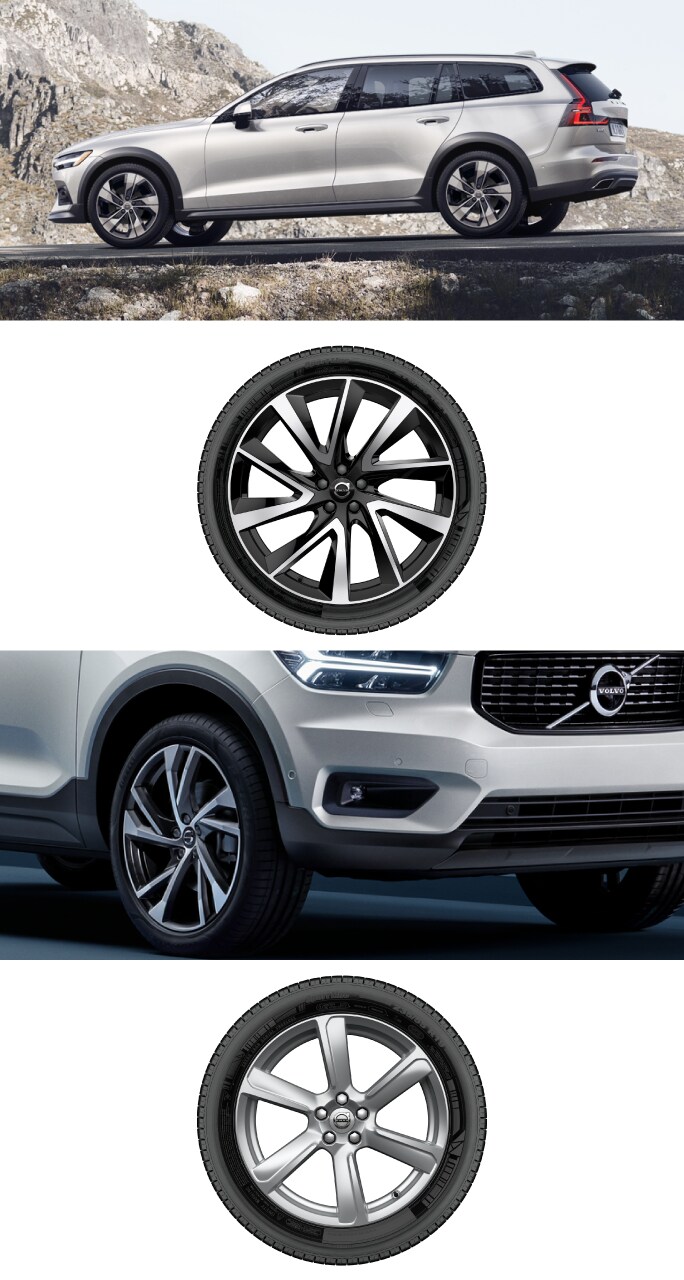 More Nitrogen vs. Air In Tires FAQs
Our Volvo car service center is open early and closes late for your convenience. We've even got generous availability for you on Saturday. Contact one of our knowledgeable service advisors for an appointment or chat more about this topic. Until then, here's a recap of some FAQs that we see a lot of here at our dealership.
Which Is Better Nitrogen or Air In Tires?
That depends on your goals as a driver and why what type of vehicle you drive. If you're the type of driver that's relentlessly in search of premium parts & materials, then nitrogen-filled tires should be on your list. There are clear, measured benefits to using nitrogen. Outside of the cost, pound for pound, nitrogen is the better of these two "ideal gasses."
Can You Fill A Tire With Air When Nitrogen Is In It?
You sure can. These gasses are in the same chemical family, known as "ideal gasses." Filling your tires with both causes no harm other than the reduced effectiveness that nitrogen provides over time.
What Are The Disadvantages Of Nitrogen Filled Tires?
There are no downsides to filling your tires with nitrogen vs. oxygen. The only thing to consider is the relative availability of nitro-filling stations across the country. Gas stations and shops do not regularly carry nitro-fill tanks, so for the purists out there, mixing gasses when you air up might be inevitable.
A Recap of Nitrogen vs. Air in Tires
The goal of filling a tire with gas is performance, comfort, and product resilience. Both gasses (nitrogen and oxygen) will get the job done on almost equal footing, with nitrogen being the better of the two. If you take your vehicles to the extreme or are at least curious enough to try it out for yourself, why not give it a shot? Use our car parts coupons the next time you shop for eligible tires including complimentary road hazard coverage. Make sure to tell your friends in parts that the team at the shop sent 'ya!
---
Contact Us
* Indicates a required field
Discover All Of Our Volvo Services In San Antonio, TX: