2023 Volvo XC90 Recharge SUVs For Sale In San Antonio, TX

Expand or Narrow Your Volvo Inventory Search Using These Convenient Quick Links:
2023 Volvo XC90 Recharge: What's New?
The 2023 Volvo lineup comes complete with a redesign of the new Volvo XC90 Recharge for sale, a hybrid SUV with plug-in convenience, the ability to seat either six or seven passengers, a sleek exterior, and a sophisticated interior full of convenient features for every adventure. The 2023 Volvo XC90 Recharge has seen a change in trim level offerings, design, interior, exterior, and comfort. Read our Volvo XC90 Recharge review to see what the exciting 2023 iteration brings to the plug-in-hybrid table.
We're convinced you'll be eager to get behind the wheel of this innovative SUV at Principle Volvo Cars San Antonio. Schedule a test drive and inquire about our Volvo XC90 Recharge specials in San Antonio, TX, to help you save money while experiencing the sophisticated style and intricate design of this luxury three-row SUV.
Design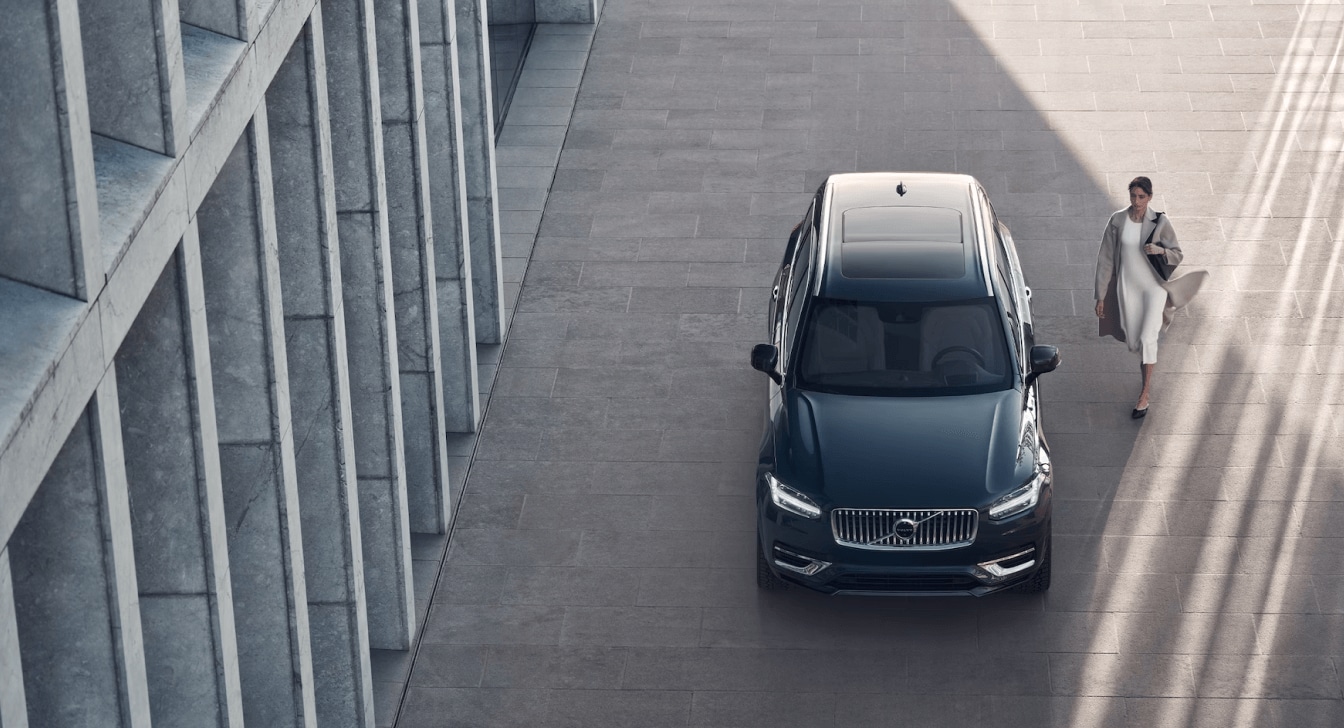 Exterior
The 2023 aesthetic sees some exterior improvements that bring the iconic Scandinavian style to a new level. The grill remains sophisticated, and the tapering of the headlights gives a fresh iteration and elegant flourish toward the sides, offering an alluring visual appeal.
You may notice different wheel sizes and styles, including spoke design. For example, the Core trim offers you a choice between the 20-inch 5-Multi Spoke Black Diamond Cut, 21-inch 8-Multi Spoke Black Diamond Cut Alloy, and 21-inch 8-Spoke Black Diamond Cut Alloy wheels. Visit our dealership for an in-person look at the wheel designs on the 2023 model and take it out for a test drive.
Interior
The 2023 model year of the Volvo XC90 Recharge introduces an upholstery upgrade: a newly refined Tailored Wool blend, sourced from partially recycled material, meaning drivers can rest assured they remain environmentally conscious. Like previous models of the Volvo XC90 Recharge, this SUV comes with the option for six or seven seats, making it an ideal choice for a growing family.
Enjoy alluring Scandinavian design with a combination of wood, wool, and crystal accents that form an air of sophistication in the new Volvo XC90 Recharge for sale. Along with these visually appealing interior comforts, you'll get access to an advanced air purification system that can reduce your risk of harmful air particles and keep you and your family safe.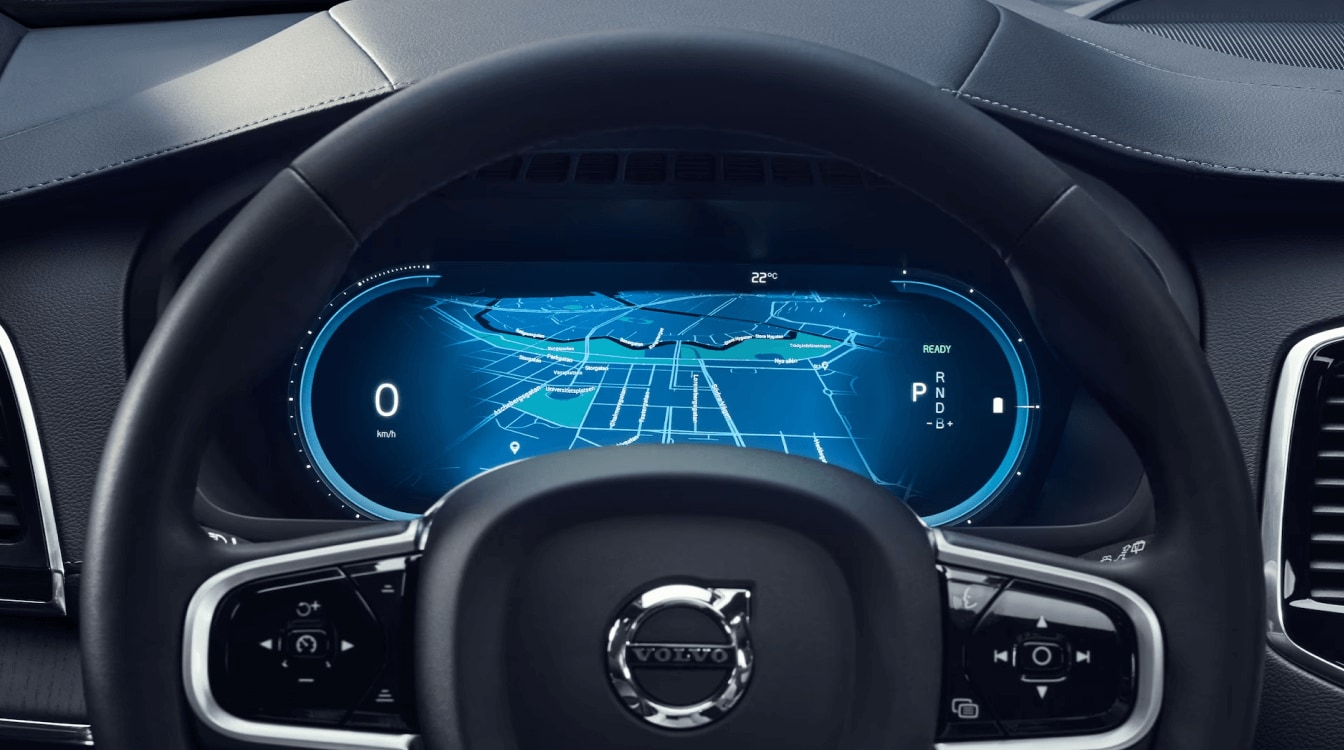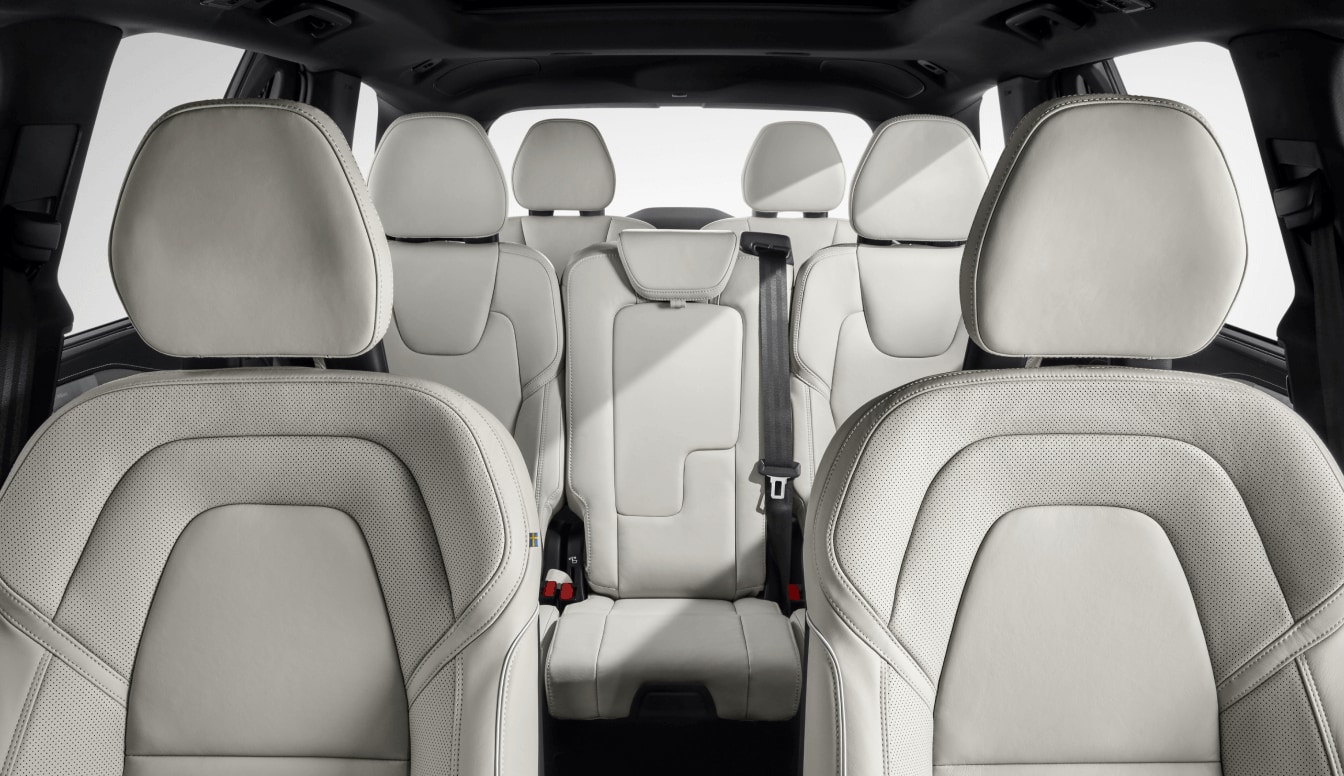 Comfort Features
Along with adjustments for partially recycled wool upholstery and enhanced six- or seven-seating options, the Volvo XC90 Recharge has seen some improvement in comfort features for the 2023 model year. For example, enjoy an available elite Harman Kardon® experience with a high-end 19-speaker sound system (standard in the Ultimate trim), including a fresh-air subwoofer to help you listen to everything you put on with pristine fidelity.
You'll find supreme comfort inside as well, such as heated and/or ventilated seating. You can also experience a more calm and ambient environment inside a revamped cabin with sleek accents and insulation. You'll still have all the iconic features you love, including the panoramic moonroof this flagship Volvo SUV is famous for.
Accessories
Volvo Cars is known for making premium accessories available on their vehicles, and the Volvo XC90 Recharge is no exception. From ergonomic comfort features like headrest pillows and neck cushions to Ventilation Interior software that airs out the vehicle before you step inside, you can customize your SUV just the way you want. You can even add mudflaps for rainy days and the occasional adventure.
Technology
The Volvo XC90 Recharge is outfitted with the most up-to-date technology offerings, making it a modern and sophisticated SUV with all the LCD screens, instrument cluster displays, and entertainment options you need to make every trip a road-worthy adventure.
Media and Touch-Screen Displays
The Volvo XC90 Recharge includes two screens to streamline the driving experience. Enjoy a 12-inch instrument gauge and a 9-inch infotainment touch-screen display to help you easily pull up maps, enjoy music, or put on your favorite podcast. With built-in Google™ services and the available 19-speaker Harman Kardon® sound system, you won't have to worry about a boring, dull drive inside the sophisticated Volvo XC90 Recharge interior.
The instrument gauge will help you keep an eye on all the data you need, like the amount of gas in your tank, battery power, and your current speed. Additionally, this gauge will be the method by which you're made aware of any scheduled maintenance or low fuel warnings. On the highest trim level, you can enjoy a Graphical Head-Up Display that will make navigation simple and prevent the need for you to turn your attention away from the windshield and the direction of the road.
Features
Among the best technology features in the Volvo XC90 Recharge interior is the cleaner cabin air you'll experience from the state-of-the-art air quality system. Prevent up to 95% of hazardous PM 2.5 particles from contaminating your breathing space when you drive the Volvo XC90 Recharge – no matter what the weather conditions outside look like.
Volvo design also incorporates an innovative active chassis with air suspension to provide a smooth, confident ride with optimal energy efficiency. When the going gets a little tough, you can activate Off Road mode, too.
Apps
Inside the Volvo XC90 Recharge, you'll find Google built-in™, meaning access to essentials that make driving seamless and simple. Jumping behind the wheel of the 2023 Volvo XC90 Recharge will give you access to Google Maps™, a vital component of navigation that will make getting to any destination simple. This app will work flawlessly with your phone and help you find quick routes, toll-free options, and more with just a few taps.
Enjoy access to Google Play™ to help you download compatible apps that make driving convenient and fun, like podcasting, music, and audiobook apps. In addition, Google Assistant™ is also built-in and allows you to use voice activation to set up music, podcasts, and audio entertainment without worrying about pulling over to fuss with the touch screen. Simply address the assistant by saying, "Hey, Google," and let it take care of the rest.
In addition, enjoy Apple CarPlay® and Android Auto™ capability on every commute for increased convenience for all your entertainment needs.
Performance
The Volvo XC90 Recharge offers hair-raising performance with adrenaline-pumping specs that will make you eager to get behind the wheel. Test-drive your favorite trim today at Principle Volvo Cars San Antonio to explore the Volvo XC90 Recharge specs that make this SUV a top contender in its class.
Many of the design components in the 2023 Volvo XC90 Recharge remain similar to its 2022 iteration, but the powertrain has been improved. With a larger battery than the previous model year, the Volvo XC90 Recharge can go farther on electric-only range than its predecessors – 35 miles2 – making this plug-in hybrid a stellar choice for those who value gas savings.
The 2023 Volvo XC90 Recharge redesign comes complete with more power, upping the total horsepower output to 455 and offering 523 pound-feet of torque, which will have other drivers on the road wondering how you're able to move so nimbly in a three-row SUV. You'll also notice some familiar yet impressive features, like the 5,000-pound towing capacity when properly equipped.
| | 2023 Volvo XC90 Recharge Core | 2023 Volvo XC90 Recharge Plus | 2023 Volvo XC90 Recharge Ultimate |
| --- | --- | --- | --- |
| Horsepower | 455 | 455 | 455 |
| Torque | 523 lb-ft | 523 lb-ft | 523 lb-ft |
| Transmission | Automatic | Automatic | Automatic |
| Fuel Economy Combined | 58 MPGe1 | 58 MPGe1 | 58 MPGe1 |
| Fuel Type | Electric / Gasoline | Electric / Gasoline | Electric / Gasoline |
| Storage/Cargo Capacity | 85.7 cu. ft. | 85.7 cu. ft. | 85.7 cu. ft. |
| Drivetrain | AWD | AWD | AWD |
| Seats | Up to 7 | Up to 7 | Up to 7 |
| Dimensions H/L/W | 69.9 in / 195 in / 84.3 in | 69.9 in / 195 in / 84.3 in | 69.9 in / 195 in / 84.3 in |
Volvo XC90 Trims
The Volvo XC90 Recharge offers three stellar trims with varying convenience and comfort levels. Inside each, safety features and sophisticated modern technology will make you eager for your morning commute.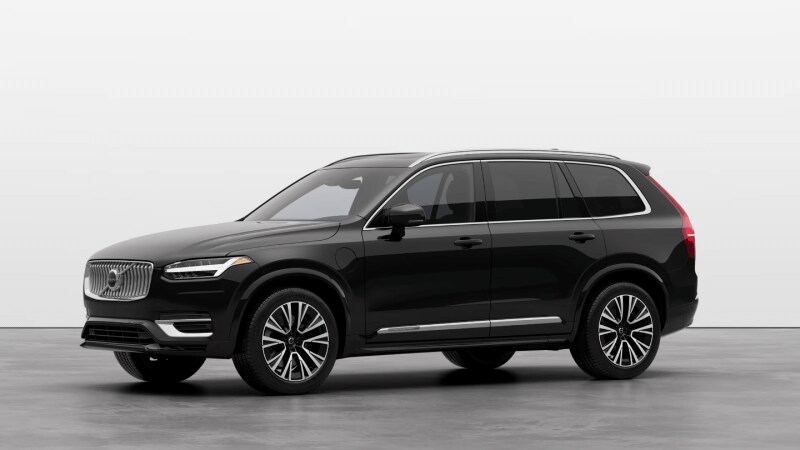 Core
---
Jump inside the base trim, Core, for a set of sophisticated standard features. Inside, you can use a standard panoramic sunroof, built-in Google Assistant™, and Pilot Assist to make navigation and comfort easier. Standard four-zone climate control will ensure passenger comfort, and phone connectivity will make listening to podcasts and music a routine part of your drive.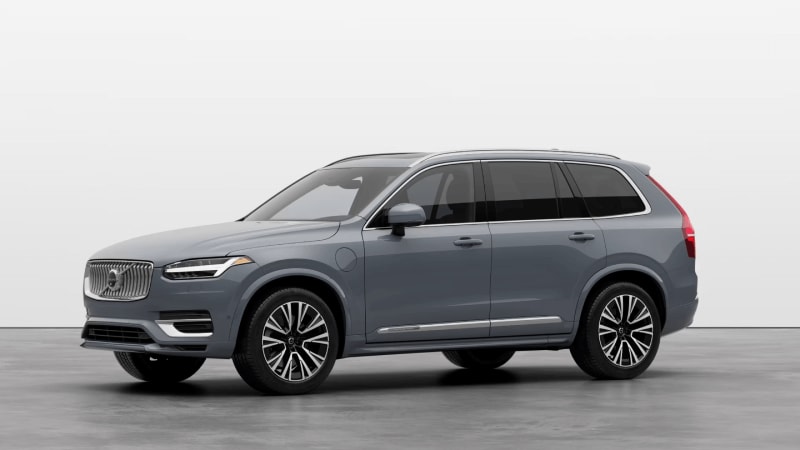 Plus
---
This middle-tier trim comes standard with a 360-degree camera view, high-level interior illumination for easier entry and exit, and headlamp cleaners to increase the longevity of your headlights. You'll also find a 12-inch instrument panel, a 9-inch touch-screen infotainment display, and more.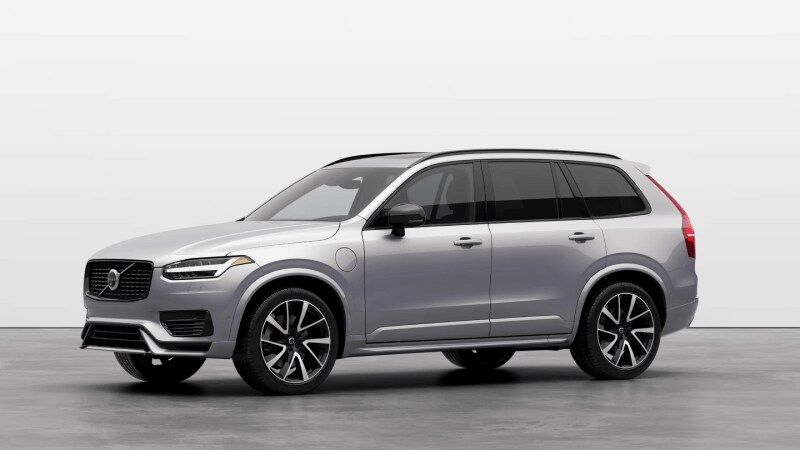 Ultimate
---
The highest trim level in the Volvo XC90 Recharge lineup includes a premium Harman Kardon® sound system, front seat ventilation that can combat the summer heat, and an attractive Graphical Head-Up Display. Jump inside for available Nappa leather seating, an air-ventilated subwoofer, rear-door sun curtains, and more.
Colors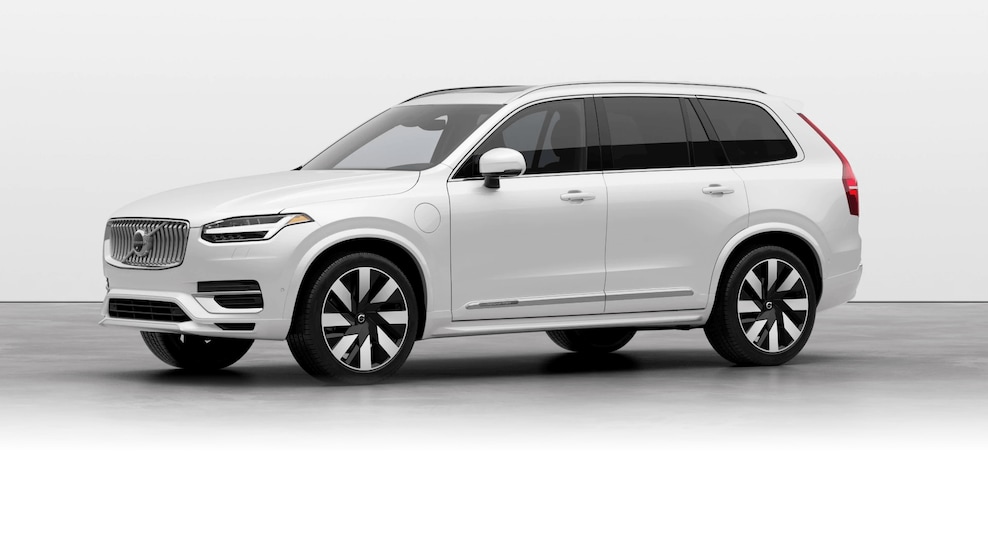 Crystal White
Crystal White
Safety
Our Volvo XC90 Recharge review wouldn't be complete without a mention of the Volvo XC90 Recharge reliability and safety features you can find inside. This SUV is a road-worthy champion with excellent features that will keep you at ease from the moment you pull out of the driveway until the moment you return.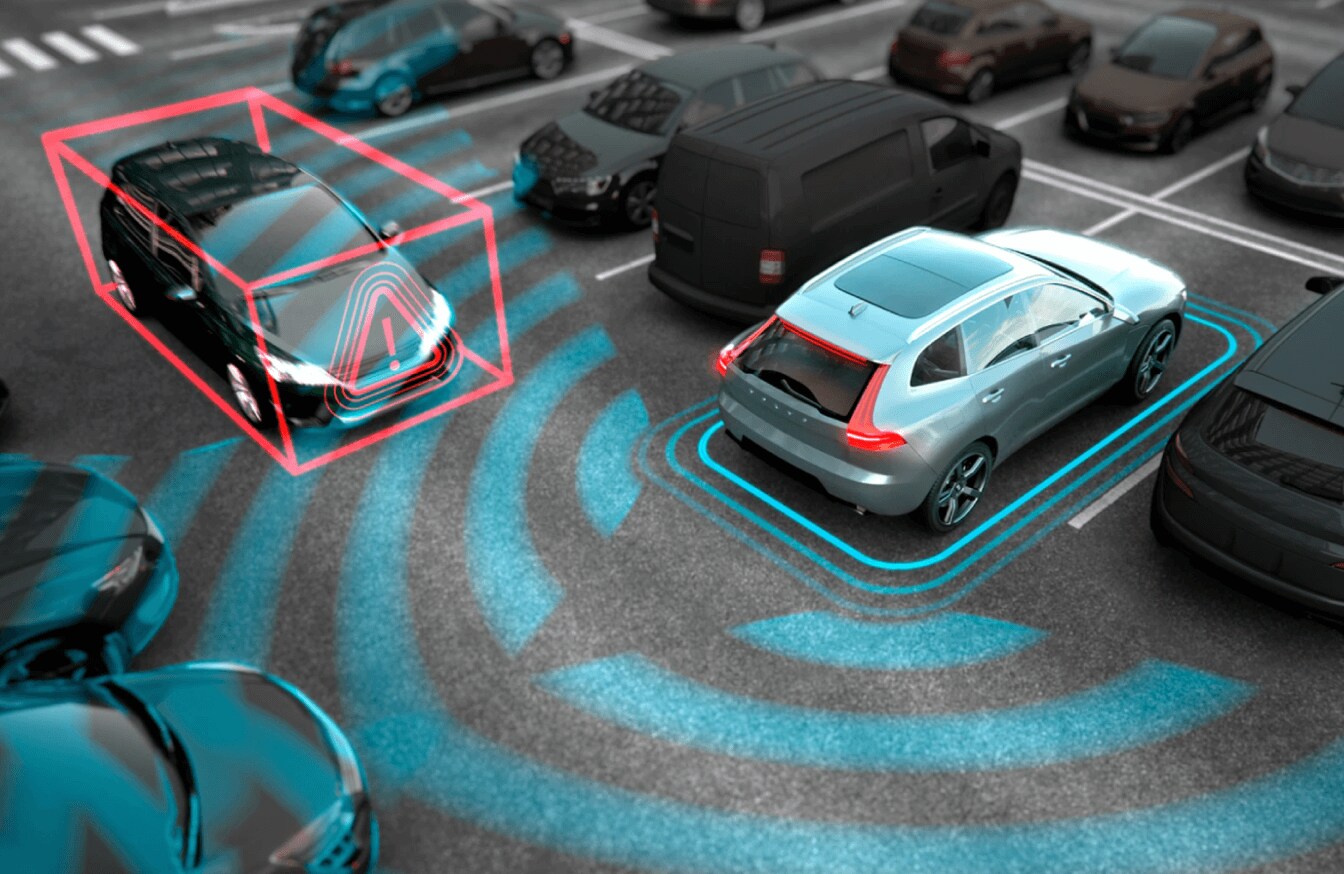 Reliability
The Volvo XC90 Recharge is sure to impress with its suite of stunning safety features and nimble yet spacious frame. You can rely on this SUV to go the distance, especially since Volvo Cars is dedicated to safety and conducts comprehensive testing to ensure durability.
The Volvo Crane test is only one part of how Volvo Cars spearheads the quest for reliability, safety, and efficiency. The Volvo Crane test lifts a brand-new Volvo car 100 feet into the air and drops it to see which areas of the vehicle need additional reinforcement and help first responders understand better how to get inside a damaged Volvo vehicle for retrieval and rescue.
Rest assured that the new Volvo XC90 Recharge for sale has been put through the ringer time and again to ensure you and your passengers are as safe as possible on the road.
Safety Features
Choosing the Volvo XC90 Recharge will land you with a whiplash injury protection system, a knee airbag for the driver's seat, and an inflatable curtain. You can rely on this SUV for sophisticated features to keep you safe, including advanced driver assistance technology that will keep you from drifting into other lanes and prevent collisions. Enjoy blind-spot monitoring, four cameras that offer a 360-degree view of your vehicle, and cross-traffic alert with auto brake.
The new Volvo XC90 Recharge for sale also includes an oncoming traffic alert to help make turning on the road safer. Additionally, rest assured that the side-impact protection system will work to disperse the damage of a side collision to other areas of the body's steel frame instead of impacting the passengers inside the vehicle.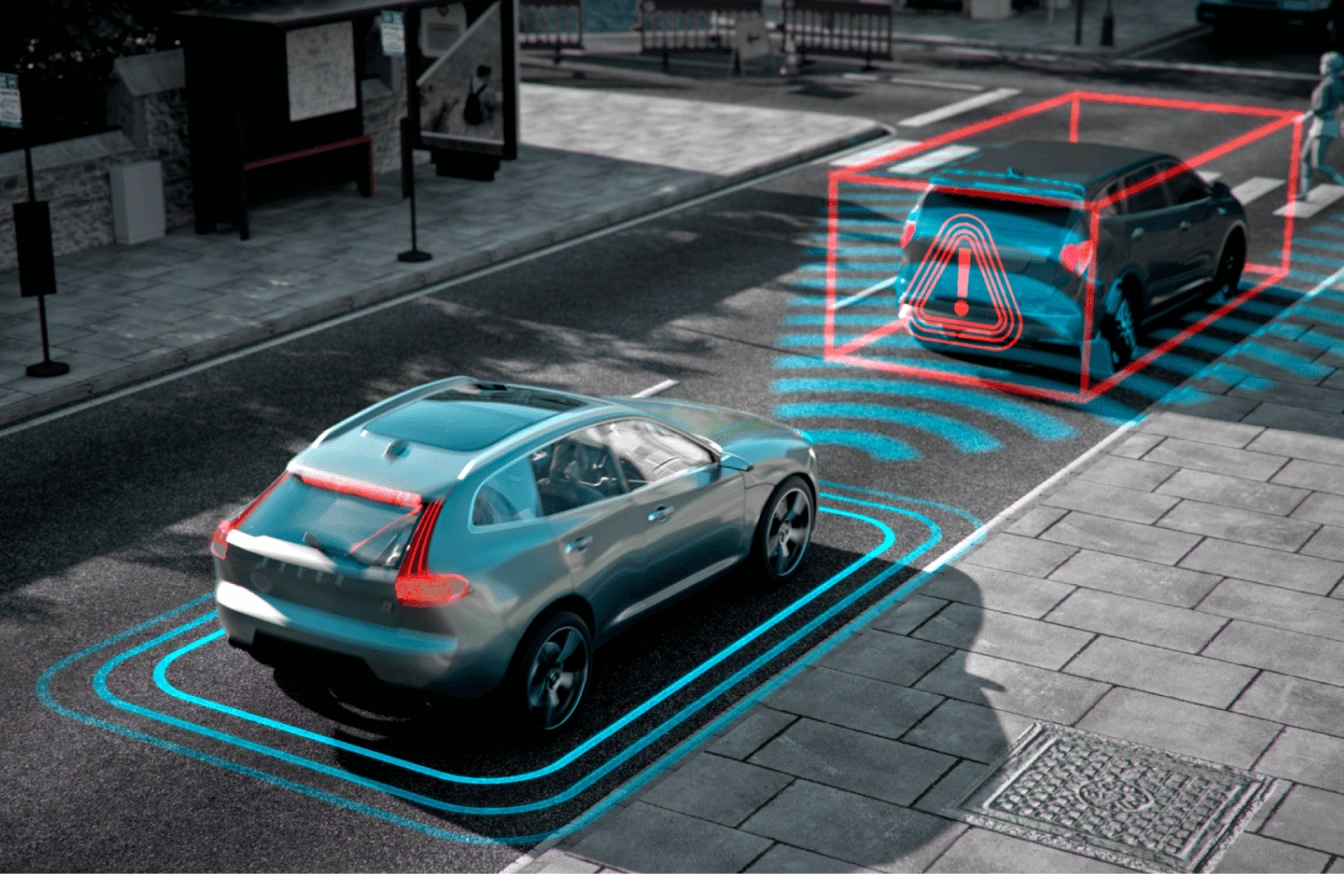 Warranty
All new vehicles come with warranty coverage from the manufacturer, and the new Volvo XC90 Recharge is no different. Let's dive into what you can expect when you purchase your new Volvo XC90 Recharge, including maintenance programs and more.
Warranty
Purchasing the new Volvo XC90 Recharge for sale will land you a 36-month/60,000-mile warranty3 that covers any faulty components or repairs. Starting at the vehicle registration date, you can take advantage of these services and remain secure in your ability to remain road-ready. This warranty is transferable to a new owner upon selling the vehicle, making it a good investment for yourself.
Volvo Cars also offers warranty coverage for the exterior paint and an eight-year/90,000-mile warranty4 for the lithium-ion battery pack, which will be helpful for any defects or needed repairs on the battery that occur over time. Be sure to keep in mind the rust perforation and bodywork portions of your warranty, which will help you keep your car looking clean and new for up to 12 years after registration3 of your 2023 Volvo XC90 Recharge.
Maintenance Program
When you purchase a new Volvo model, you can access their Complimentary Factory Scheduled Maintenance Program.5 This maintenance program offers care for your new Volvo XC90 Recharge and will help address any issues, repairs, and maintenance you may need – all at the hands of seasoned professionals.
Simply book your appointment and visit a team of specialists who know your Volvo XC90 Recharge inside and out without fuss and worry over repairs or routine maintenance. See your warranty coverage or our team of specialists at Principle Volvo Cars for more details.
Competition
Time and again, the Volvo XC90 Recharge beats out the competition when compared. For example, compare the Volvo XC90 Recharge vs. Tesla Model X to see how the Volvo XC90 Recharge wins the battle in price, cargo space, seating, and more.
Read on to learn how the competitors in the matchup against the Volvo XC90 Recharge always fall short, with this plug-in-hybrid Volvo SUV winning the capability crown.
BMW X5
The BMW X5 may offer similar features for a comparable price as the 2023 Volvo XC90 Recharge, but you'll likely struggle to get the same level of modern features without shelling out big. The BMW X5 is a luxury SUV that offers a lower base price for its initial trim level but forgoes the standard 455 horsepower the Volvo XC90 Recharge offers. Instead, the BMW X5 caps out at 375 horsepower.
Additionally, the BMW X5 has an overwhelming level of packages and additions that can easily make your dream vehicle cost much more than the Volvo XC90 Recharge without some of the best features. Our Volvo XC90 Recharge keeps things straightforward and easy to understand while offering the same standard features.
Mercedes-Benz GLS
The Mercedes-Benz GLS is a luxury SUV that can seat up to six passengers, making it slightly less valuable than the Volvo XC90 Recharge, which can seat up to seven. You'll also note the Mercedes-Benz GLS sells for a much steeper price than the 2023 Volvo XC90 Recharge while including some of the same features as the Volvo SUV.
For example, both models have an advanced air purifier system, impressive towing capacity, and horsepower that exceeds 400. However, the 2023 Volvo XC90 Recharge simply gives you more bang for your buck.
Audi Q7
The Audi Q7 is one of the top competitors that gets matched up against the Volvo XC90 Recharge. With a similar seven-passenger setup and the ability to go from zero to 60 in less than six seconds in a turbocharged V-6 model, this vehicle may be one of the most similar contenders to the Volvo XC90 Recharge. However, we still see the 2023 Volvo XC90 Recharge winning out in other categories, such as the battle for cargo space, offering a maximum of 85.7 cubic feet, while the Audi Q7 only offers 69.6 cubic feet.
More importantly, the Audi Q7 only offers 335 horsepower and 369 pound-feet of torque, while the Volvo XC90 Recharge can net you 455 horsepower and 523 pound-feet of torque.
Frequently Asked Questions
What is the fuel efficiency of the Volvo XC90 Recharge?
Jump inside the Volvo XC90 Recharge to take advantage of an EPA-estimated 58 MPGe1 combination of gas- and electric-powered driving. This plug-in hybrid SUV will offer you ample time between fill-ups and allow you to take advantage of electric power to reduce the cost of gas. You can expect the Volvo XC90 Recharge to go 35 miles in the all-electric Pure mode.2
How long does it take to charge the Volvo XC90 Recharge?
The amount of time it takes to charge your Volvo XC90 Recharge will differ depending on the type of charger you use. On a 240-volt 16A charger, you can expect your Volvo XC90 Recharge battery to go from 0% to 100% in about five hours. The Volvo XC90 Recharge comes outfitted with an AC inlet port for easier charging and includes a 3.6-kW onboard Type 2 charger for convenience.
What is the drivetrain of the Volvo XC90 Recharge?
The Volvo XC90 Recharge operates on a T8 eAWD drivetrain with an automatic transmission and a four-cylinder turbocharged engine with e-boost. This combination offers 455 horsepower and 523 pound-feet of torque, an impressive array of specs that make up an SUV that's far beyond competent. Tow 5,000 pounds when properly equipped, allowing you to bring along small watercraft or ATVs with little fuss.
What safety features does the Volvo XC90 Recharge have?
The Volvo XC90 Recharge offers many safety features to keep you and your family as safe as possible, including blind-spot monitoring, lane assist, and drift-correcting technology. Behind the wheel of this SUV, you can rely on intelligent safety assistance to help prevent collisions, bumps, dents, and accidents. Enjoy an available 360-degree camera view and oncoming traffic alerts.
What is the cargo capacity of the Volvo XC90 Recharge?
You can on the Volvo XC90 Recharge to offer you and your passengers ample cargo space with 65.5 cubic feet with the rear seats up. Folding the rear seats down can increase your maximum cargo capacity to a whopping 85.7 cubic feet, meaning transporting equipment, gear, and luggage won't be a problem for you and your growing family.
Explore Our Other Volvo Models
---
---
1This is a hybrid plug in vehicle. Since electricity is not measured in gallons, a conversion factor is used to translate the fuel economy into miles per gallon of gasoline equivalent (MPGe). Use for comparison purposes only. Your MPGe will vary for many reasons, including but not limited to, driving conditions, how and where you drive, how you maintain your vehicle battery-package/condition, and other factors. For more information, including information on MPGe, see www.fueleconomy.gov.
2Estimated range according to the EPA driving cycles. The actual range achieved under real conditions varies depending on driving behavior, driving conditions, how you maintain your vehicle, battery and other external factors. Visit fueleconomy.gov for further information.
3Applies to vehicles from the date they are first registered after factory completion, regardless of any subsequent registrations if the vehicle is exported.
4The Lithium battery fitted to Volvo hybrids, like all lithium batteries, will experience gradual capacity loss with time and use. Loss of battery capacity due to or resulting from normal gradual capacity loss is not covered under the Volvo new car warranty.
5Volvo Cars recommends that you bring your vehicle in for service at least once a year regardless of mileage. In such cases Volvo Cars will cover the recommended services at 1 per year for the first 3 years.
Customers With DisabilitiesWebsite Accessibility:At Principle Auto, we take website accessibility seriously. If for some reason you are having trouble with our website, we are available during normal working hours to assist at (210) 824-3214Adaptive Driving Devices:Principle Auto is committed to providing Adaptive Driving Devices for our customers with disabilities who wish to test drive a car. Principle Auto will use good faith efforts to satisfy requests for particular vehicles to test drive, as soon as reasonably practical, but we will require advance notice for such vehicles depending on the type of vehicle requested and the location. The foregoing timeframes and availability are subject to delays beyond Principle Auto's reasonable control.For customer service inquiries relating to customers with disabilities, please call the main number for the dealership.