2023 Volvo XC40 SUVs For Sale In San Antonio, TX

Expand or Narrow Your Volvo Inventory Search Using These Convenient Quick Links:
Overview of the 2023 Volvo XC40
Like other Volvo vehicles, the new Volvo XC40 for sale is safe and high performing. It now features standard mild-hybrid technology to help you get enhanced fuel economy without the need for external charging, though an all-electric version of this SUV is available. This luxury vehicle brings sophistication to the streets with its stunning design and doesn't neglect your comfort or convenience needs. Learn more about it with our Volvo XC40 review.
What's New in the 2023 Volvo XC40?
The 2023 Volvo XC40 introduces several changes to its lineup. Instead of the T4 and T5 engine options, the 2023 model brings in the B4 and B5 mild-hybrid powertrains. Both of these options store energy captured using regenerative braking technology into a battery to increase your fuel efficiency. The B4 delivers 194 horsepower and 221 pound-feet of torque and is paired to a front-wheel drive system. By contrast, the B5 generates up to 247 horsepower and 258 pound-feet of torque. It can help you go from 0 to 60 mph in just over six seconds. It comes automatically with all-wheel drive for increased traction on slick roads.
Its trim levels are now known as the Core, Plus, and Ultimate, replacing the Momentum, Inscription, and R-Design options of the previous year. Some updates to the exterior design freshen up the 2023 Volvo XC40 with new headlights, an updated bumper and grille, and new wheel designs.
Volvo XC40 Interior and Exterior Designs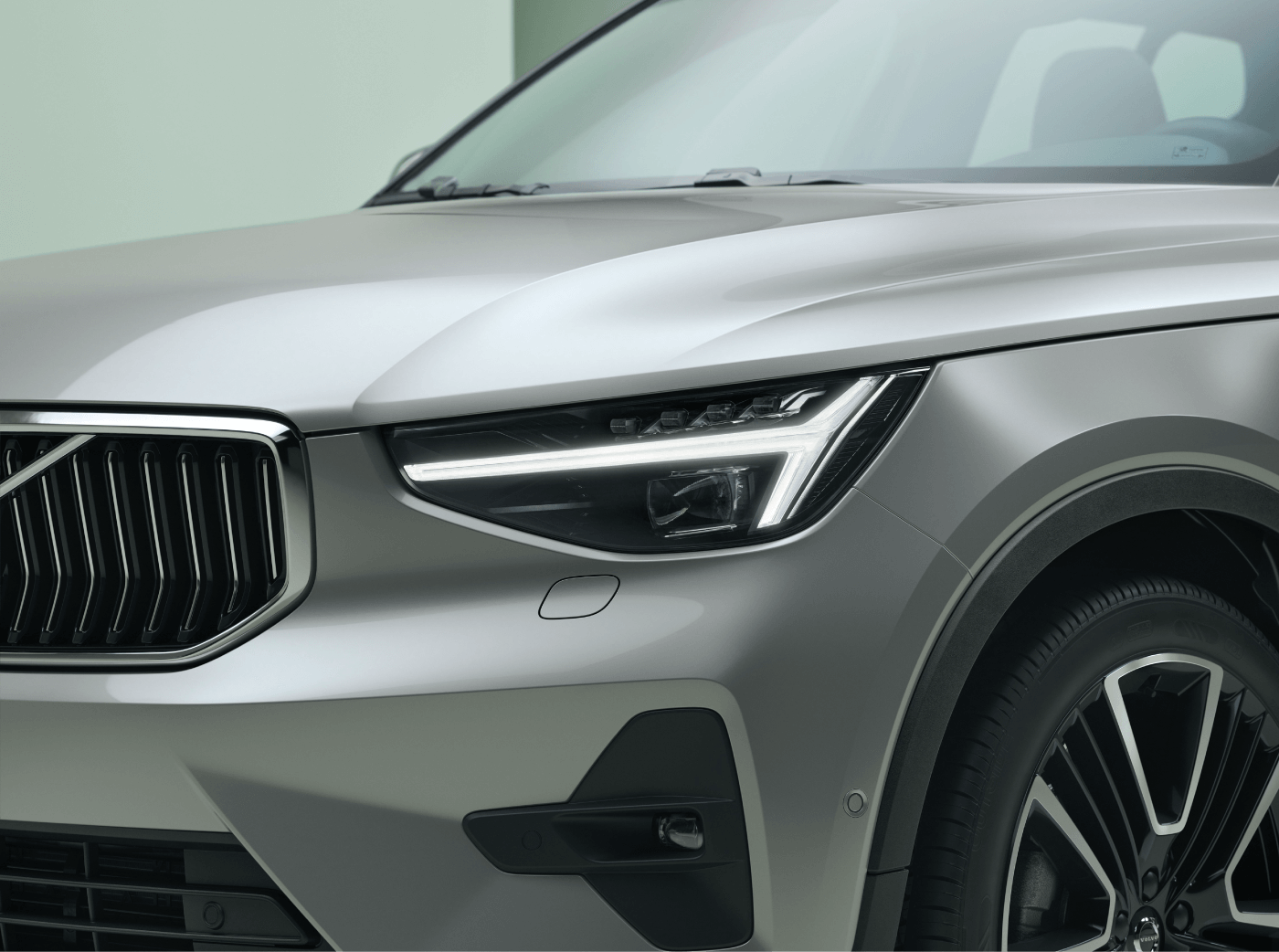 Exterior Design
The new Volvo XC40 for sale has a look that is all about luxury. Sleek curves get a bit of edge on the exterior of this stylish SUV. Choose from nine color options, such as Onyx Black, Thunder Grey, and the new Silver Dawn. Prepare the new Volvo XC40 for the road ahead by installing a retractable trailer hitch to the rear.
Catch everyone's attention with the black insert and chrome frame front grille and the color-coordinated door mirror covers on a Core model or the high-gloss black and glossy chrome grille on a Plus model. The Plus trim also offers a laminated panoramic moonroof with a power sunshade, so you can let mood-boosting natural light into your cabin while on the road. Standard 18-inch 5-double spoke wheels lift up the Volvo XC40; on Ultimate models, you can get 19-inch 5-Y spoke wheels. Glossy black roof rails and tinted windows add further points of interest. Drive confidently in this stunning new SUV.
Interior Design
Sink into luxury comfort in the Volvo XC40 interior. Up to five passengers can enjoy the ride with 40.9 inches of legroom in the front and 36.1 inches of legroom in the back. You can bring a decent amount of cargo, too, with up to 16 cubic feet of space when all the seats are in use. Lay the rear seats flat and pack in even more of your belongings with up to 57.5 of cargo room. Smart storage solutions let you make a home for the little things in the cabin, too.
The interior also highlights even more of this vehicle's commitment to providing a luxurious feeling everywhere. The Core model has premium textile upholstery, a tailored sport steering wheel, and a sculpted gear selector. The Plus tier offers added benefits like interior high-level illumination and Driftwood decor to add natural elegance. The new Volvo XC40 for sale has a look you can't turn away from so easily.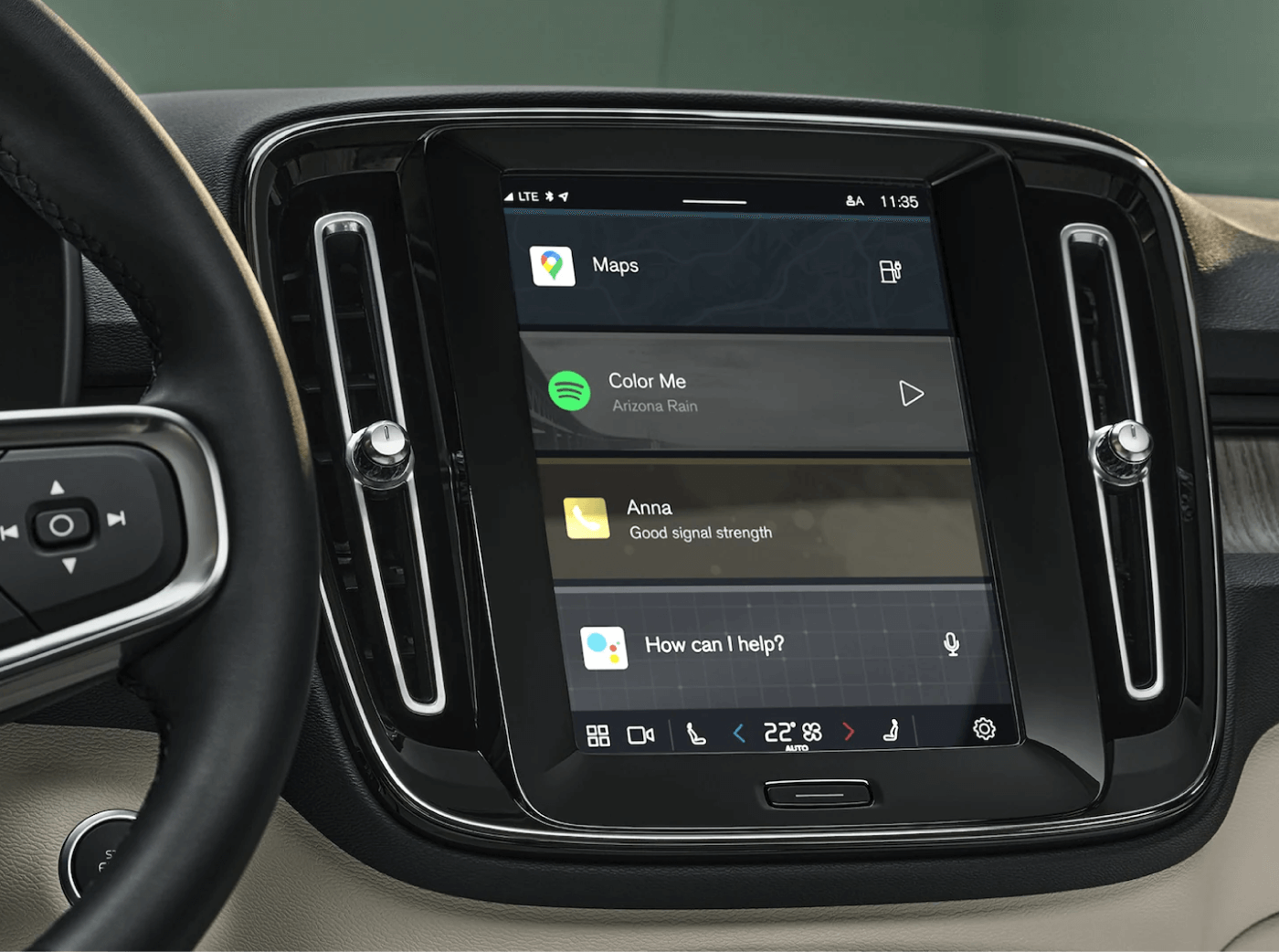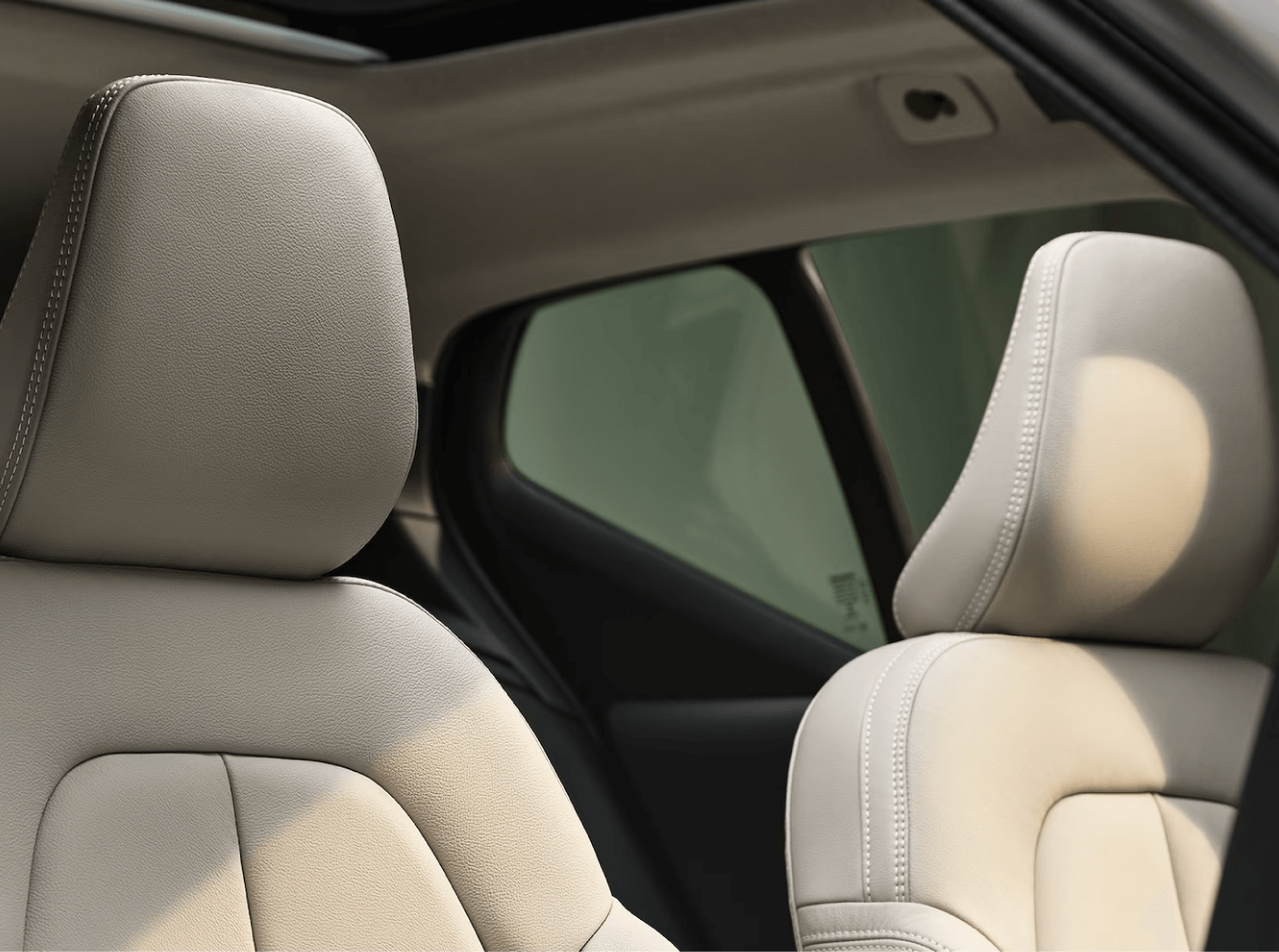 Comfort Features
Everyday comfort meets top-of-the-line features in the 2023 Volvo XC40. This vehicle comes standard with heated front seats that have a Scandinavian, ergonomic design. The power driver seat with a built-in memory system tailors your seating position to your preferences after letting someone else borrow the SUV. Passengers can fully adjust their seats, too. Power four-way lumbar support will help your back feel good even on long trips. Meanwhile, a two-zone climate system means that those in the front can set their temperature to something different than those in the back to make sure everyone is comfortably cool or toasty warm.
For added comfort, you can also outfit your vehicle with the Climate package, which gives you heated rear seats for the kids and a heated steering wheel to ease the ache in tired hands.
Accessories
Several accessories are available to take your experience inside the new Volvo XC40 to the next level. Add neck cushions to this vehicle's interior for added support. Add an eyeglass holder to the cabin and conveniently store your favorite pair of sunglasses or hide other small objects in the tucked-away compartment. An illuminated tailgate scuff plate shows you where to load your luggage when you're in a place with low lighting. Protect the floors in the cabin with stylish textile floor mats. Organize your cargo area with nets and storage containers. You can also outfit your vehicle with racks for transporting bikes or other sporting gear to give you even more possibilities on your weekend getaways. The 2023 Volvo XC40 is a versatile SUV that you can adjust in many ways to make it even more compatible with your life on the road.
Technology in the 2023 Volvo XC40
Media and Touch Screens
The new Volvo XC40 for sale has plenty of great connectivity and media features. Each new Volvo XC40 model is equipped with a 9-inch touch-screen center display for easy access to your apps. Easily utilize navigation tools or listen to your music playlists. Apple CarPlay® and Bluetooth® connectivity are standard. The touch screen is even customizable, letting you move around the buttons you need to put what you use most first. Other features, such as park assist and in-car apps, are laid out on the bottom of the display for your convenience.
The center touch screen isn't the only high-tech display in the new Volvo XC40 for sale. A 12-inch digital information cluster is right behind the steering wheel, putting your vehicle information only a glance away. Choose from Calm or Navi display options, according to your preference.
Exciting Built-In Features
Displays and touch screens are great, but there are even more amazing features built into the new Volvo XC40, too. Listen to your favorite track with the high-performance audio system in Core and Plus models or the Harman Kardon® 12-speaker premium system in the Ultimate trim, which also comes with a subwoofer.
Enjoy clean cabin air with the advanced air purifier system. This system prevents up to 80% of hazardous PM 2.5 particles and other pollutants from invading your cabin for healthier breathing. You can also intuitively control your vehicle functions right from your steering wheel with its built-in remote functions. Answer phone calls, hear your messages, and access the navigation menu – all with just a push of your thumb. A power liftgate makes loading and unloading easier. Convenience is what these Volvo XC40 features are all about.
Connected Apps
Use the Volvo Cars app, and always have your vehicle information on hand. This app supports you in several ways by letting you control the climate inside your Volvo XC40, remotely lock or unlock doors, and easily schedule your next service appointment. If you need more information or help with your Volvo model, you can access your vehicle manual and more right from the app.
You can also easily access Google Assistant™, Google Play, and Google Maps. Google Assistant™ lets you talk to your Volvo vehicle and get hands-free access to things like navigation and audio recordings. Just say, "Hey, Google!" and you can tell your vehicle where you want to go or to play your favorite song. Google Maps offers seamless navigation and real-time traffic information to make finding the best route to your destination simple. Google Play keeps you connected to your digital life with several great apps in its catalog. These features and more are included with the digital services package.
Performance in the New Volvo XC40 for Sale
| | 2023 Volvo XC40 B4 FWD | 2023 Volvo XC40 B5 AWD |
| --- | --- | --- |
| Horsepower | 194 hp | 247 hp |
| Torque | 221 lb-ft | 258 lb-ft |
| Transmission | Automatic | Automatic |
| Fuel Economy Combined1 | 27 | 26 |
| Fuel Type | Gasoline/Mild Hybrid | Gasoline/Mild Hybrid |
| Cargo Capacity | 16 cubic feet | 16 cubic feet |
| Towing Capacity2 | 3,500 lbs | 3,500 lbs |
| Seats | 5 | 5 |
| Dimensions H/L/W | 65 in/174.8 in/75.2 in | 65 in/174.8 in/75.2 in |
New Volvo XC40 Trims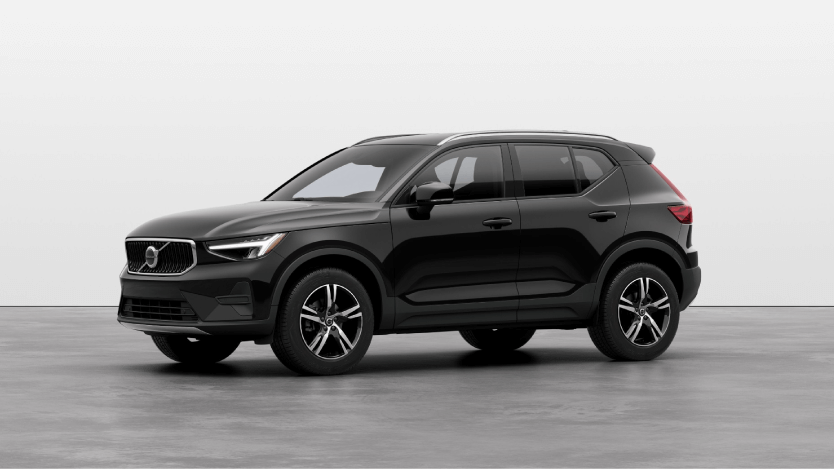 Core
---
The Core trim may be the base model, but there is nothing basic about it. With premium textile upholstery, heated front seats, adaptive power steering, and a wide array of driver-assistance features ranging from blind-spot monitoring to oncoming lane mitigation, you'll find more to appreciate with every passing mile.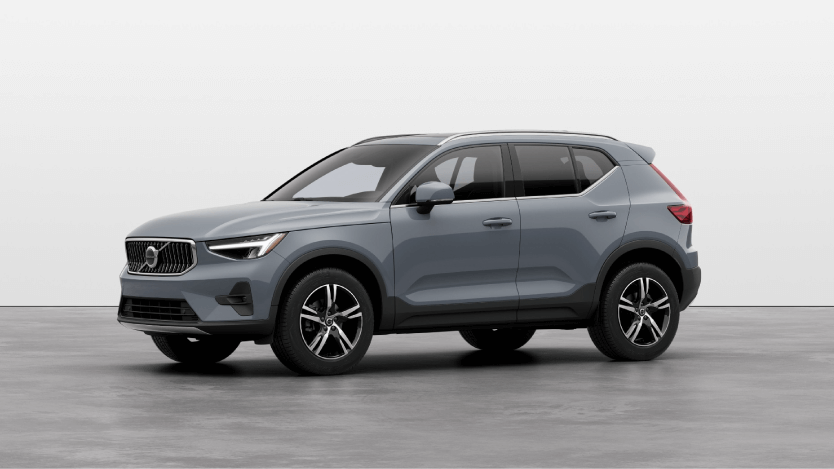 Plus
---
Find the balance between great standard features and ultra-premium design in the Plus trim level. This mid-tier option has several upgrades, like a laminated panoramic moonroof with a power sunshade to let in natural light, a keyless entry system, and front and rear parking assistance to help you navigate tight situations.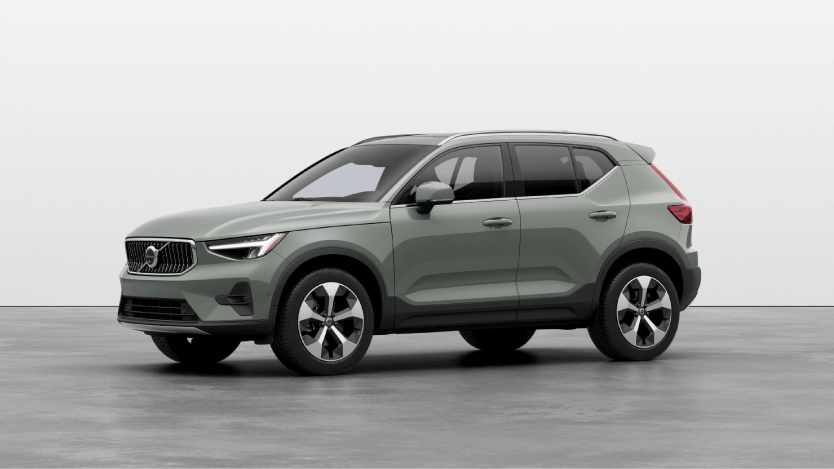 Ultimate
---
The Volvo XC40 Ultimate goes further with its premium features and technology. Heated rear seats, adaptive cruise control, and an air-ventilated subwoofer are only some of the incredible aspects of this model. Talk to our team about any available Volvo XC40 specials that will put you in the lap of luxury for less.
2023 Volvo XC40 Available Colors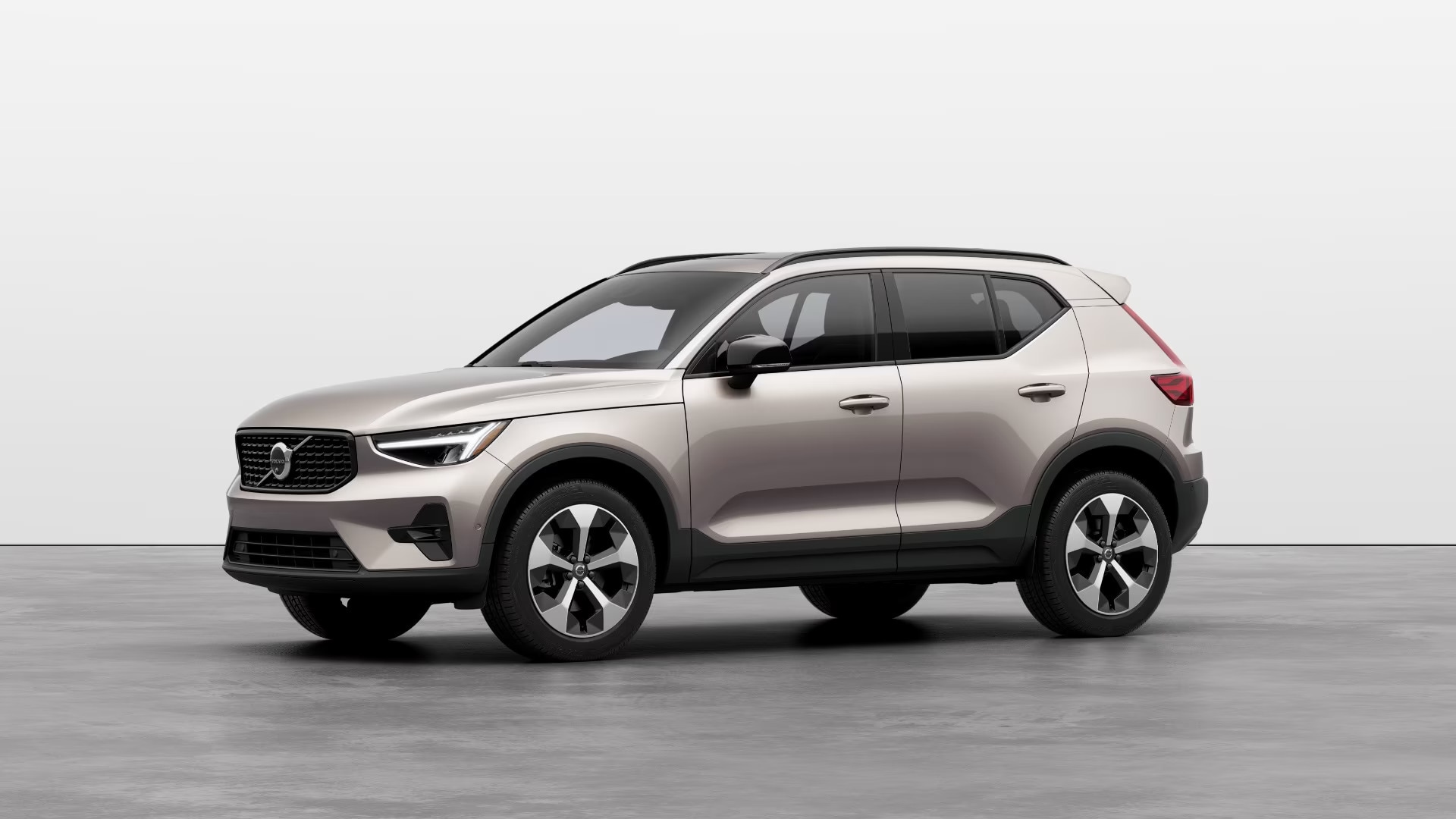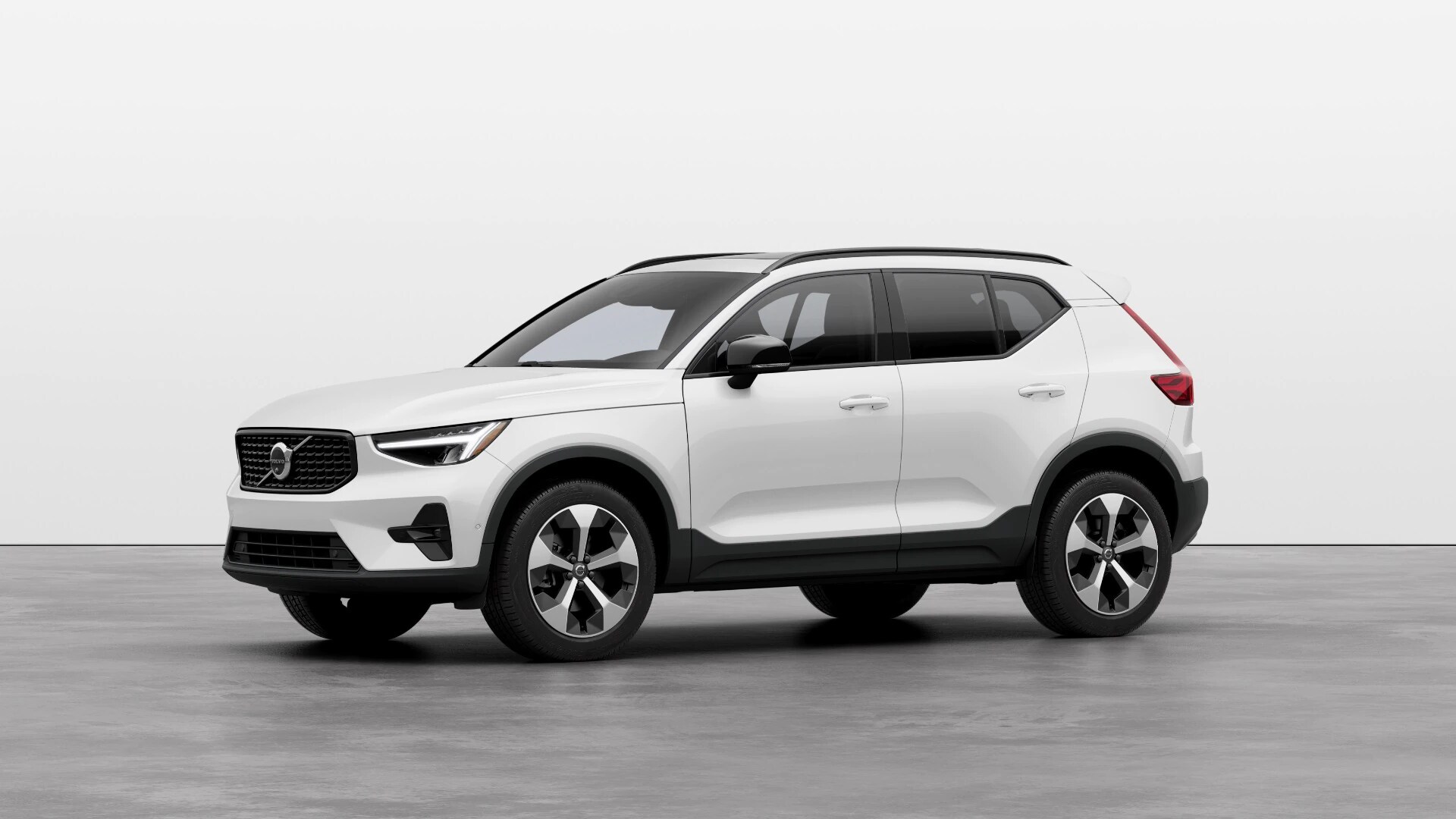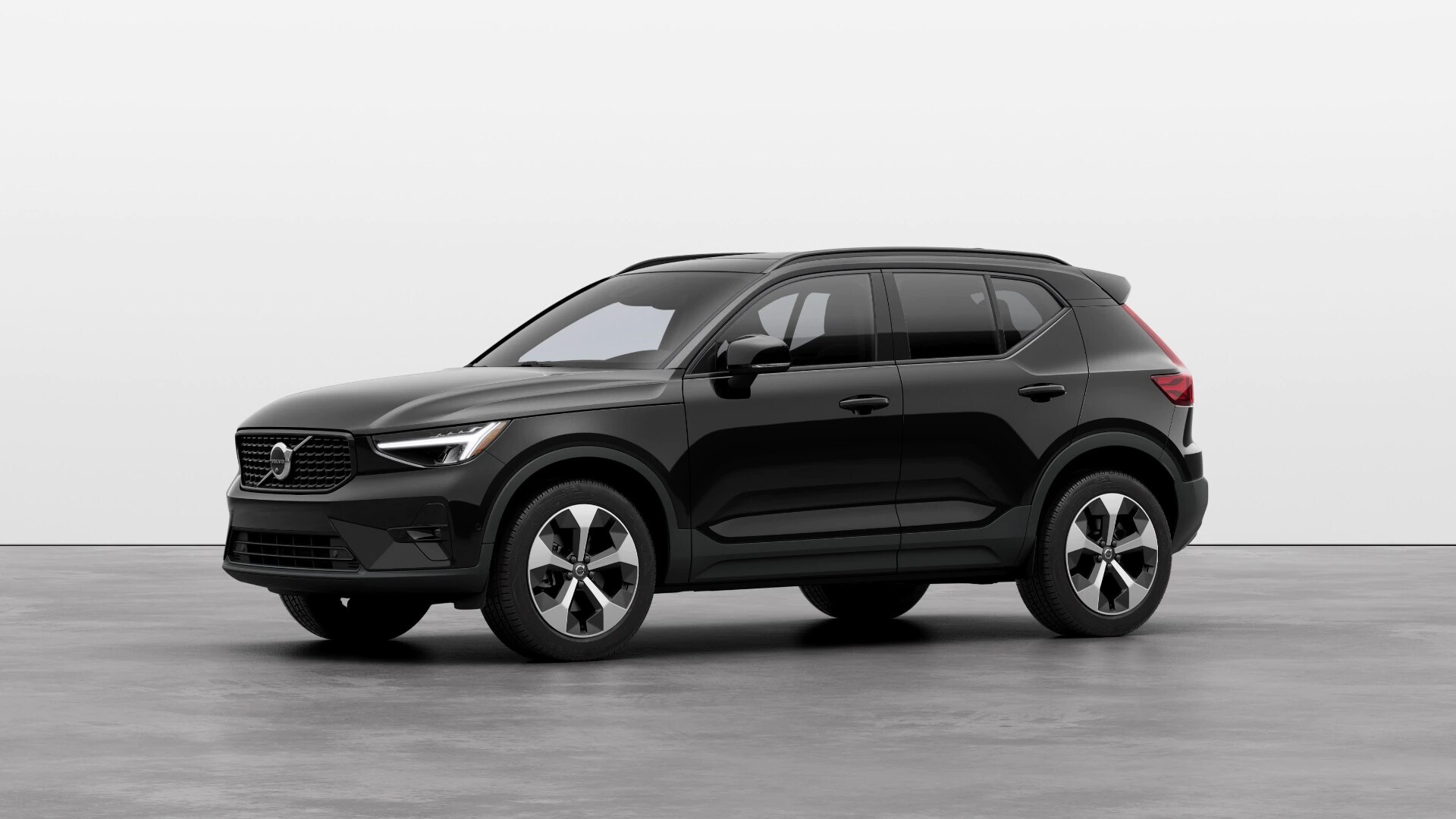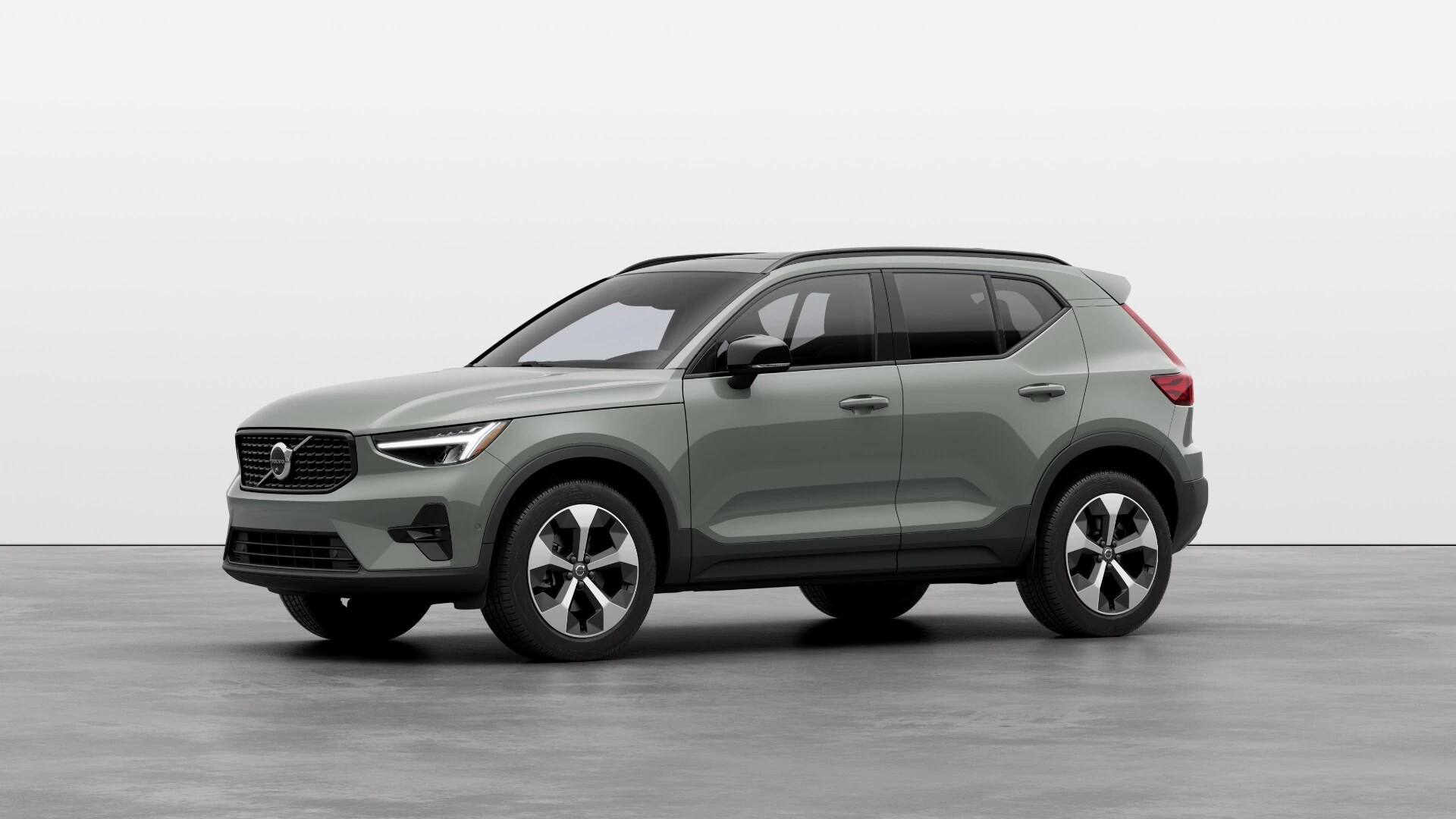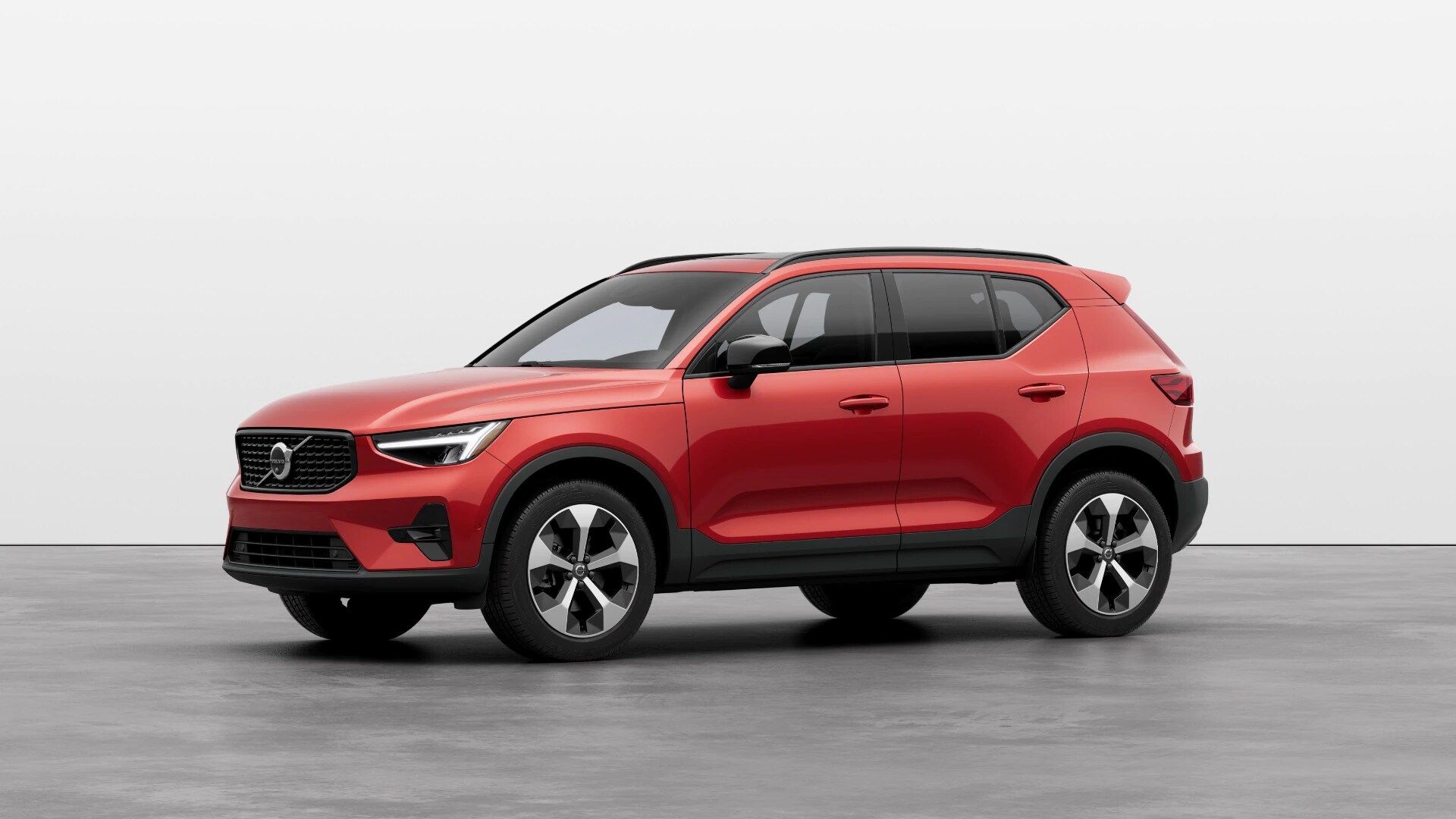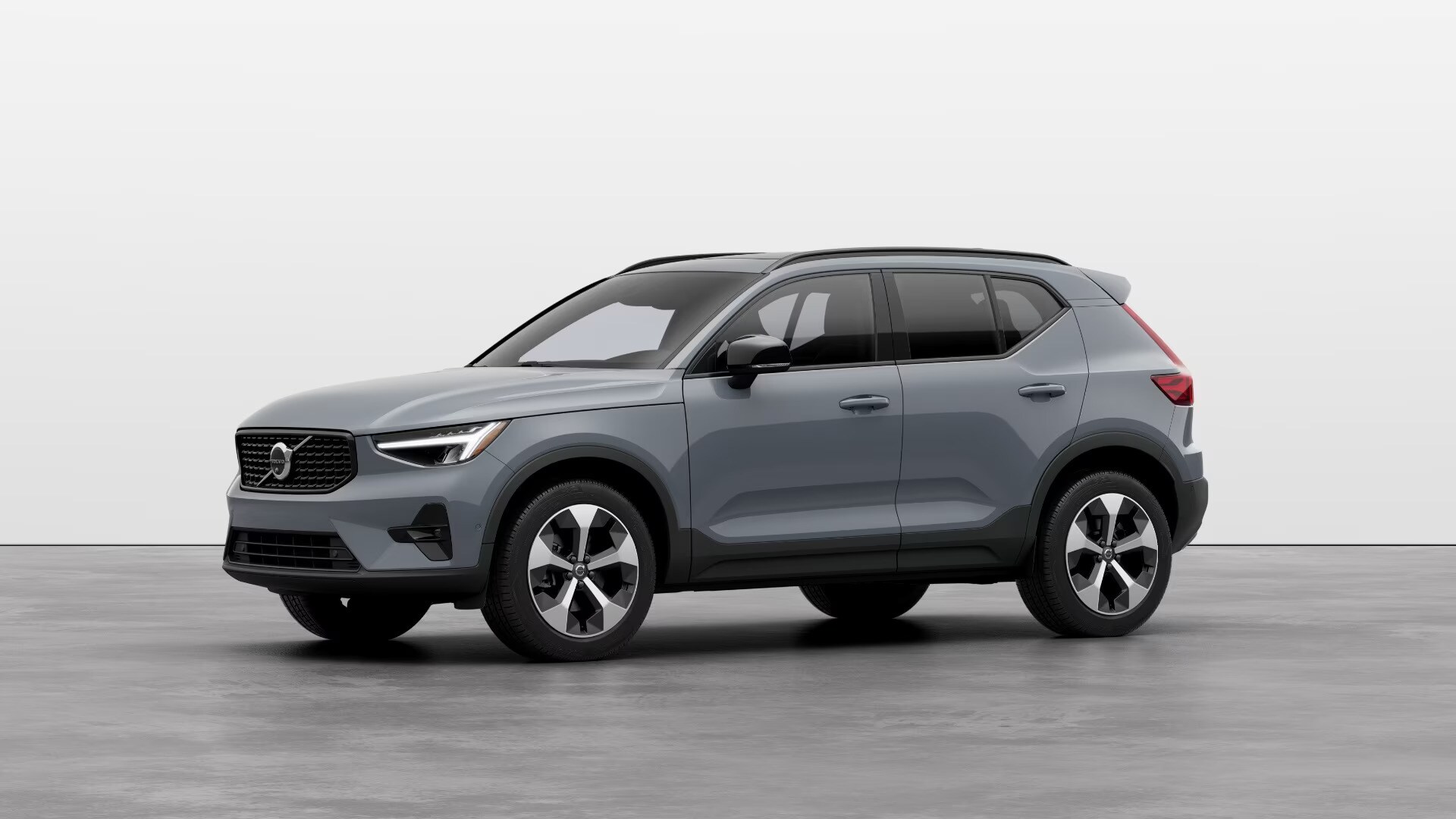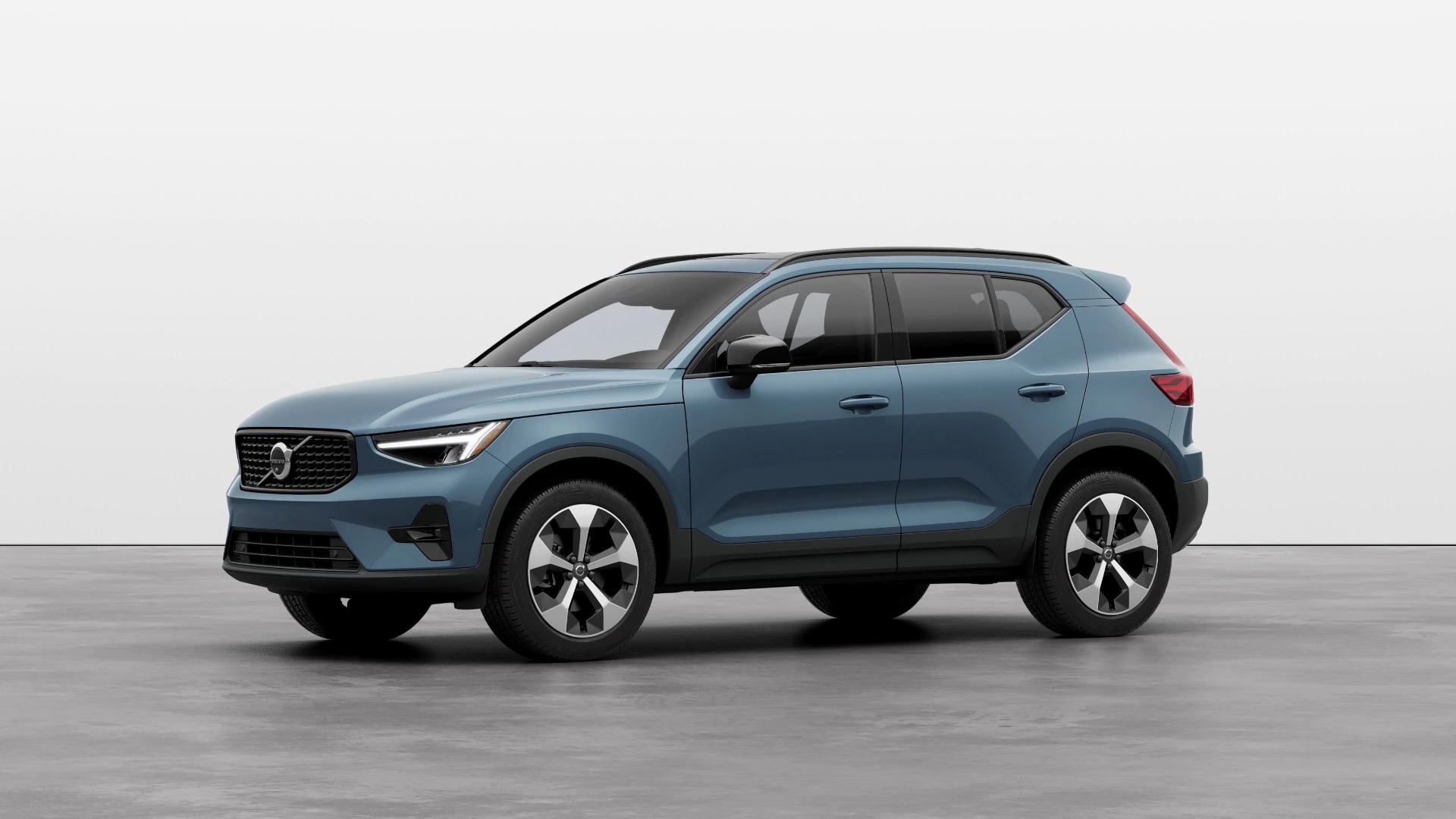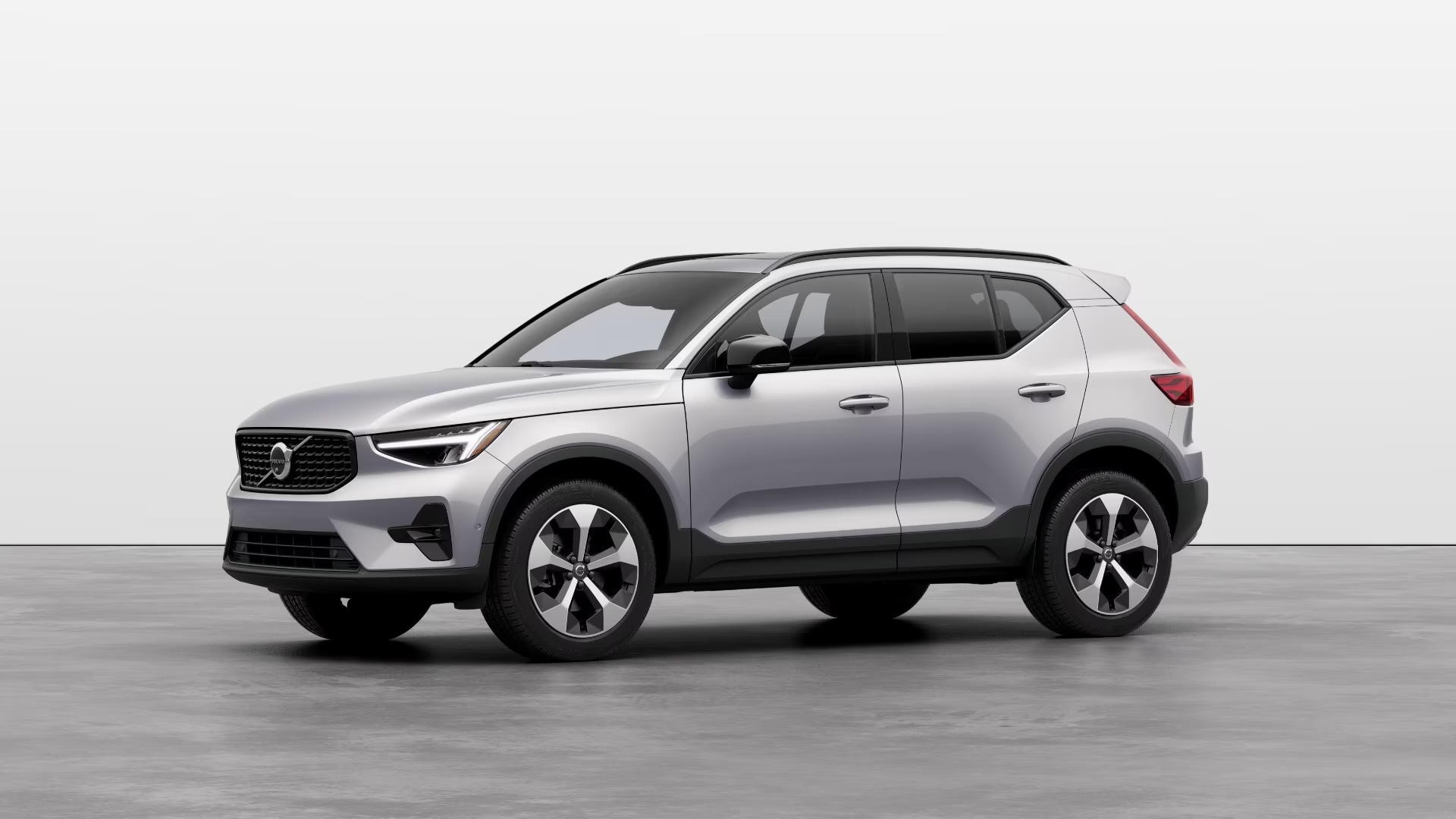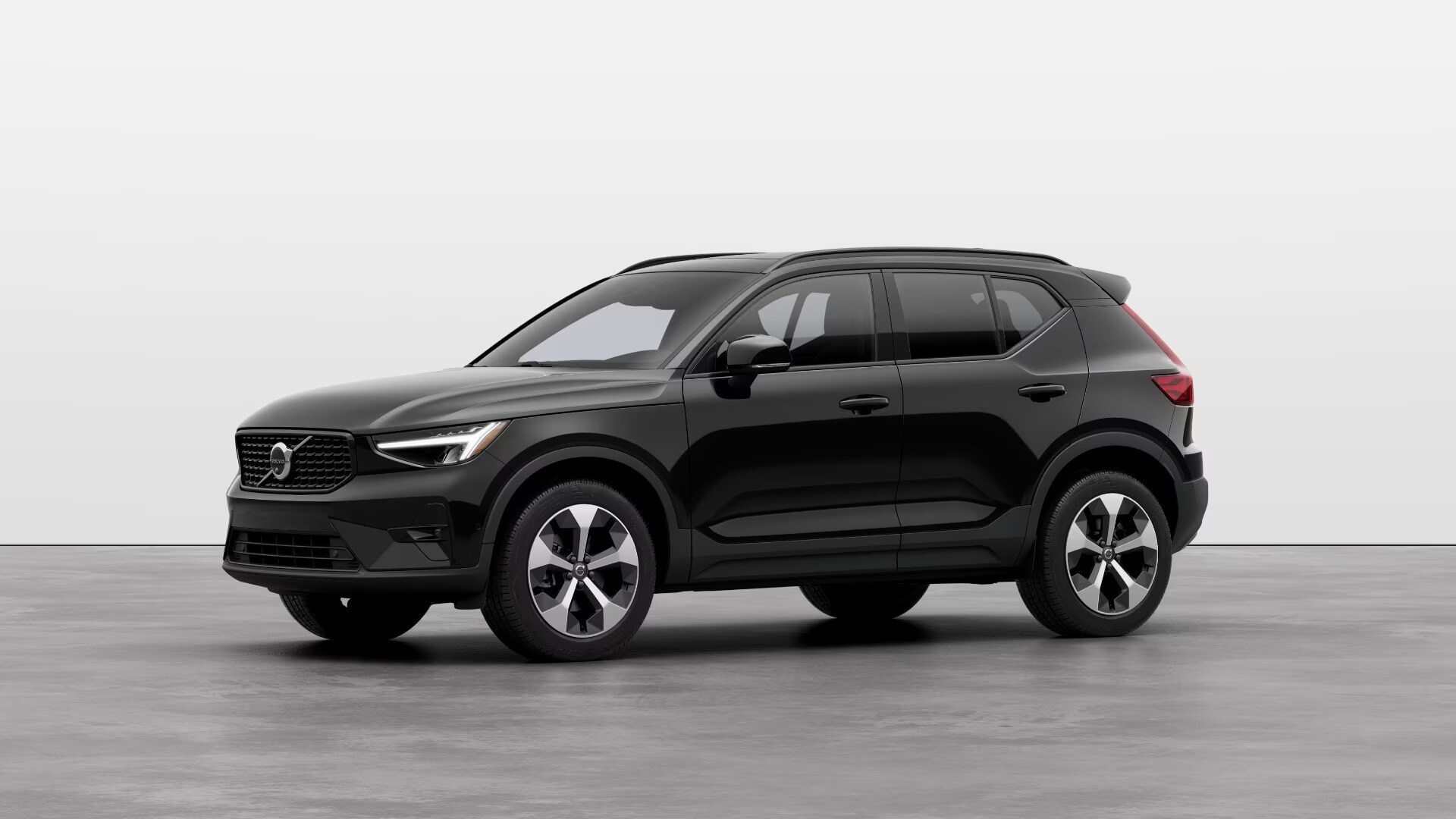 Safety in the Volvo XC40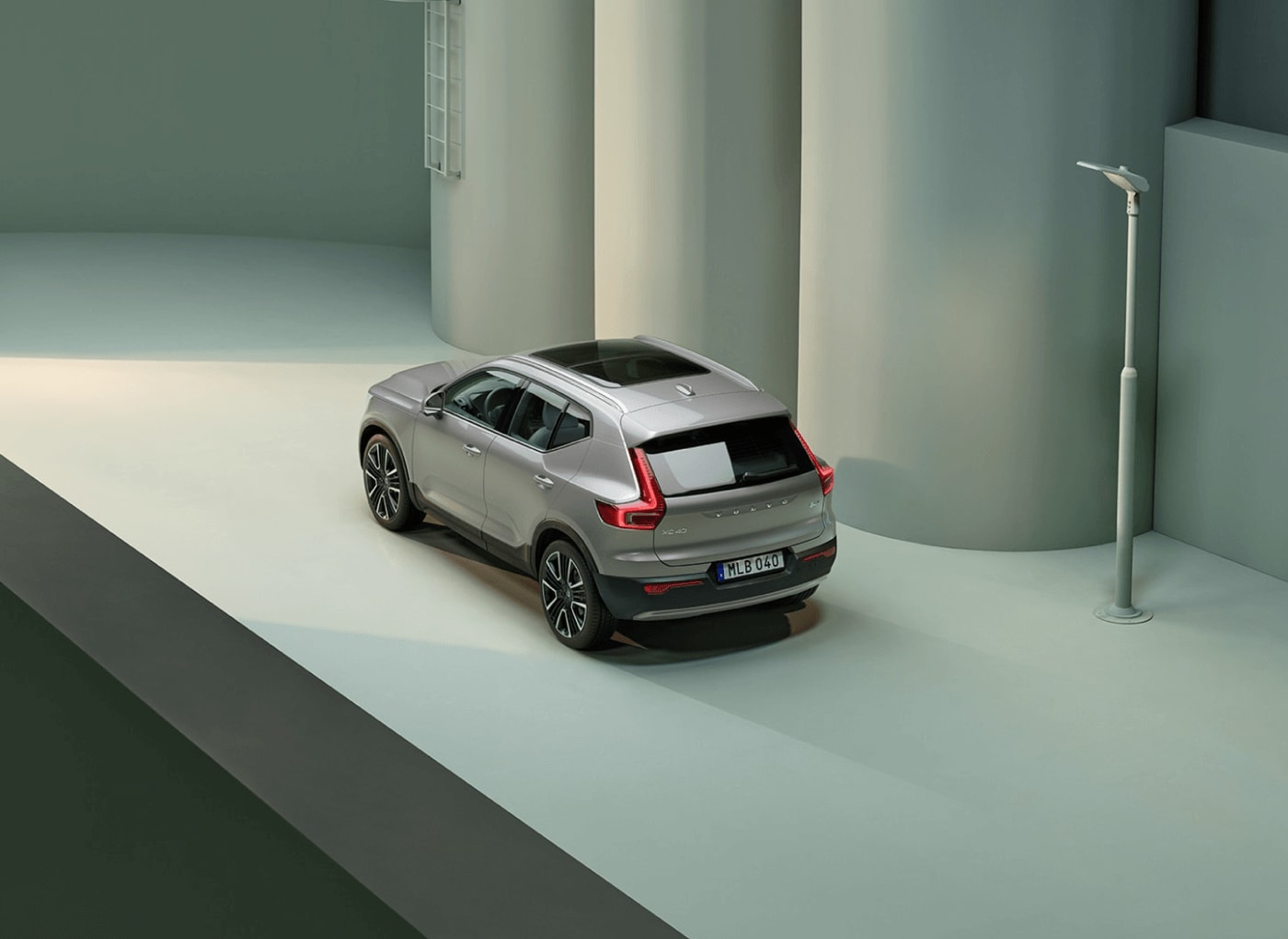 Reliability
Volvo vehicles have always prioritized safety, and part of keeping you safe on the roads is reliable performance. So long as you take care of your Volvo model with general repairs and maintenance, you will likely be able to keep your SUV on the road for 200,000 miles, barring any unfortunate accidents. For many, this can amount to 15 to 20 years. However, that maintenance can't be neglected, so pay attention to the recommendations in your owner's manual carefully. Part of the reason why the 2023 Volvo XC40 has its new line of trims and powertrains is to match other changes across the lineup. With so many other vehicles relying on the same system, this makes it easier for you to get quick and efficient repairs and accessible parts in San Antonio, TX. This SUV also comes with helpful warranties to help you care for ailing components; these will be discussed more later on this page.
Safety Features
There are plenty of safety features in the new Volvo XC40 for sale. This SUV has a suite of driver-assistance technologies that help you with everything from maintaining a safe distance from other cars to covering your blind spot when you need it. Confidently reverse in crowded parking lots with cross-traffic alerts, and stay in your place in any traffic situation with the subtle vibrations in the steering wheel to let you know you're veering out of your lane. BLIS™, or the Blind Spot Information System, gives you information about what's going on around your vehicle, even if you can't see it. Four cameras are also built into the Ultimate trim of the Volvo XC40, giving you a 360-degree view of the streets around you. Park, change lanes, avoid collisions, and more with total confidence when you use the incredible safety technology in this new vehicle.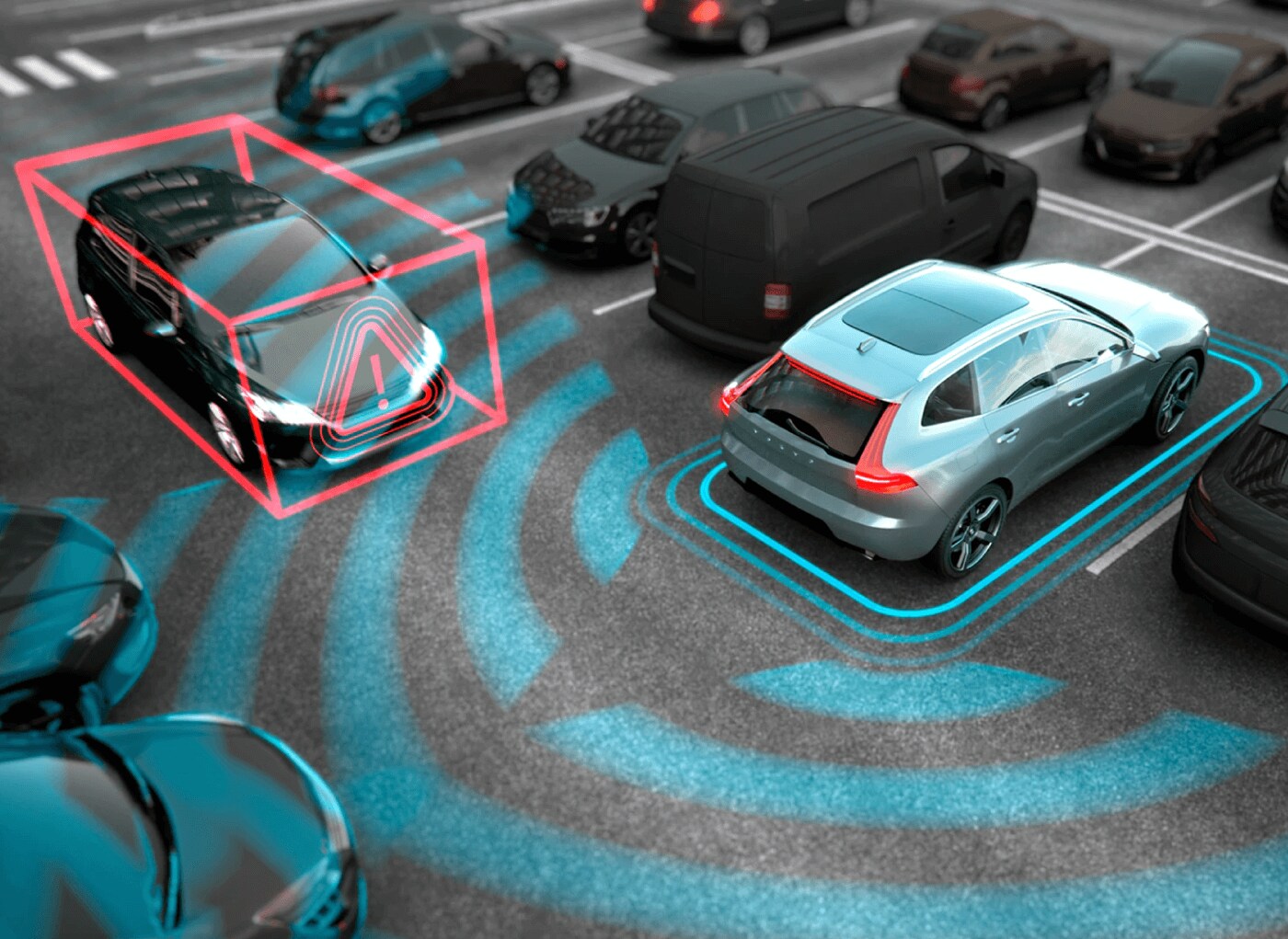 Warranty and Coverage for the New Volvo XC40
Warranty
Your experience with Volvo cars goes further than the dealership, as seen with the new Volvo limited warranty. The new Volvo XC40 for sale automatically comes with a four-year/50,000-mile bumper-to-bumper warranty, whichever comes first.3 There is also a four-year/50,000-mile powertrain warranty.3 With these two warranties, you have coverage for many different repairs, replacements, or adjustments of defective parts in your new Volvo SUV.
There is also a 12-year corrosion warranty.3 This warranty has no mileage cap and covers sheet metal and aluminum body panels that may rust with time and regular use. These warranties are great on their own, but it gets even better when you know your new Volvo vehicle is also part of the Volvo maintenance program.
Maintenance Program
With the Complimentary Factory Scheduled Maintenance program, you can have coverage for several types of maintenance services. Factory scheduled maintenance is recommended for new Volvo vehicles every 10,000 miles, and it is best to have your Volvo model serviced at an authorized Volvo dealer. With the FSM program, you can get scheduled maintenance covered for the first three years or 36,000 miles.3 Easily schedule service in the Volvo Cars app and bring it to a service center with no hassle. Make getting service on your SUV even easier with Volvo Valet and schedule a time for your vehicle to be picked up and delivered back to you when it's ready.4 You'll even get a loaner vehicle if you need one at that time.4
Compare the New Volvo XC40 to the Competition
Even with everything great we've said about the Volvo XC40 specs, you likely want to know how it stacks up to the competition. Let's see how the Volvo XC40 holds up with three other popular SUVs.
Audi Q3
The Audi Q3 only comes with one powertrain option, unlike the Volvo XC40, which has two. As a result, it has less maximum horsepower than the Volvo XC40 B5, delivering 228 instead of 247. This also makes it a bit slower at getting from 0 to 60 mph. With fewer trims and colors, you are also not as easily able to customize this SUV the way you can with the Volvo XC40.
Volkswagen Tiguan
The Volkswagen Tiguan has a notable difference in style. Where this Volvo SUV is all about luxury, the Volkswagen Tiguan leans more into its sportiness and everyday appeal. The power in the Volkswagen Tiguan is no match either. In the Volvo XC40, you can achieve 247 horsepower, while the Volkswagen Tiguan gets up to 184 horsepower. Some versions of the Volkswagen Tiguan have only 12 cubic feet of cargo space behind the rear row as well.
Cadillac XT4
The Cadillac XT4 is luxurious but not as fuel-efficient as the mild-hybrid Volvo XC40 in either its front-wheel drive or all-wheel-drive form. It also doesn't make as much horsepower as the Volvo XC40 B5 option, and while heated front seats are available at various trim levels, this feature is not standard.
Even after all of this comparison, it's safe to say the 2023 Volvo XC40 is a vehicle you can't miss. However, if you have more questions about where it falls compared to others of a similar size class, reach out to our team today.
Frequently Asked Questions
How fast is the Volvo XC40?
The Volvo XC40 can reach a speed of 112 miles per hour in B5 AWD models. This same version of the vehicle can accelerate from 0 to 60 mph in only 6.1 seconds. In Volvo XC40 B4 FWD models, go from 0 to 60 mph in only 8.1 seconds. Test drive this vehicle to appreciate its power for yourself when you stop by our dealership.
Does the Volvo XC40 require premium gas?
Achieve the maximum performance in this new Volvo vehicle with premium fuel with an octane rating of 91 or higher. That being said, while premium fuel will help you get more horsepower, it is not required. You can fill up your tank with gas with an octane rating as low as 87 without compromising the engine. Learn more about what this vehicle requires by talking to our service team.
How big is the trunk of a Volvo XC40?
Fit plenty of cargo in the new 2023 Volvo XC40 with its spacious trunk area. When you fold down the rear seats, you have up to 57.5 of cargo space available. With the rear seats up, there is still plenty of room. Slide in your luggage or pack in the groceries with up to 16 cubic feet of space.
What are the available trims of the Volvo XC40?
Choose one of these three trim levels for your new Volvo XC40:
Volvo XC40 Core
Volvo XC40 Plus
Volvo XC40 Ultimate
Each trim offers you great features, but you get premium upgrades as you go up the trim ladder. Enjoy heated front seats and driver-assistance features like oncoming lane mitigation in the Core trim, keyless entry in Plus models, a Harman Kardon® sound system in Ultimate models, and more.
How fuel efficient is the Volvo XC40?
Stay on the road in your Volvo XC40 with its amazing fuel efficiency. This vehicle can achieve an EPA-estimated 23/30/26 MPG(City/Highway/Combined)1 with AWD and is even more fuel-efficient as an FWD vehicle. This makes the Volvo XC40 a great choice for morning commutes to work or weekend road trips. The SUV has been ready to take you on cost-effective rides since the Volvo XC40 release.
Explore Our Other Volvo Models
---
1EPA estimated range is 23 MPG city/30 MPG highway/26 MPG combined. Your actual range will vary for many reasons, including but not limited to, driving conditions, how and where you drive, how you maintain your vehicle, battery-package/condition, and other factors. See www.fueleconomy.gov. Open full Specifications to review other powertrain options.
2Maximum towing capacity when properly equipped.
3Warranties listed on this webpage shall not be solely relied upon. Warranties may be subject to specific terms, restrictions, exclusions, and fees. Additional warranty information may be obtained by visiting the official website of the warranty provider. Contact our dealership for complete details.
4Volvo Valet is only available at participating retailers. Loaner vehicles are subject to dealer availability and policies.