2023 Volvo XC60 SUVs For Sale In San Antonio, TX

Expand or Narrow Your Volvo Inventory Search Using These Convenient Quick Links:
What's New for the 2023 Volvo XC60?
The 2023 model year has brought a number of changes to the new Volvo XC60 for sale. The most significant is the replacement of formerly gasoline-only powertrains with mild hybrid options. Now, every version of the Volvo XC60 leverages hybrid battery-and-motor technology to roar down the roads in San Antonio, TX, with power and efficiency.
There are also new trim levels for the 2023 model. The Momentum, Inscription, and R-Design options are no longer available; now, we have the Core, Plus, and Ultimate models. The Polestar Engineered trim is still found on the Volvo XC60 Recharge, offering truly compelling performance upgrades that some drivers will find irresistible. The new Volvo XC60 lineup includes a version of the vehicle for everyone. Read on to learn more about this dynamic luxury SUV.
2023 Volvo XC60 Design Elements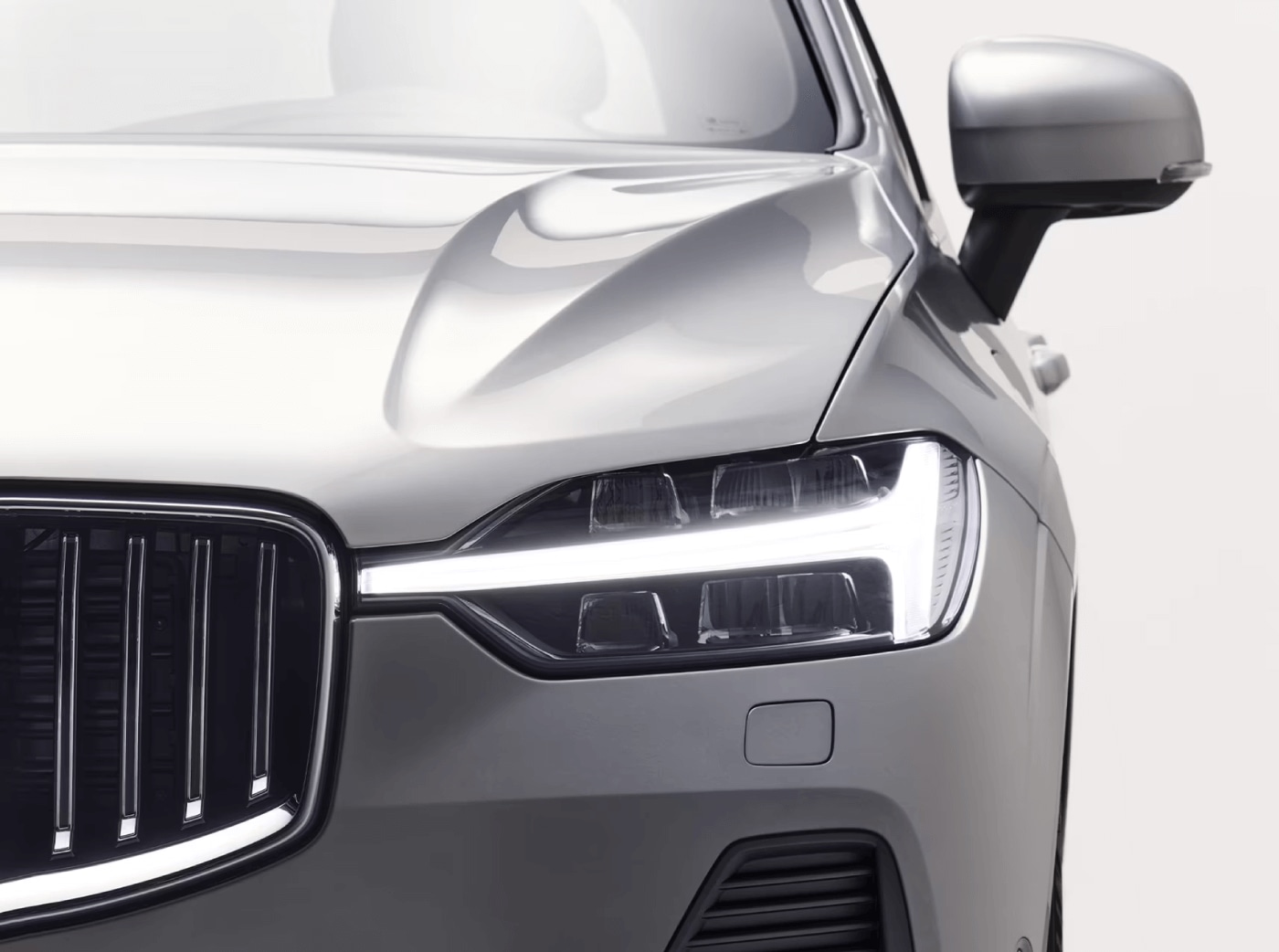 Volvo XC60 Exterior
The outside of the Volvo XC60 is sleek and refined, drawing on Volvo Cars' Scandinavian origins. When you bring your new vehicle home, your family and neighbors will be struck by the curves and premium materials that define this luxury SUV's exterior. It is available in a wide variety of colors; you can find the full list below.
The Plus and Ultimate trim can be had with the Dark or Bright theme. The latter sees the exterior enjoy chrome accents and design elements, while the Dark theme replaces them with glossy black details. No matter your preferences, there is a Volvo XC60 exterior configuration that you'll find appealing.
The Volvo XC60 is 185.4 inches long, 65.2 inches tall, and 78.7 inches wide if you are not measuring the mirrors. These dimensions offer drivers in San Antonio, TX, a spacious interior, but they are not so large as to make the car difficult to maneuver in tight spaces. Your new luxury SUV will look great on the road and in your driveway.
Volvo XC60 Interior
The cabin of the 2023 Volvo XC60 is comfortable and spacious. It has been designed with comfort in mind, but Volvo Cars made sure to imbue the Volvo XC60 interior with elegance, too. Folks in the front seats will enjoy 38 inches of headroom, 58.2 inches of shoulder room, and 41.5 inches of legroom. These dimensions are generous, offering you the space to stretch during a long trip. The kids in the back will have plenty of space, too, with 38 inches of rear headroom, 56.3 inches of shoulder room, and 38 inches of rear legroom.
The 2023 Volvo XC60 can also haul a lot of luggage or cargo. With the rear seats up, you'll have 22.4 cubic feet of cargo area in the trunk. That's sufficient for four suitcases and a cabin bag, according to Volvo Cars. To us, it sounds like more than enough space for your weekly grocery haul. If you drop the rear row, you'll have 63.3 cubic feet of space to work with. That's enough for hauling some furniture. Your friends will be asking you to help them move once they see your new ride.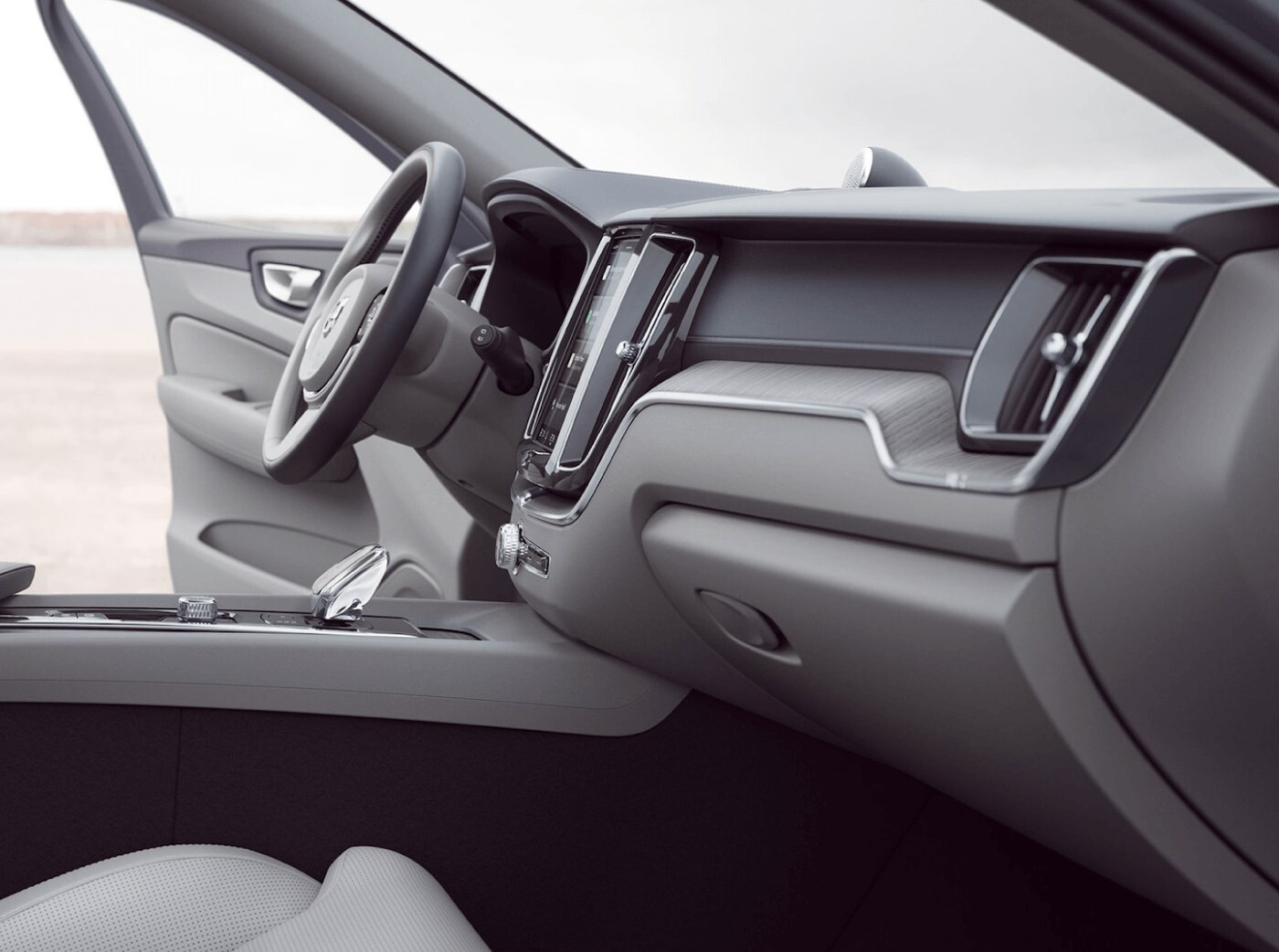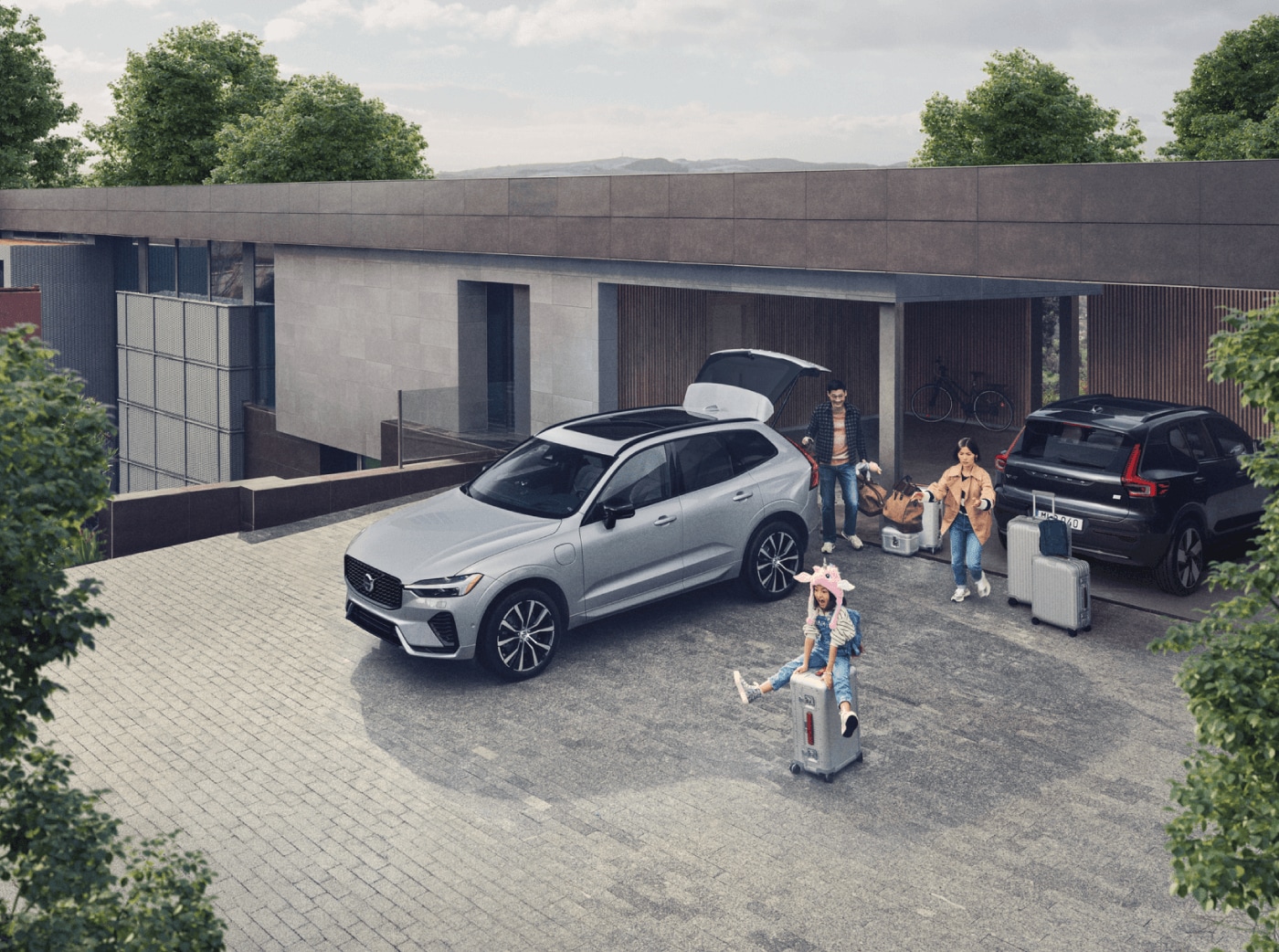 Volvo XC60 Comfort
The Volvo XC60 comes with a wide variety of creature comforts on every trim. The laminated panoramic moonroof with a powered shade will bathe the cabin of your vehicle in natural light during the day and allow the kids to stargaze during nighttime rides. When it's time for a nap, you can activate the shade with the tap of a button. The interior also boasts beautiful interior decor, with the material ranging from aluminum to genuine wood, depending on the trim.
The mid- and top-tier version of the 2023 Volvo XC60 are even more luxurious. You'll enjoy heated seats, leather upholstery, the aforementioned real wood interior decor, and an upgraded audio system, depending on the trim you select. As we shall discuss in the next section, you can also equip the entry-level model with extra luxuries. Volvo Cars lets you customize your new Volvo XC60 for sale to your preferences.
Volvo XC60 Accessories
You can select a number of add-on features and packages for your 2023 Volvo XC60. Some of the individual things you can opt to purchase include:
Running boards
Integrated outbound seat booster cushions
Mud flaps
Load bars
Foldable trailer hitch (without hitch ball)
Luggage cover
These options are great for drivers in San Antonio, TX. There are also some available packages of features. The Core and Plus models can be equipped with the Climate Package and the Protection Package Premier. The former includes a heated steering wheel, headlamp cleaners, and heated front seats. These features will keep you and your passenger comfortable during the winter months. The Protection Package Premier is available for every trim. It features:
Wheel locks
Plastic luggage mat
First aid kit
Rubber floor mats
Stainless steel bumper cover
These features work together to keep your vehicle clean and secure. The first aid kit is one of those things that you'd rather have and not need than need and not have. Mats in the cargo area and cabin make the vehicle easier to clean.
2023 Volvo XC60 Technology
Volvo XC60 Media Displays
Every new Volvo XC60 for sale comes with a pair of digital displays. The 9-inch touch screen mounted between the driver and front-seat passenger allows you to control music and navigation easily. You can opt to use the built-in Google system to get around in San Antonio, TX, or you can connect your cell phone to the vehicle for easy access to your favorite apps. The 12-inch configurable driver's display shows you the crucial vehicle information you need to stay informed as you drive.
The Ultimate and Polestar Engineered versions of the bold new Volvo XC60 come with the futuristic Graphical Head-Up Display. This innovative feature projects information onto the bottom part of your windshield. You can adjust the brightness to ensure that the feature isn't distracting. The Graphical Head-Up Display allows you to keep your eyes on the road while still getting the directions you need to reach your destination.
Volvo XC60 Features
Every Volvo XC60 comes with an excellent sound system. The entry-level version is a 10-speaker 220-watt audio setup that will blanket you and your passengers in your favorite tunes or the dulcet tones of your preferred podcaster. Controls on the steering wheel allow you to skip or pause songs without taking your hands off the wheel. You also get a free three-month trial from SiriusXM® radio when you purchase a new Volvo XC60 for sale.1
A two-zone climate control system will keep everyone in the vehicle comfortable, even if the kids prefer to be cold in the back while you and your partner want warmth up front. The built-in air filter works to keep your air breathable and healthy. Keyless entry and a powered liftgate make getting into the vehicle easy, whether you're running a bit late to work or have your arms full of groceries.
The Volvo Cars App
Every new Volvo XC60 for sale is compatible with the Volvo Cars App. You can use this technology to do all sorts of things, such as starting up the heat in your vehicle before you leave the house on a wintry morning. The app also allows you to monitor the charge level of your car if you have a plug-in hybrid Recharge model. When your child forgets something in the cabin and calls you while you're out of the house, you can unlock this luxury SUV for them with just your cell phone.
The Volvo Cars App also makes maintenance and repairs easier. You can schedule service at your local Volvo dealership through the app. From there, it only gets better: the Volvo Valet service will see your dealership pick up your vehicle, perform maintenance on it, and then bring it back to you.2 We can even provide you with a loaner car if you need it while your SUV is being repaired or serviced.3 The Volvo Cars App is a compelling part of Volvo ownership.
2023 Volvo XC60 Specs
| | 2023 Volvo XC60 Core B5 FWD | 2023 Volvo XC60 Plus B5 AWD | 2023 Volvo XC60 Ultimate B6 AWD |
| --- | --- | --- | --- |
| Horsepower | 247 hp | 247 hp | 295 hp |
| Torque | 258 lb-ft | 258 lb-ft | 310 lb-ft |
| Transmission | Automatic | Automatic | Automatic |
| Fuel Economy Combined | 26 MPG4 | 25 MPG4 | 23 MPG4 |
| Fuel Type | Gasoline/Mild Electric Hybrid | Gasoline/Mild Electric Hybrid | Gasoline/Mild Electric Hybrid |
| Storage/Cargo Capacity | 63.3 cubic feet | 63.3 cubic feet | 63.3 cubic feet |
| Towing Capacity | 3,500 lbs5 | 3,500 lbs5 | 3,500 lbs5 |
| Seats | 5 seats | 5 seats | 5 seats |
| Dimensions H/L/W | 65.4 in/185.4 in/78.7 in | 65.4 in/185.4 in/78.7 in | 65.4 in/185.4 in/78.7 in |
2023 Volvo XC60 Trims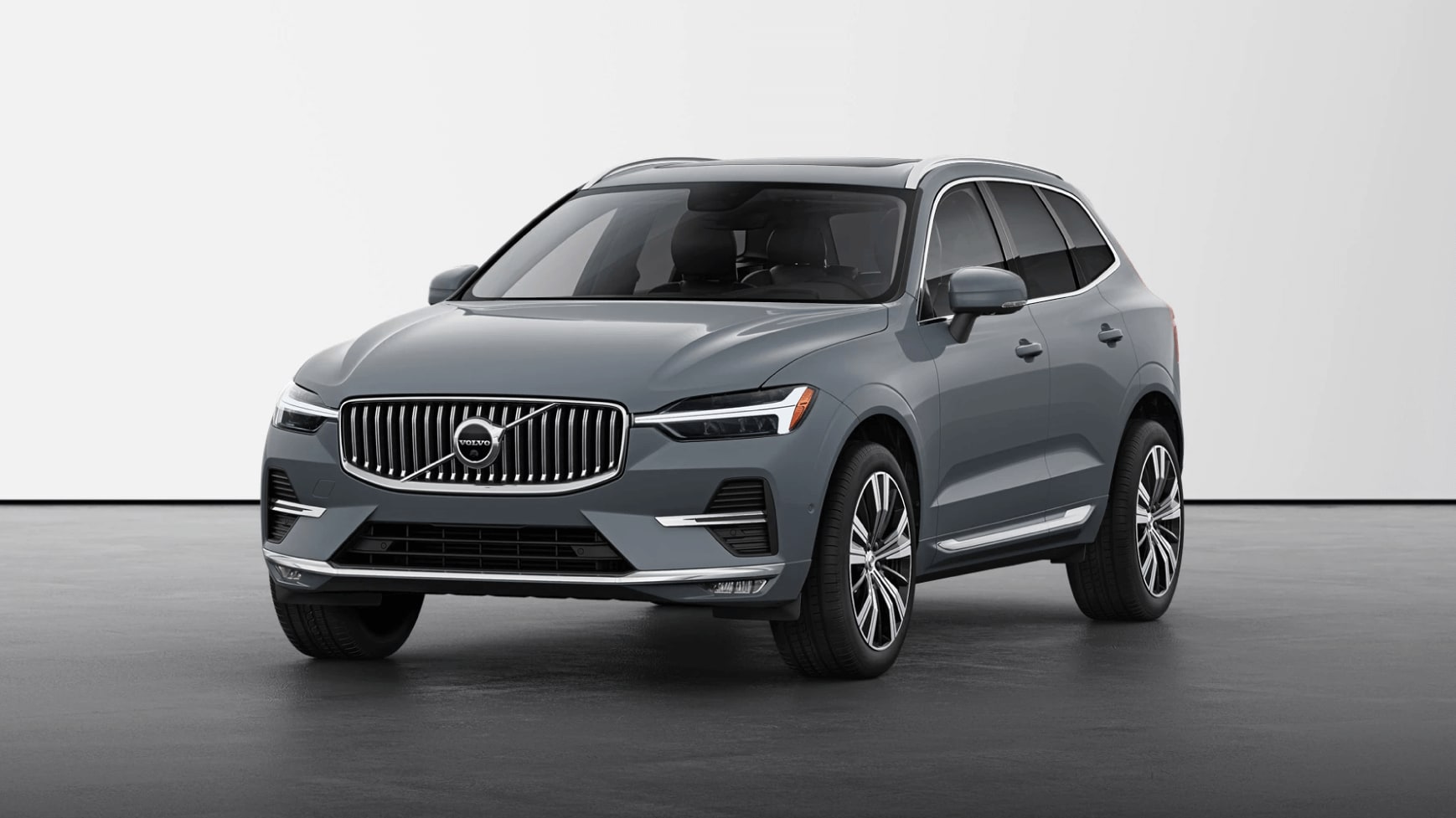 Volvo XC60 Core
---
The Volvo XC60 Core may be the entry-level model of the 2023 Volvo XC60, but it is anything but basic. The vehicle comes standard with your choice of premium textile or leatherette upholstery, Iron Ore aluminum decor that hearkens back to Sweden's industrial development, and interior mid-level illumination that makes your vehicle feel like your home away from home.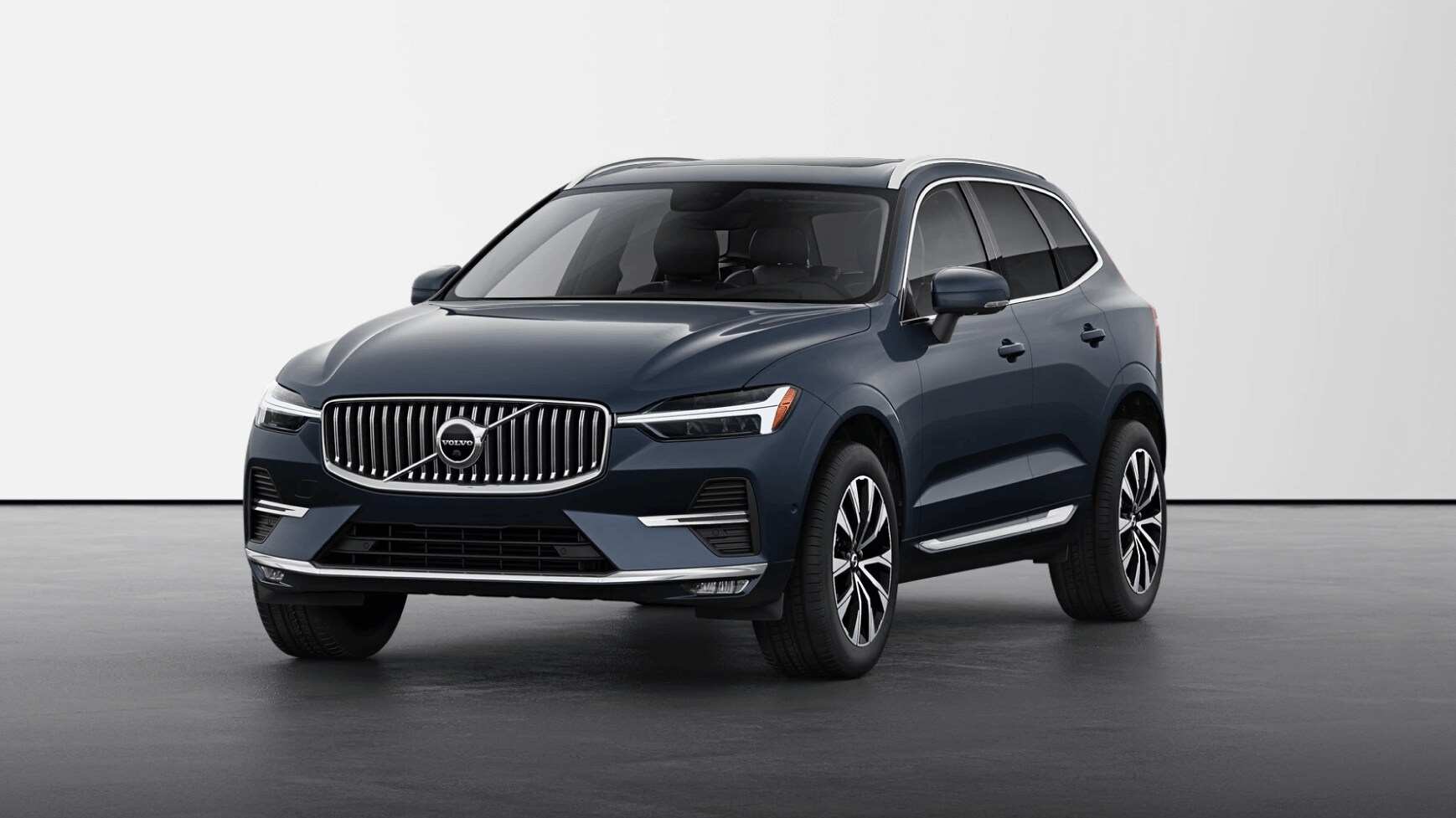 Volvo XC60 Plus
---
This mid-level trim for the Volvo XC60 features a number of extra safety features beyond the wide range found on the base model. You'll enjoy Adaptive Cruise Control, Pilot Assist, and a 360-degree view camera when you upgrade to this trim. The Plus model also comes with your choice of the Bright or Dark theme, allowing you to customize the vehicle to match your preferences.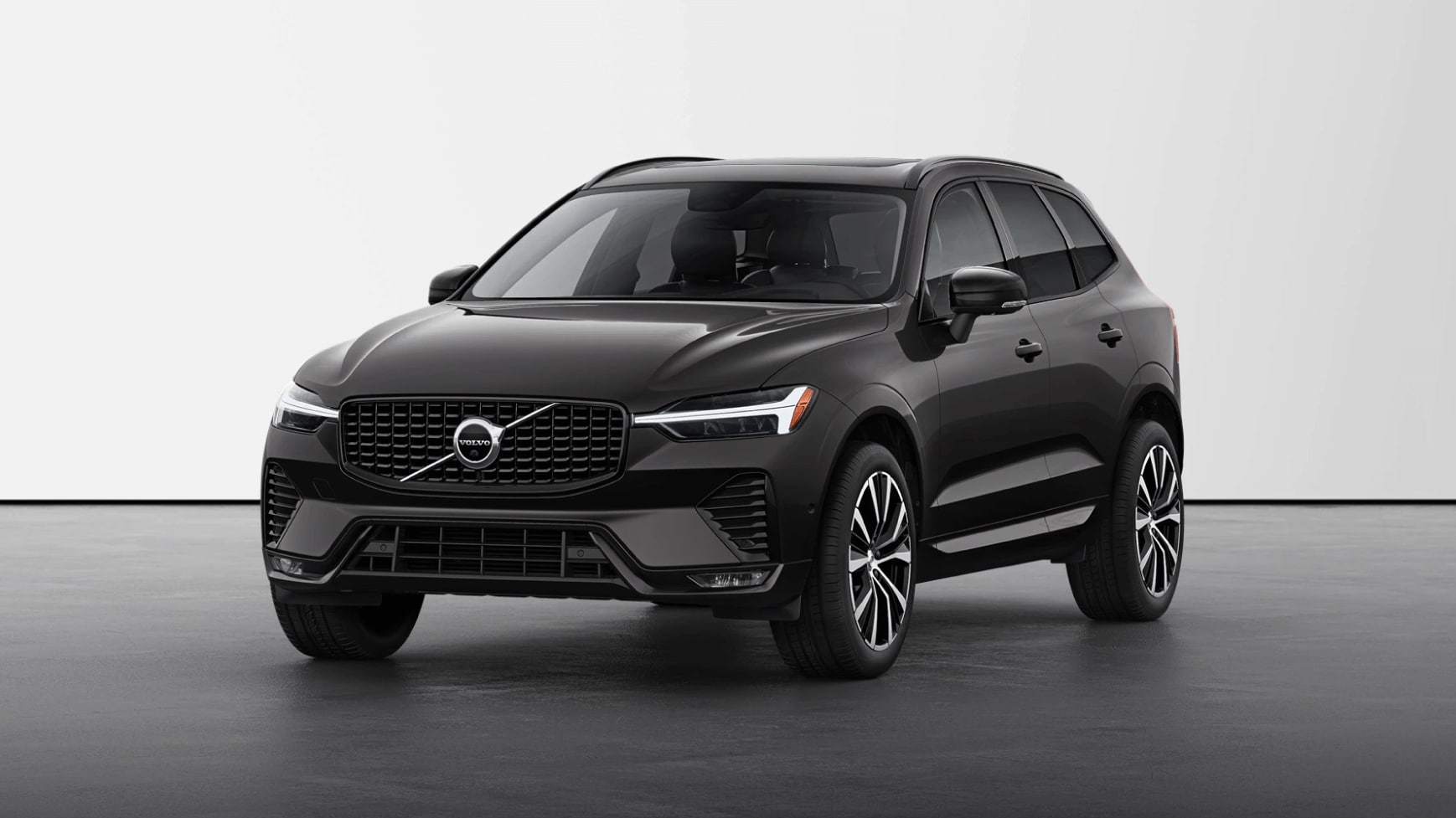 Volvo XC60 Ultimate
---
The Ultimate trim is the top-tier version of the mild-hybrid Volvo XC60 and the penultimate level of the Recharge model. It comes with heated and ventilated front seats, Nappa leather upholstery, and the Graphical Head-Up Display. The Polestar Engineered trim, which is the top-tier option for the Recharge, has a specialized chassis and 21-inch wheels.
2023 Volvo XC60 Colors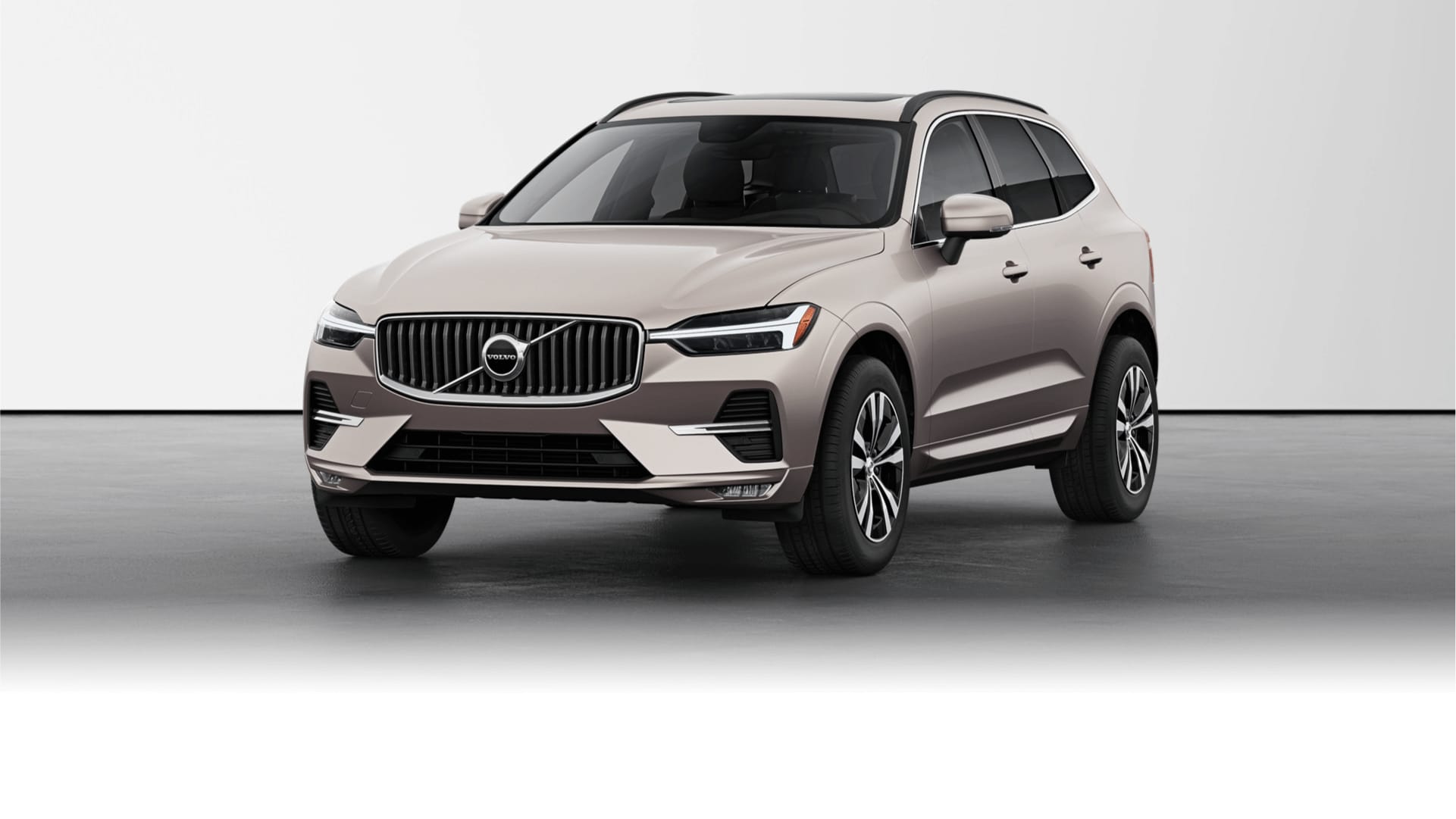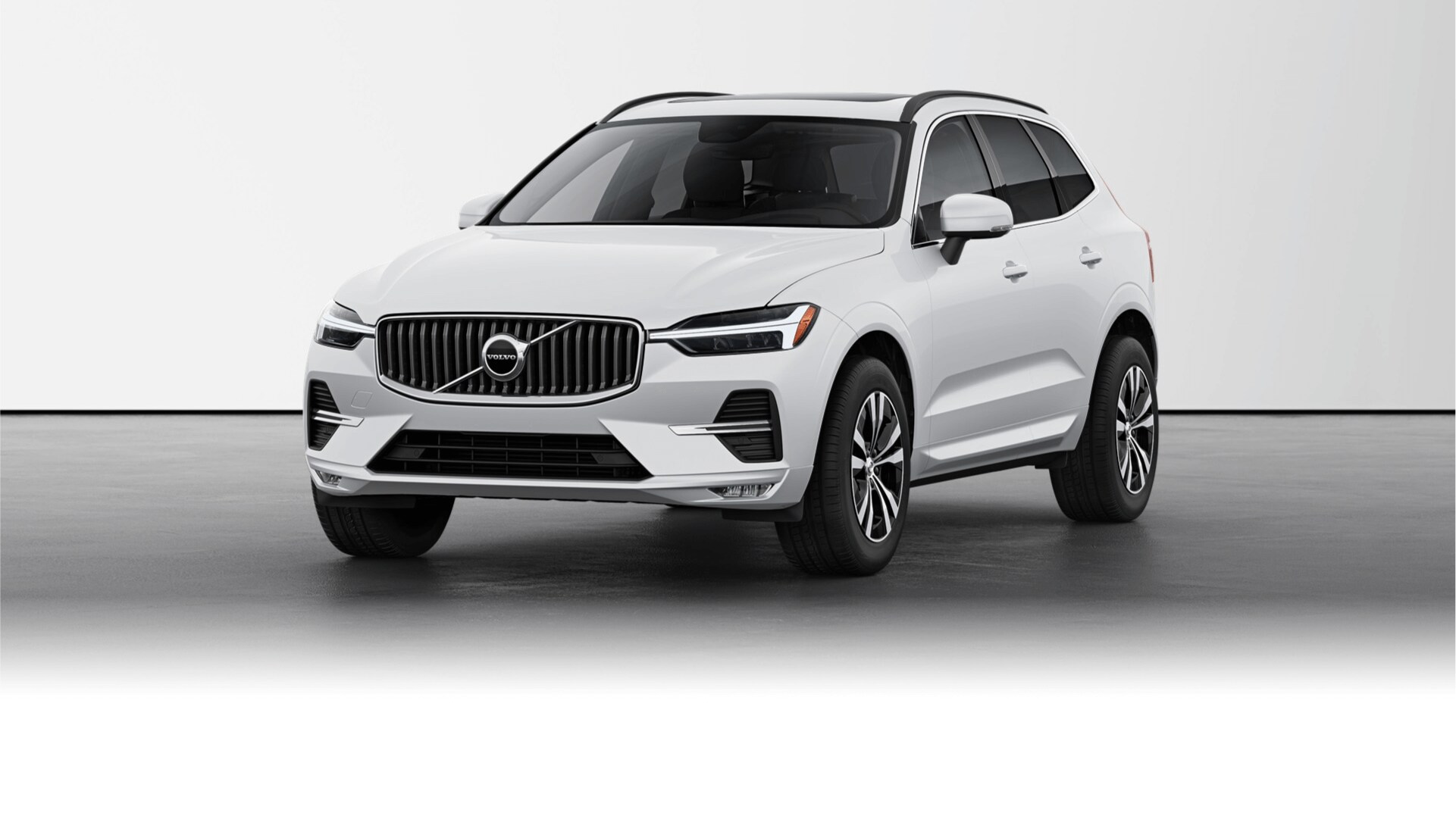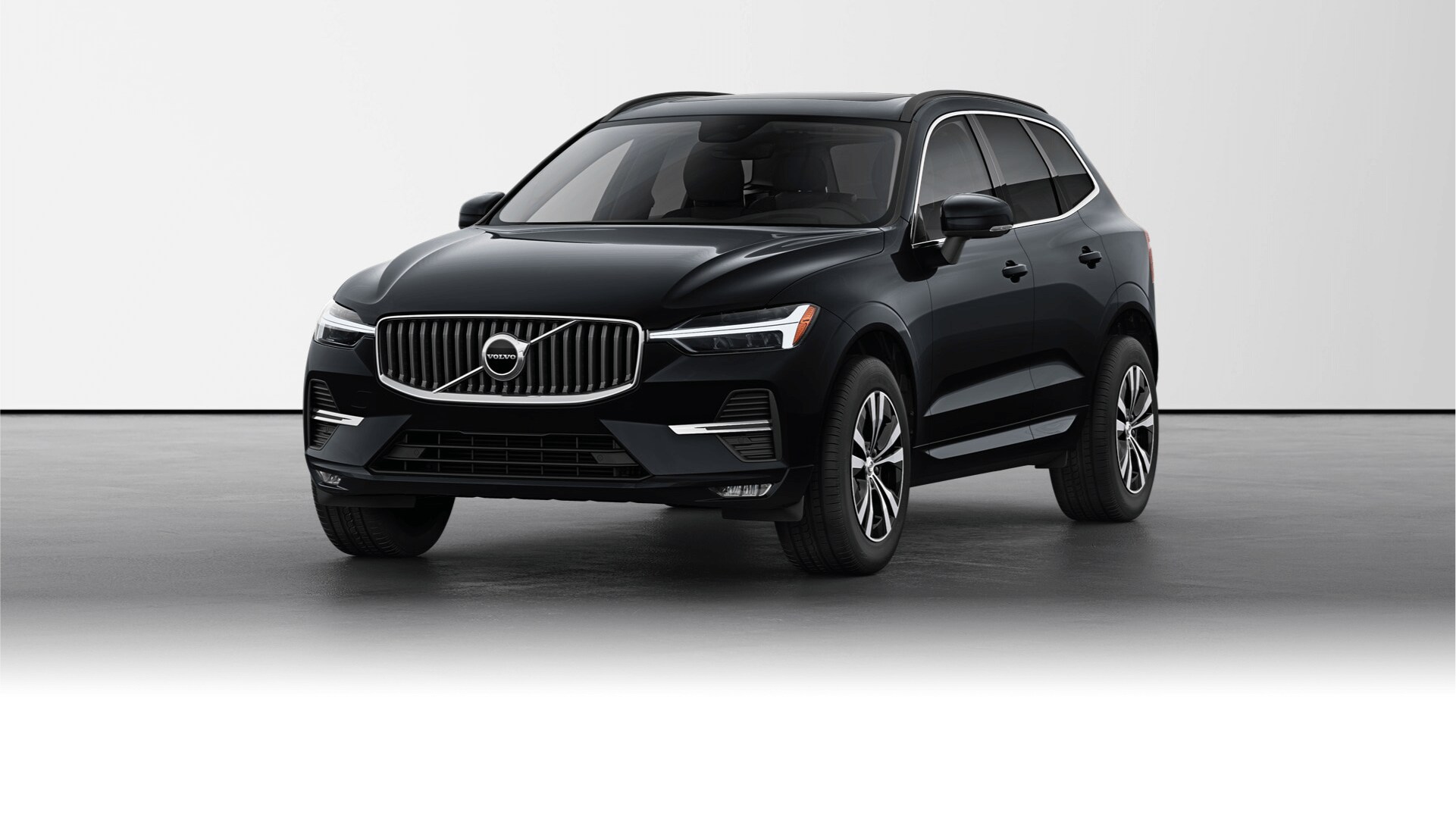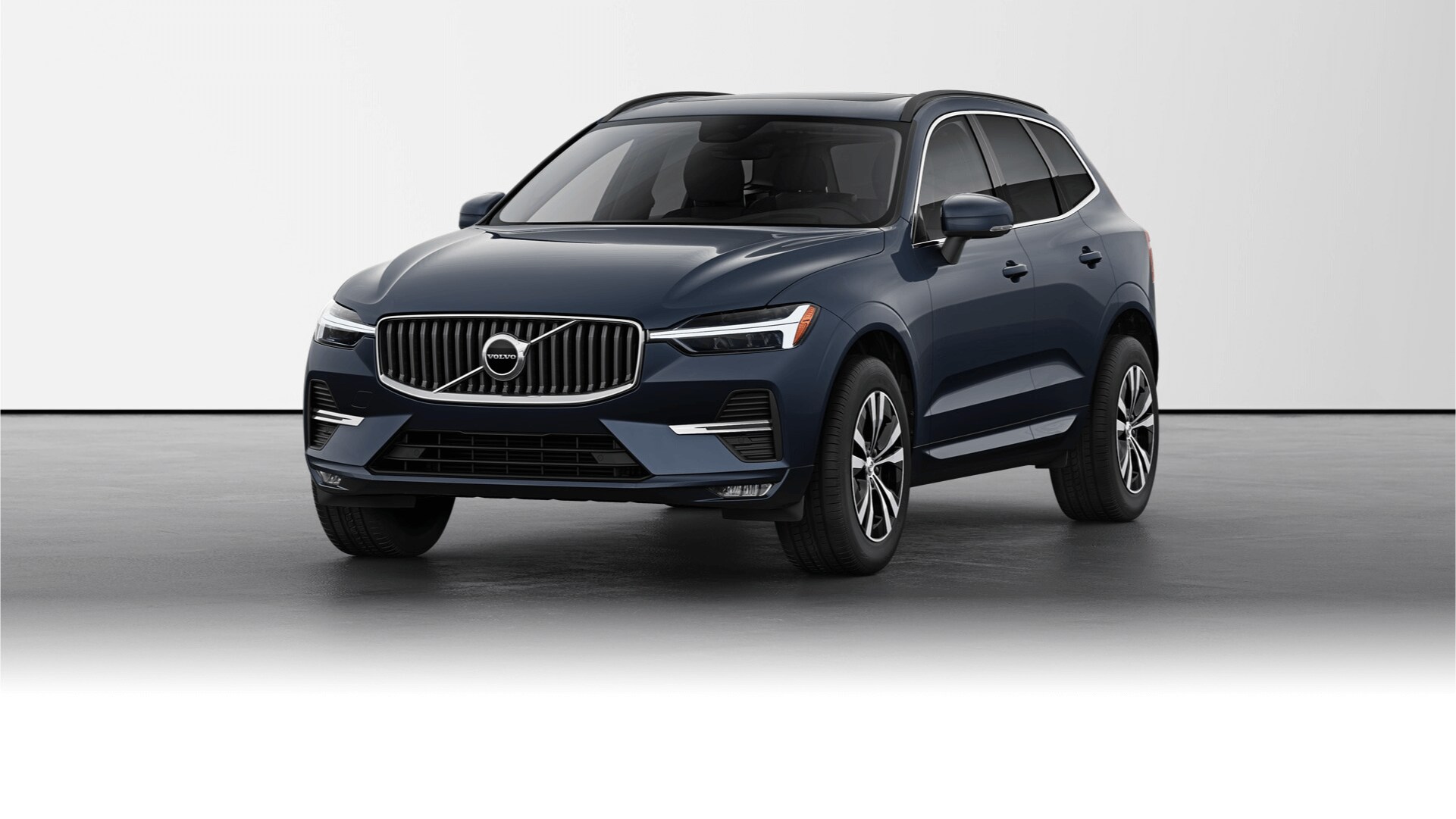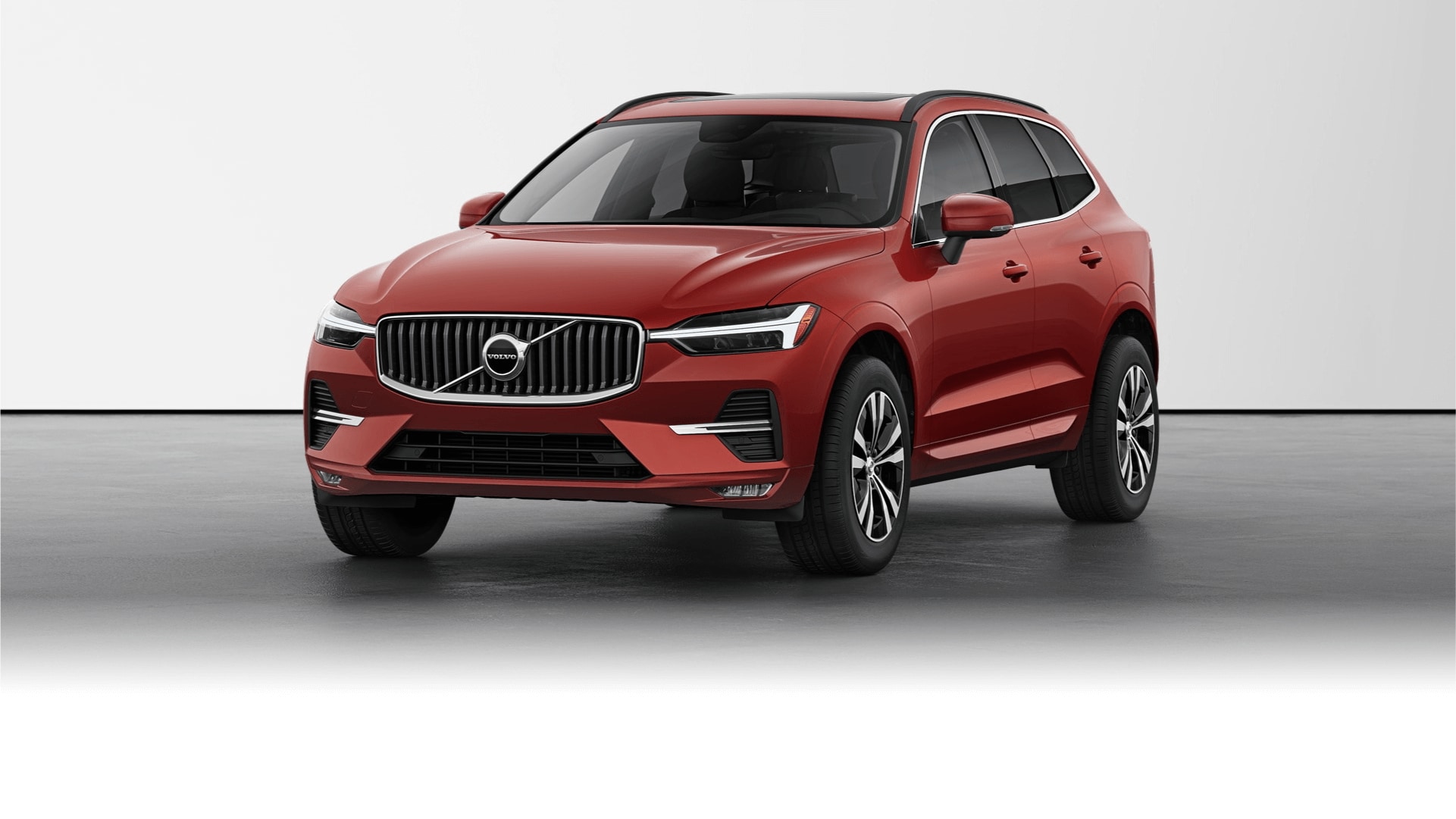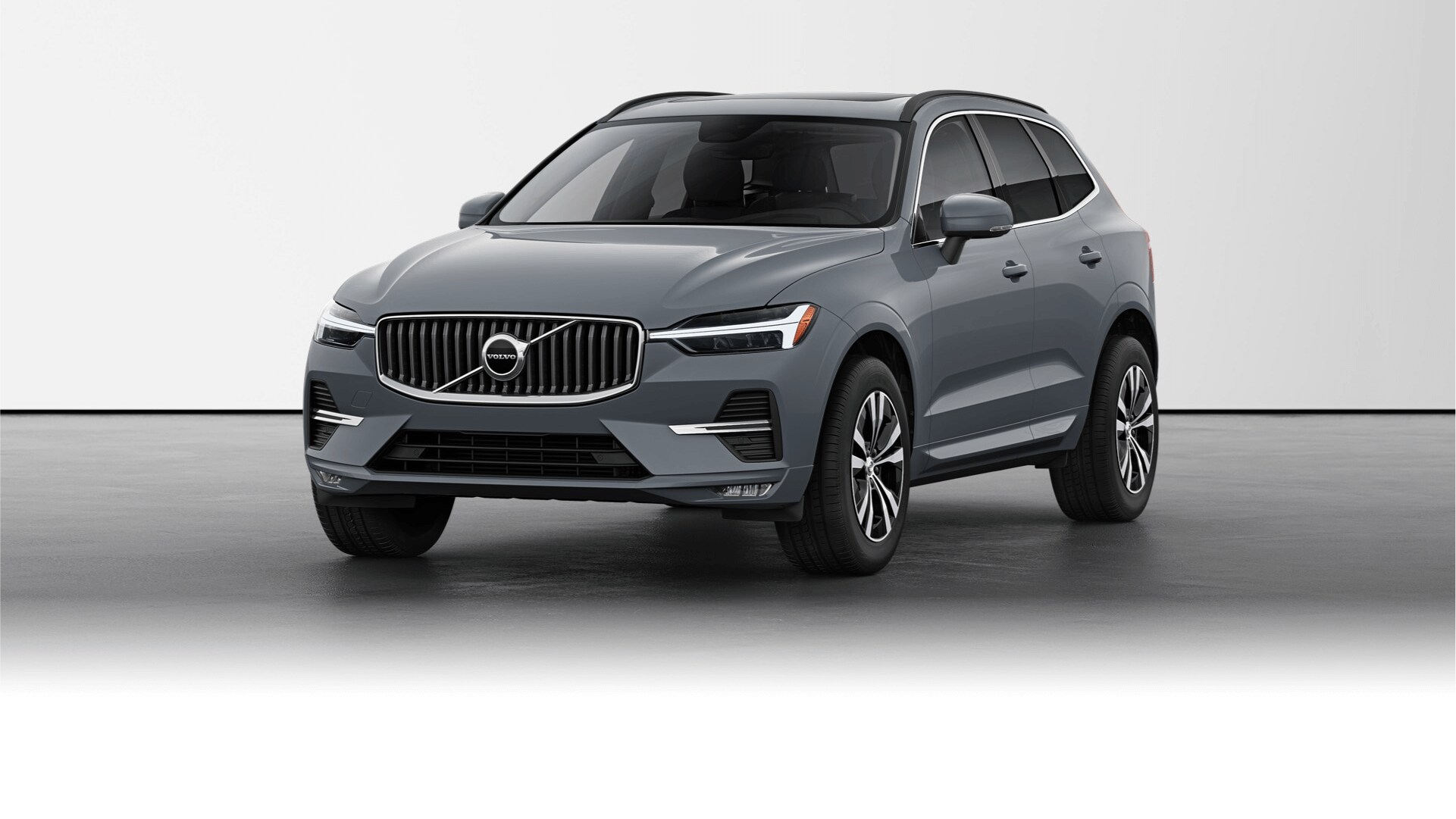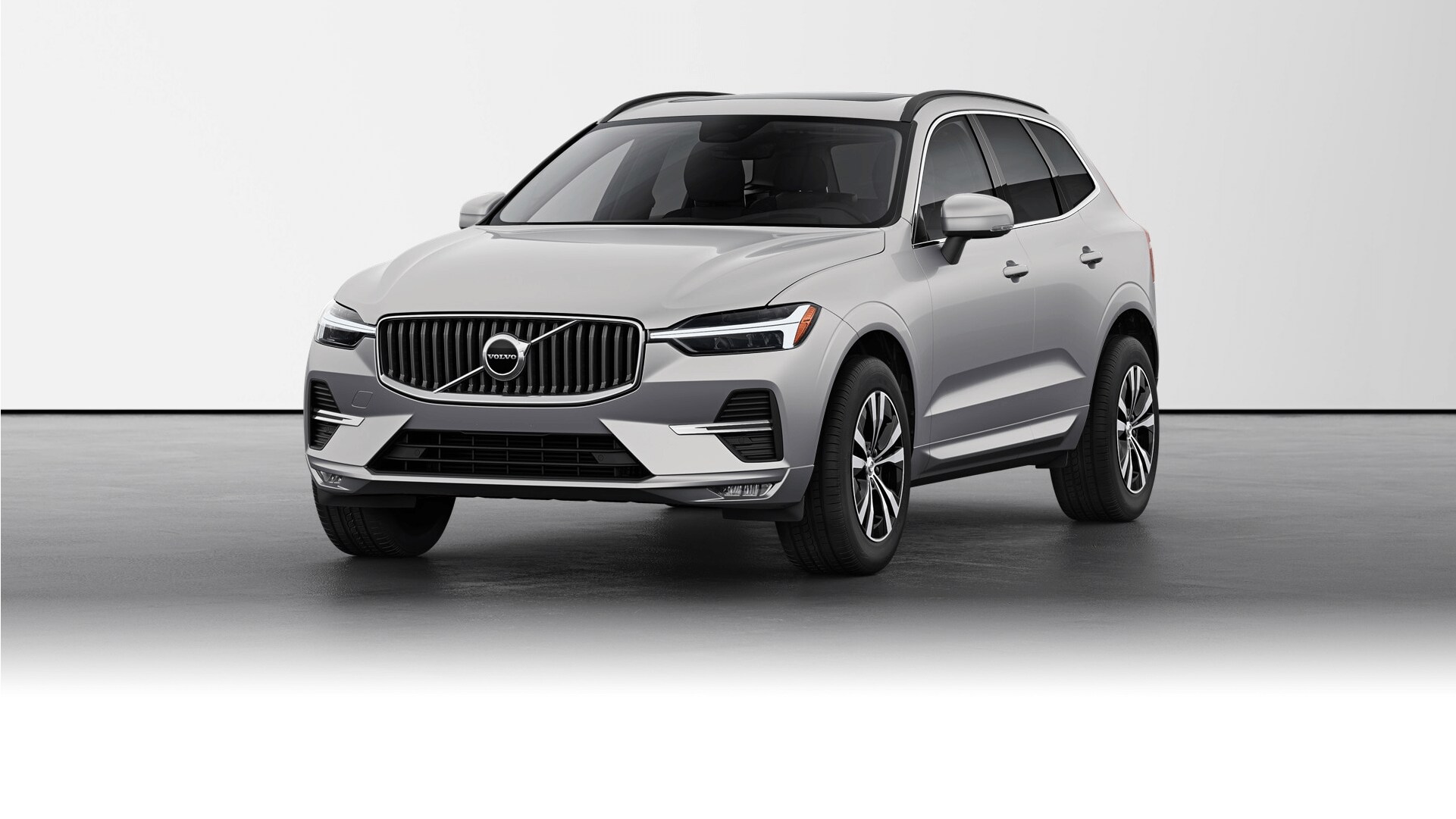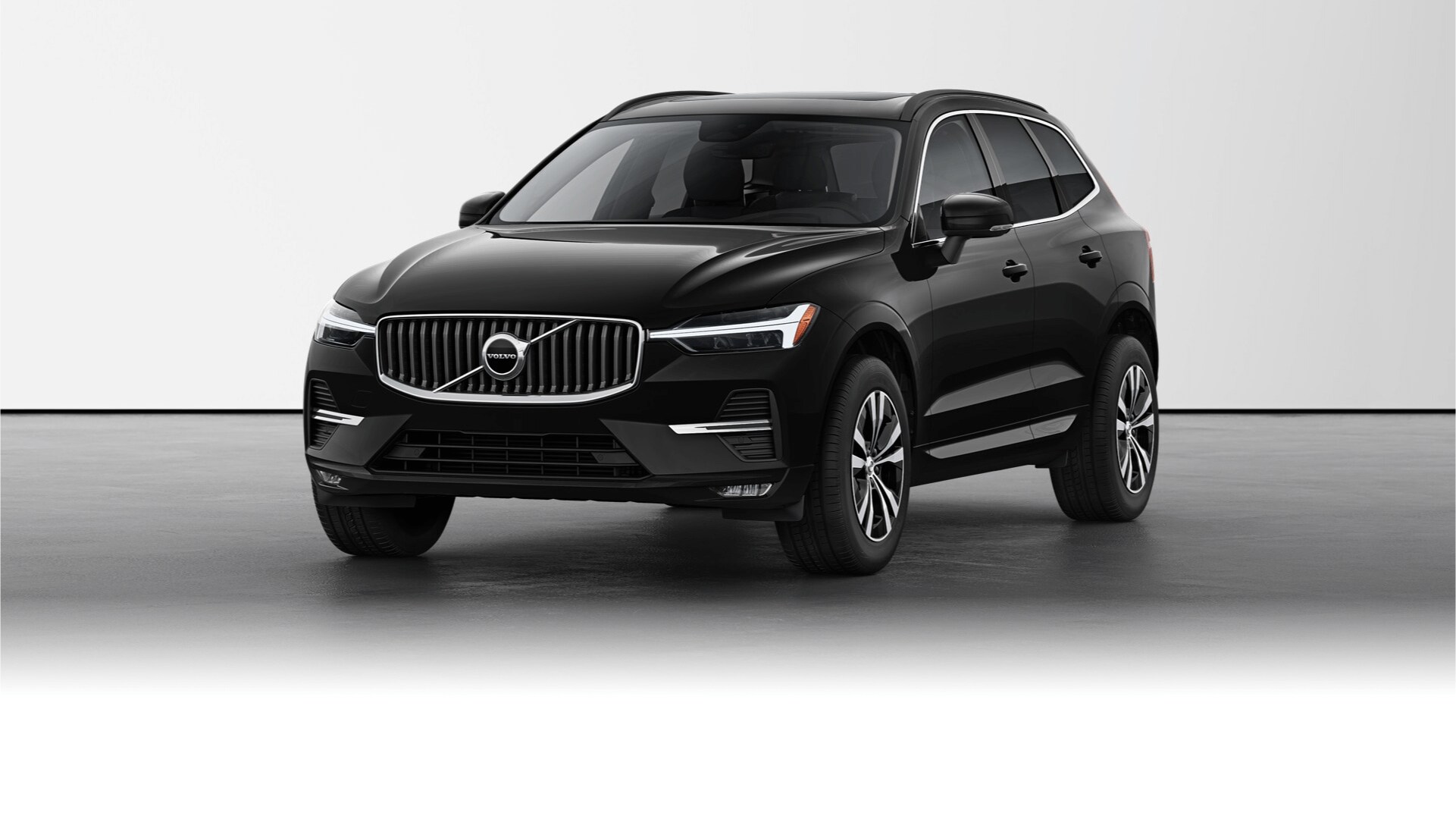 2023 Volvo XC60 Safety and Reliability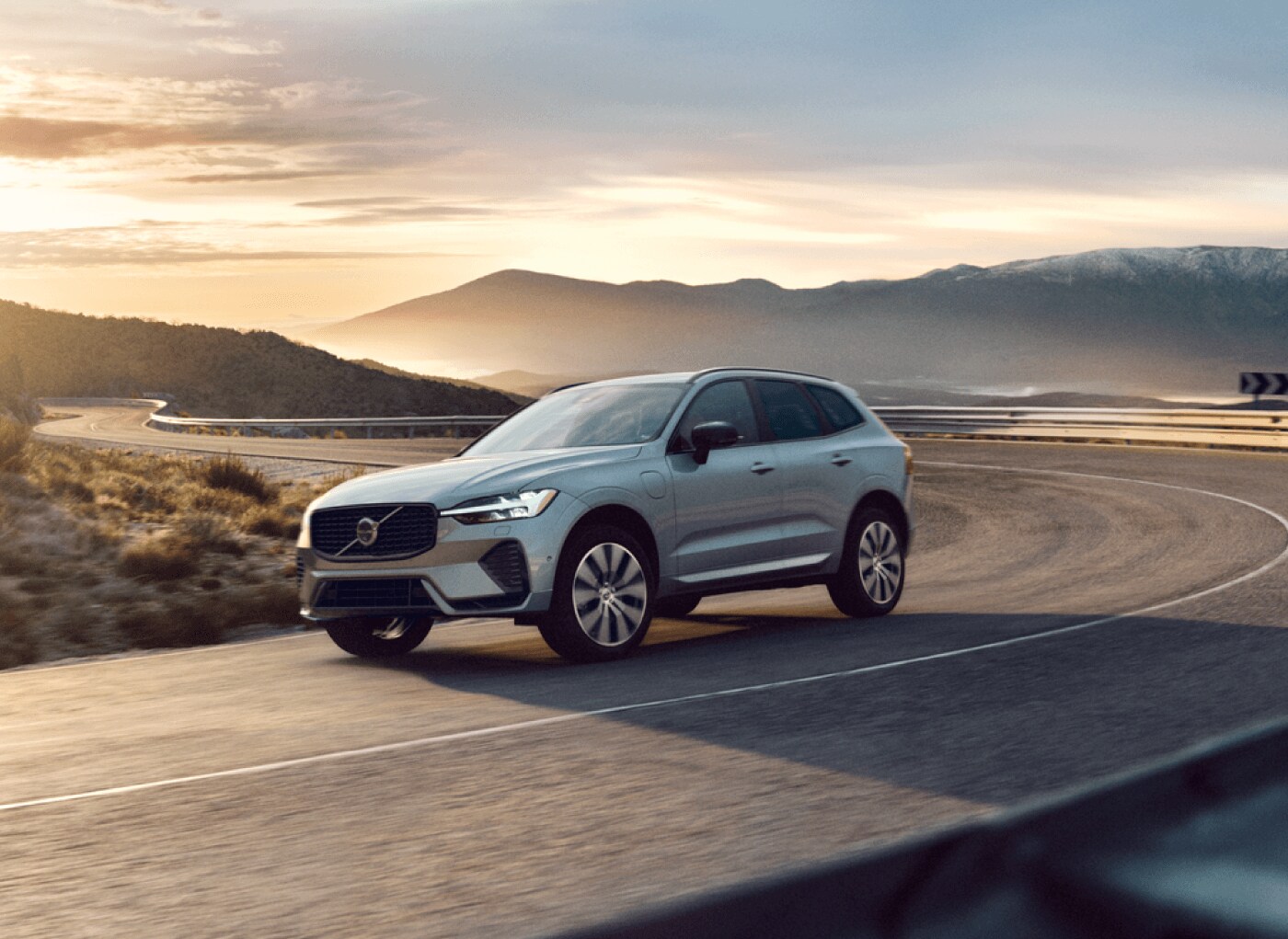 Volvo XC60 Reliability
Volvo Cars builds vehicles that are durable and long-lasting. The turbocharged (and potentially supercharged) 2.0-liter four-cylinder engine pairs efficiency with relative simplicity, making it easy to maintain in the long run. Volvo vehicles are known for being both well-built and easy to service, which is the sweet spot for automotive reliability.
No matter how well-designed a given car is, it will eventually need some maintenance. Volvo automakers understand this, which is why they include excellent warranty coverage with every new Volvo XC60 for sale. We'll get into the details below, but we believe that this is an important part of the car's reliability.
Volvo XC60 Safety Features
Every 2023 Volvo XC60 comes with a wide variety of safety technologies. Even the entry-level Core model boasts all of the following features:
Blind-spot information system with rear cross-traffic alerts
Lane-keeping aid
Oncoming lane mitigation
Rear parking assistance camera
Parking sensors
Rain sensor
Road sign information technology
All of these features work together to try and keep you and your loved ones safe on the roads in San Antonio, TX. While they cannot substitute for safe driving, they will make it easier for you to navigate the dangers of the road. Many folks who buy a vehicle imagine one day giving it to their child as their first car. The Volvo XC60 is a great candidate for your kid's first ride, as it has such an exciting range of safety features. Mid- and top-tier models have even more features, including Adaptive Cruise Control and a 360-degree view camera that makes parking in tight spots easier.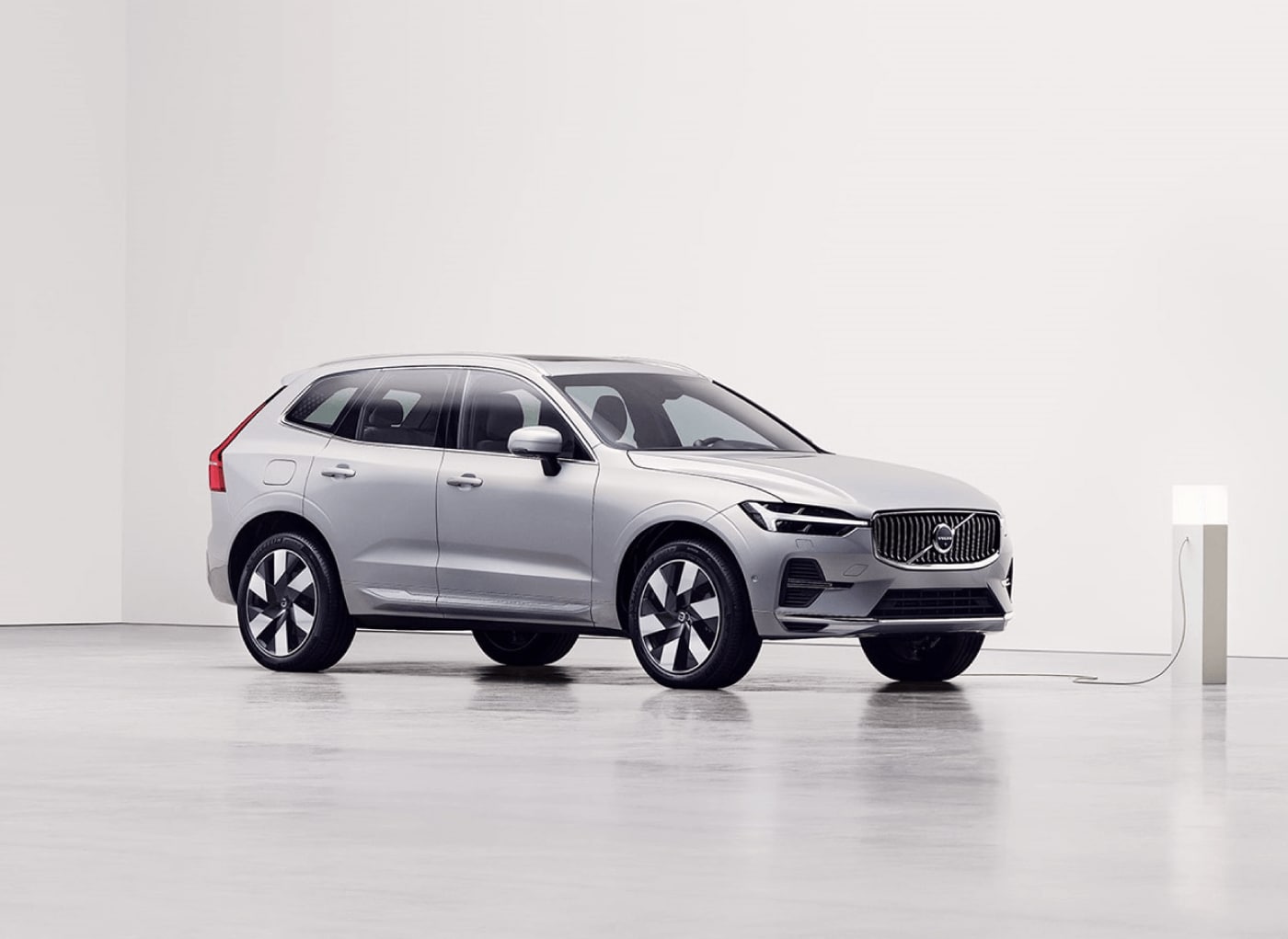 2023 Volvo XC60 Warranty Coverage
Superb Volvo Warranty Coverage
Every new Volvo XC60 for sale boasts superb warranty coverage. The vehicle comes with bumper-to-bumper coverage that lasts for 50,000 miles or four years, whichever comes first.6 Coverage that lasts this long is not found on every competing vehicle, which makes the Volvo XC60 especially attractive to many drivers. You may be thinking that four years isn't all that long for a new car. Don't worry; your coverage doesn't completely evaporate when you pass the first milestone.
The 2023 Volvo XC60 also comes with 12 years of corrosion coverage that is not governed by a mileage cap.6 If you find rust damage on your vehicle during this period, it should be covered by your warranty. The eight-year or 80,000-mile emissions warranty covers some of the emissions-specific elements of the vehicle, such as the catalytic converter.6 Coverage like this is hard to beat.
Volvo Factory Scheduled Maintenance
As we just discussed, your new Volvo XC60 for sale enjoys comprehensive warranty coverage. This coverage only comes into play, however, if damage to your vehicle occurs. Routine maintenance can help prevent this damage, and Volvo Cars offers drivers an added incentive. Your Factory Scheduled Maintenance program lasts for three years or 36,000 miles on the road, whichever comes first.6 It covers your first three yearly scheduled maintenance appointments, which include detailed examinations of your vehicle.
We hope that you have found our Volvo XC60 review to be helpful. We've discussed the vehicle's impressive features, dynamic safety technologies, and all of the bonuses that come with Volvo ownership. If you're ready to get behind the wheel of a bold luxury SUV, then check out our Volvo XC60 specials. We'll now compare the car to some of its competitors and address a number of frequently asked questions about the 2023 Volvo XC60.
Volvo XC60 Competitors
The Audi Q3 is another two-row luxury SUV that is sometimes cited as a Volvo XC60 competitor. It also sports turbocharged four-cylinder engine options, but they pale in comparison to those found on the Volvo vehicle. The entry-level Audi Q3 engine makes only 184 horsepower, and the upgraded model gets 228 horsepower. The Volvo XC60, on the other hand, gets 247 horsepower with its entry-level B5 configuration and 295 with the B6 setup. The Volvo XC60 comes out on top here.
The next vehicle we will consider is the BMW X1. It has the same problem as the Audi SUV: its turbocharged four-cylinder makes only 241 horsepower, less than the Volvo SUV. Some features that are standard on the Volvo XC60, such as keyless entry, must be added to the BMW X1, which drives up the price of the vehicle. This round also goes to the 2023 Volvo XC60.
The Genesis GV70 comes the closest to unseating the Volvo XC60. It has comparable engine options – though it lacks a plug-in hybrid model – and an upscale interior, like the Volvo XC60. Volvo Cars' decades of experience crafting luxury vehicles, however, sees the new Volvo XC60 for sale win out in the end. It has more rear legroom and a better infotainment setup – the controls for music and navigation in the Genesis GV70 are off-putting to many drivers.
The Volvo XC60 is powerful, luxurious, and dynamic. As we have seen, it breezes by the competition. Some drivers will be wondering about how it stacks up against other vehicles. We're here to help with our Volvo XC60 vs. Subaru Outback comparison. Visit us today in San Antonio, TX, to test drive the bold new 2023 Volvo XC60.
Volvo XC60 FAQ
What is the 0-60 of a Volvo XC60?
The entry-level Volvo XC60 powertrain, the B5 FWD configuration, jumps from 0 to 60 MPH in 6.6 seconds. The mid-tier option, the B5 AWD setup, shaves one-tenth of a second off this time. The B6 AWD powertrain, which adds a supercharger to the mix, allows you to race from 0 to 60 MPH in 5.9 seconds. Finally, the Volvo XC60 Recharge makes the leap in just 4.5 seconds.
How big is the cargo area of the Volvo XC60?
With the rear seats in use, the Volvo XC60 has 22.4 cubic feet of cargo space. You can fit several suitcases back there or a massive haul of groceries and other purchases. With the back row folded down, you'll enjoy 63.3 cubic feet of room. Such a spacious interior allows you to haul furniture if and when it's time to help with a move.
Is the Volvo XC60 good on gas?
The 2023 Volvo XC60 gets excellent fuel economy ratings. A B5 FWD model gets an EPA-estimated 23/30/26 MPG (City/Highway/Combined).4 The B5 AWD setup offers an EPA-estimated 23/29/25 MPG (City/Highway/Combined).4 The B6 AWD powertrain boasts an EPA-estimated 21/27/23 MPG (City/Highway/Combined).4 The plug-in hybrid model gets an EPA-estimated 63 MPGe (Combined).7
Is the Volvo XC60 a quiet ride?
The Volvo XC60 is sleek and comfortable from bumper to bumper. Volvo Cars has dedicated an enormous amount of effort to making sure that the SUV's ride is enjoyable, and this includes the sound department. The Volvo XC60 cabin is designed to minimize the sound that can enter from outside, allowing you and your loved ones to drive in peace.
Does the Volvo XC60 have turbo?
Every powertrain for the 2023 Volvo XC60 features a turbocharger. The upgraded B6 and T8 powertrains boast both a turbocharger and a supercharger. The new Volvo XC60 for sale is muscular and dynamic, boasting both speed and fuel efficiency. There is a version of this luxury SUV to suit anyone's tastes. Visit us today in San Antonio, TX, for a test drive.
Explore Our Other Volvo Models
---
1All SiriusXM services require a subscription, sold separately by SiriusXM after the trial period. Your SiriusXM service will automatically stop at the end of your trial unless you decide to subscribe. If you decide to continue service after the trial, the subscription plan chosen will automatically renew and be charged according to your chosen payment method at the then-current rates. Fees and taxes apply. See the SiriusXM Customer Agreement & Privacy Policy at www.siriusxm.com for full terms and how to cancel, which includes calling 1-866-635-2349. Available in the 48 contiguous United States, D.C., and Puerto Rico (with coverage limits and capable receiver). Visit www.siriusxm.com/FAQS for most current service area information. Availability of some services and features is subject to device capabilities and location restrictions. All fees, content and features are subject to change. SiriusXM, Pandora and all related logos are trademarks of Sirius XM Radio Inc. and its respective subsidiaries.
2Volvo Valet is only available at participating retailers.
3Loaner vehicles are subject to dealer availability and policies.
4For more information, please visit the official US government source for all fuel economy at www.fueleconomy.gov.
5When properly equipped.
6Warranties listed on this webpage shall not be solely relied upon. Warranties may be subject to specific terms, restrictions, exclusions, and fees. Additional warranty information may be obtained by visiting the official website of the warranty provider. Contact our dealership for complete details.
7This is a hybrid plug in vehicle. Since electricity is not measured in gallons, a conversion factor is used to translate the fuel economy into miles per gallon of gasoline equivalent (MPGe). Use for comparison purposes only. Your MPGe will vary for many reasons, including but not limited to, driving conditions, how and where you drive, how you maintain your vehicle battery-package/condition, and other factors. For more information, including information on MPGe, see www.fueleconomy.gov