2023 Volvo C40 SUVs For Sale In San Antonio, TX

Expand or Narrow Your Volvo Inventory Search Using These Convenient Quick Links:
What's New With the 2023 Volvo C40?
The new Volvo C40 for sale is a dynamic and luxurious all-electric crossover SUV that is now available in three different trims, while the 2022 model had just one. Now, drivers can choose between the Volvo C40 Core, Plus, and Ultimate. Each offers excellent value for your money, with the mid- and top-tier trims including compelling sets of additional features. The 2023 model has two new interior upholstery options: Charcoal Fusion, which is cloth, and Midnight Zinc, a wool blend.
The 2023 Volvo C40 is a great option for families in San Antonio, TX. It's spacious enough to comfortably seat up to five people but not so large that it's difficult to park. The all-electric powertrain will help you save a bundle on fuel costs. Read on to learn more about the Volvo C40 specs, creature comforts, and available options.
2023 Volvo C40: Design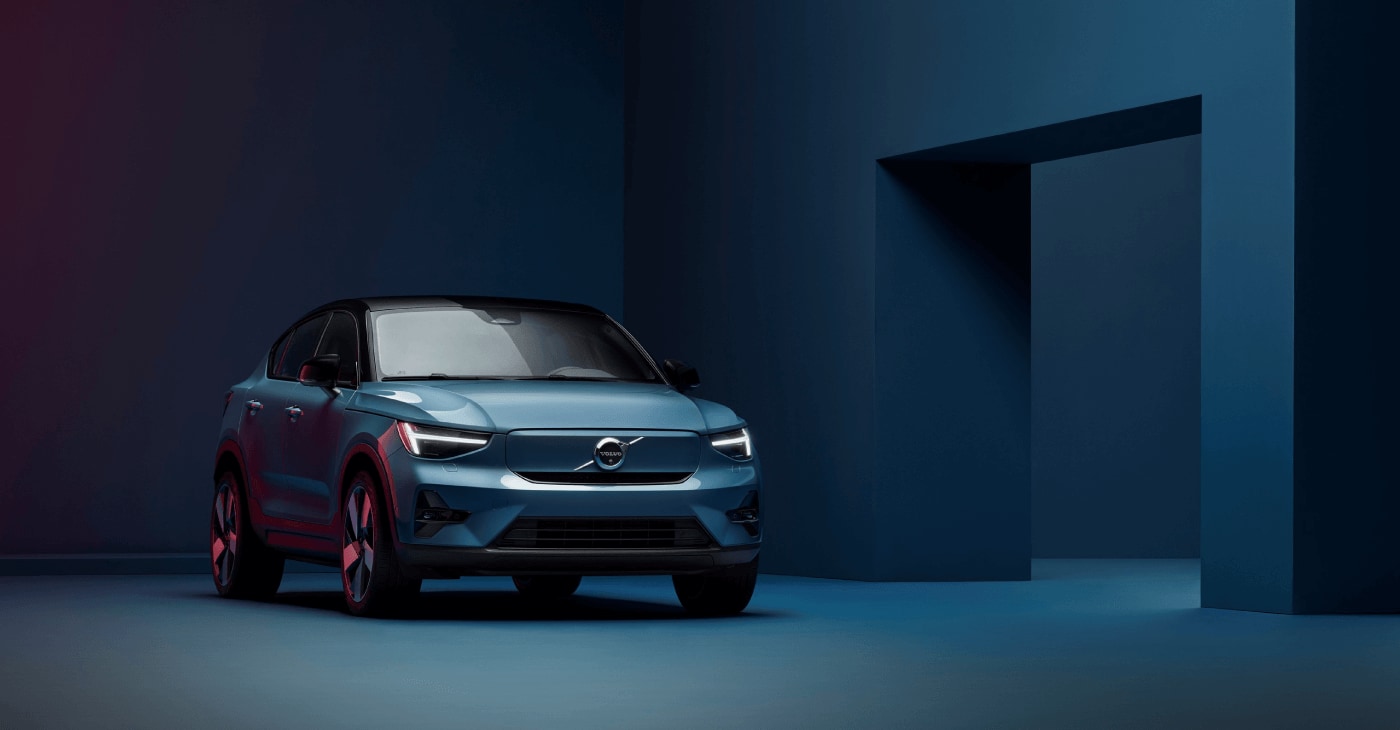 Exterior Design
The sleek exterior design of the Volvo C40 catches the eye and guides it along the refined lines and curves of this all-electric SUV. The vehicle has a bold front design and sharp lines on the rear. The car features dashing 19-inch black diamond-cut wheels and a unique headlight design that stands out on the road.
As you'll see below, the Volvo C40 is available in eight colors, allowing you to customize your vehicle. No matter which one you select, however, you'll enjoy the laminated moonroof with its powered sunshade that comes on every version of the Volvo C40. It allows natural light to stream into your cabin, but you can close the sunshade with just the tap of a button when it's time for the kids to take a nap.
Interior Design
The Volvo C40 interior is rife with creature comforts and elegant touches. The back-lit ambiance lighting imparts a warm glow in the cabin. Numerous cup holders and cargo pockets allow you to safely store your drinks, snacks, and electronics. The carpeting in the vehicle is made in part of recycled materials. Between these recycled materials and the car's all-electric powertrain, we can see that Volvo automaker's commitment to the environment shines through in more ways than one in the Volvo C40.
The car's heated front seats will keep you warm during chilly mornings. The Core and Plus models can be outfitted with a Climate Package that adds heated rear seats, a heated steering wheel, and a heating pump that keeps the cabin nice and warm. For drivers in San Antonio, TX, who abhor the cold, this package is entirely worthwhile. You can also purchase a Volvo C40 Ultimate, which comes standard with all of these heating elements.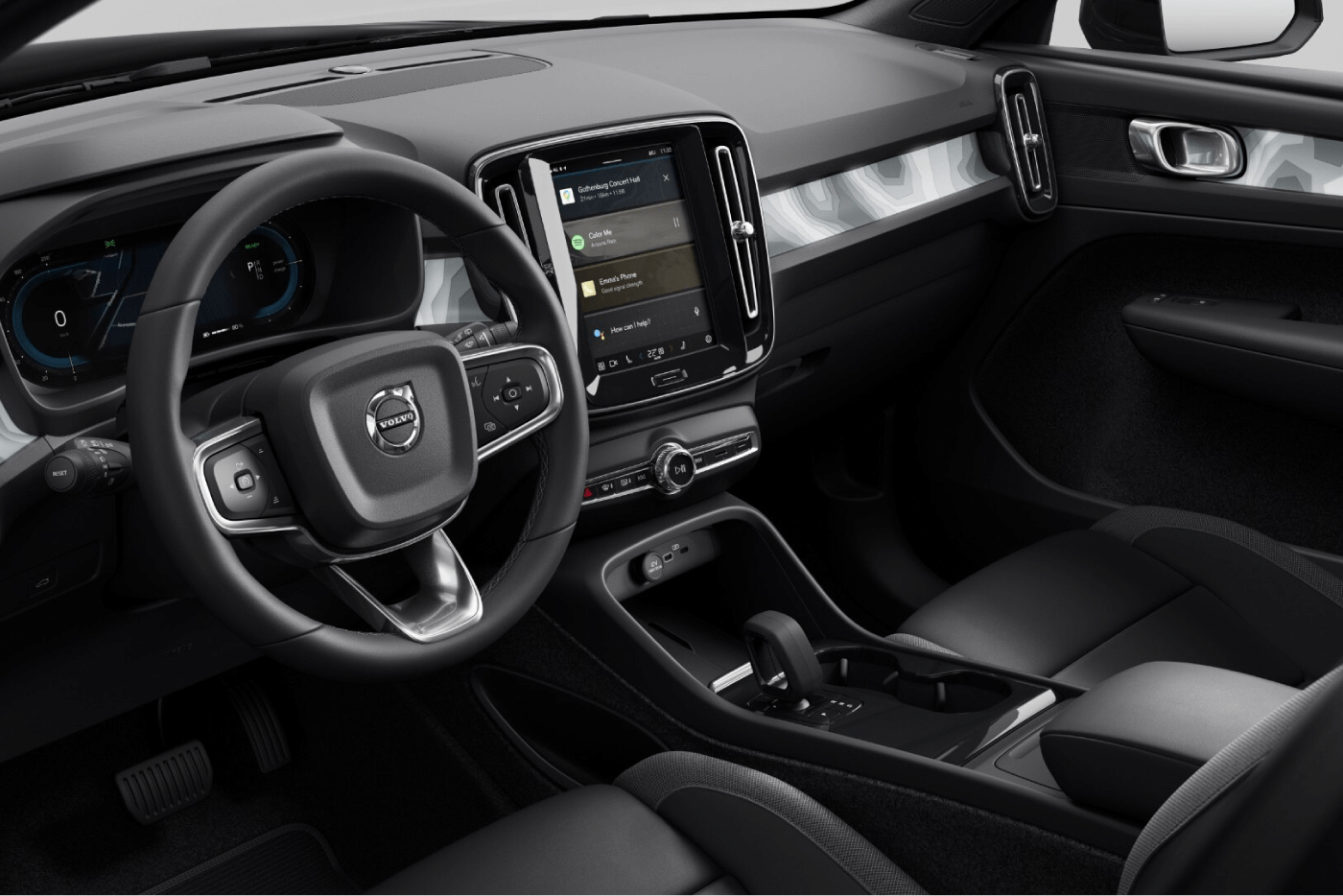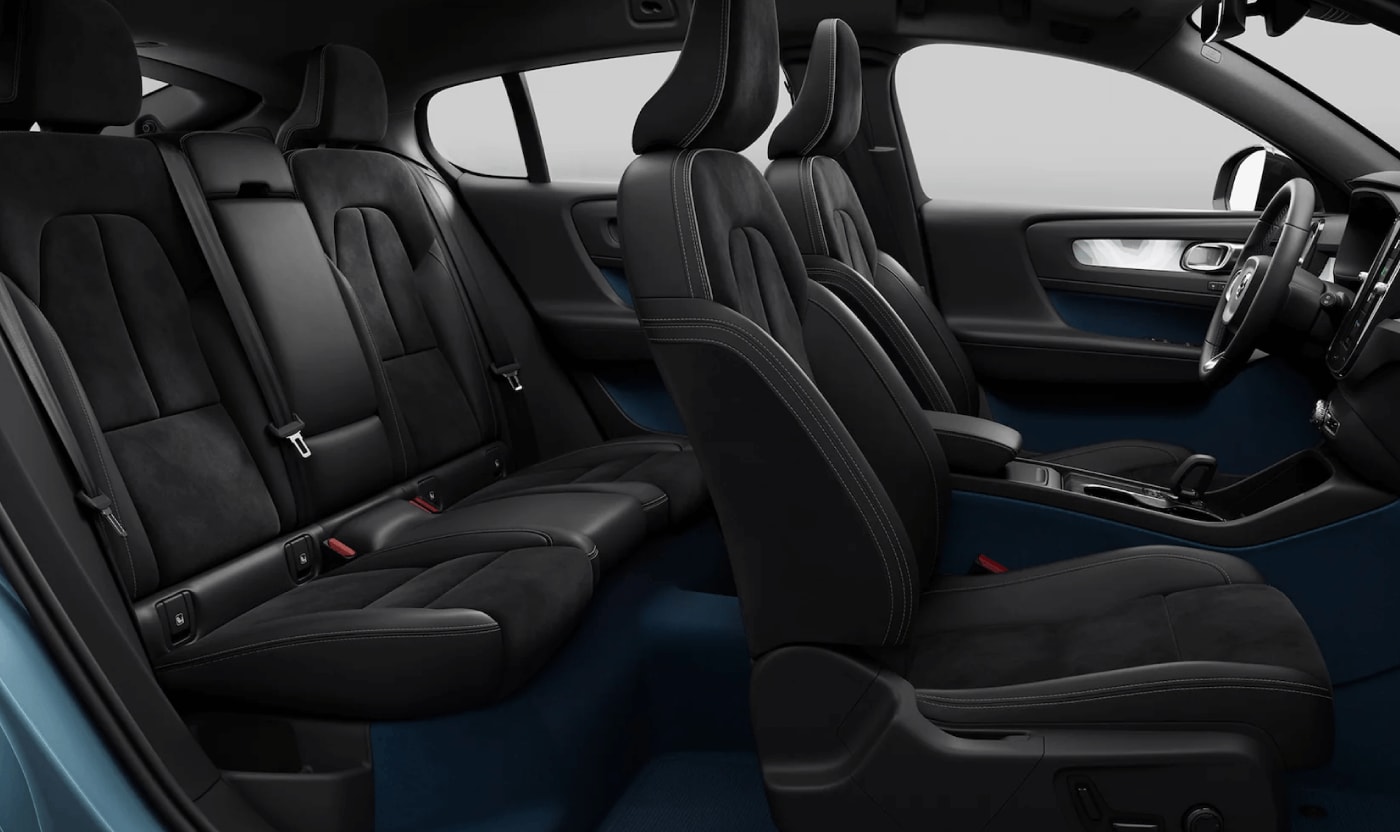 Comfort
The seats of the Volvo C40 are designed to cradle your body and prevent long trips from causing too much stress on you and your passengers. The front seats are quite adjustable, allowing you to pick the perfect position for your needs. Powered lumbar support will keep your back in decent shape, while the memory settings on the driver's seat let you and your partner share the vehicle without needing to fiddle with the seating every time.
The kids will also be comfortable in the back of the car. The rear seat of this SUV is spacious, boasting 36.1 inches of legroom and 36.7 inches of headroom. The front seats are even roomier, with 39.4 inches of headroom and 40.9 inches of legroom. You and your riders will be able to stretch your legs during long rides, making our new Volvo C40 for sale an excellent option for cross-country road trips.
Accessories
There are numerous parts and packages available for the 2023 Volvo C40. As we noted above, the Core and Plus models have access to the Climate package. Every model of the Volvo C40 can also be equipped with the Protection Package Premier, which includes plastic luggage mats, rubber floor mats, and a first aid kit. The mats will prevent your car's upholstery from becoming muddy or dirty. As for the first aid kit, we hope you never need it, but it's better to have it just in case.
You can also equip this sleek all-electric SUV with mud flaps, load bars, or a tow bar hitch (without a tow ball). These parts allow you to customize your automobile to fit your needs. If you plan to take it car-camping, then mud flaps and load bars are a good idea. If you want to bring your ATV along, the towing package is also worth looking at. On the other hand, if you expect to keep your car in the city, you don't need to spring for these extras. Volvo Cars leaves the customization to you.
2023 Volvo C40: Technology
Digital Display and Touch Screen
The new Volvo C40 for sale boasts a touch screen between the driver and front passenger and a digital display behind the steering wheel. The nine-inch touch screen allows you to easily control music, navigation, and even some apps on your phone through the car. It features built-in Google technology that can handle music and directions. The screen also displays the feeds from your available rearview camera, 360-degree view, and parking assistance systems.
The 12-inch digital display shows you all the information you need to drive effectively. It lets you know how fast you're traveling and your expected remaining driving range. The slick display has two modes: Calm and Navigation. You can choose which one you prefer. This is yet another example of how Volvo Cars puts drivers first, allowing you to pick the configuration you prefer.
Features
The 2023 Volvo C40 is packed with cutting-edge technology. Some features, such as the laminated moonroof, are physical ones. The heated seats and available heated steering wheel are similar. Others, however, are less immediately obvious. It's not until you start listening to your favorite tunes or podcast that you'll discover that the premium eight-speaker sound system can fill your cabin with sonorous music or the dulcet tones of a podcast host.
Upper-level trims of the new Volvo C40 for sale have even more impressive features. The Ultimate trim, for example, boasts the Volvo Graphical Head-Up display. This technology projects directions and other automotive information directly onto the bottom portion of your windshield. This feature allows you to keep your eyes on the road and your vehicle on its intended path. The Volvo C40 Ultimate also enjoys a 13-speaker sound system that is even more powerful and refined than the base-level eight-speaker configuration.
The Volvo Cars App
The Volvo Cars App is a bold step into the future. It allows you to manage and monitor your vehicle from a distance, which is a boon for drivers who have families or are always on the go. You can use the app to check the car's charge level, unlock or lock it, start the vehicle, or manage the climate control system. On a hot morning, you can start your SUV and get it nice and cool before you've even finished cleaning up the breakfast dishes.
The app also allows you to schedule service at a Volvo dealership. This is quite convenient – you don't have to make a phone call or open up a web page, but instead, just use the Volvo Cars app to set up the appointment. Our dealership is well-equipped to help you with all of your automotive needs, be they service-related or not. All of the new Volvo cars at our dealership feature the connectivity offered by the Volvo Cars app.
Volvo C40 Performance
| | 2023 Volvo C40 Recharge Twin Core | 2023 Volvo C40 Recharge Twin Plus | 2023 Volvo C40 Recharge Twin Ultimate |
| --- | --- | --- | --- |
| Horsepower | 402 hp | 402 hp | 402 hp |
| Torque | 487 lb-ft | 487 lb-ft | 487 lb-ft |
| Transmission | Automatic | Automatic | Automatic |
| Fuel Economy Combined | 87 MPGe1 | 87 MPGe1 | 87 MPGe1 |
| Fuel Type | Electric | Electric | Electric |
| Storage/Cargo Capacity | 49 cubic feet | 49 cubic feet | 49 cubic feet |
| Towing Capacity | 2,000 lbs2 | 2,000 lbs2 | 2,000 lbs2 |
| Seats | 5 | 5 | 5 |
| Exterior Dimensions H/L/W | 62.8 in/174.8 in/75.2 in | 62.8 in/174.8 in/75.2 in | 62.8 in/174.8 in/75.2 in |
2023 Volvo C40 Trims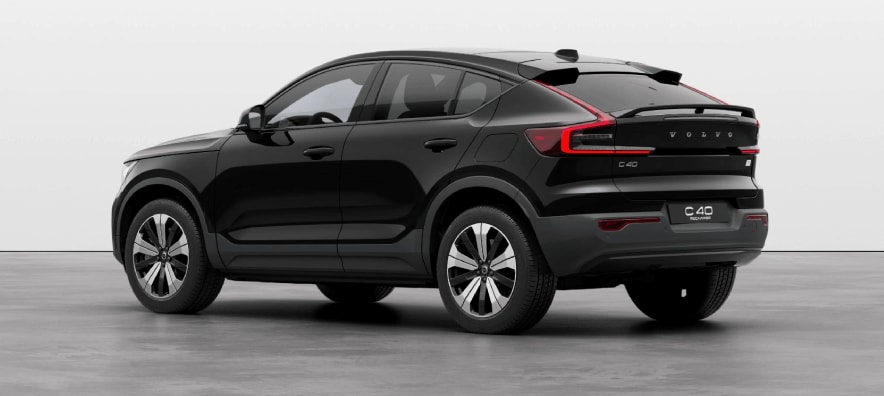 Volvo C40 Core
---
The entry-level trim of this all-electric SUV is anything but basic. It includes heated front seats, a laminated moonroof, and a dynamic suite of safety technology. You and your loved ones will be supremely comfortable as you drive about in San Antonio, TX. The Core trim offers excellent value for your hard-earned money.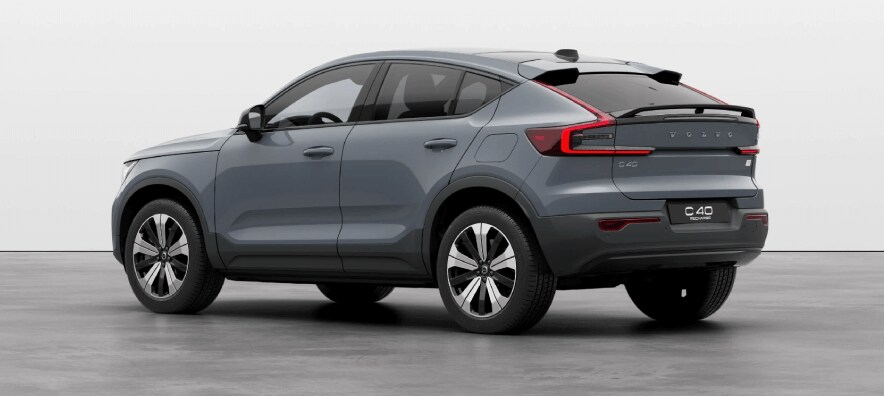 Volvo C40 Plus
---
The mid-tier Plus trim adds a number of compelling features to your all-electric SUV without costing an arm and a leg. Volvo C40 Plus SUVs have a 360-degree camera, parking assistance technology, fog lights, and a foldable load floor in the trunk that makes fitting the whole load of groceries a breeze. The Plus model is a great choice.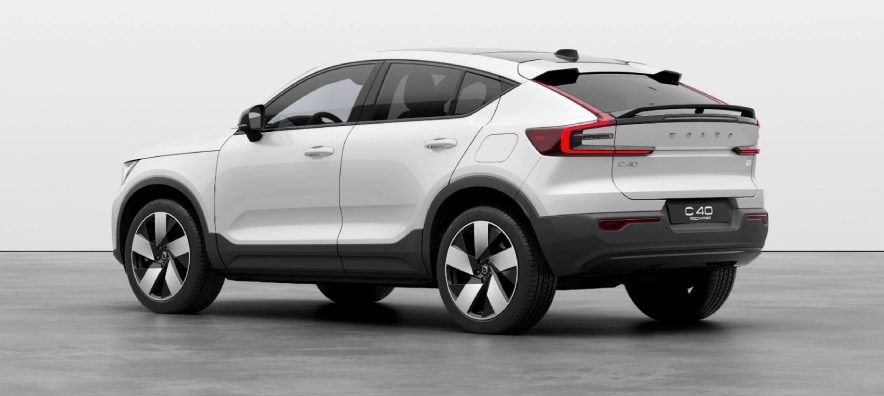 Volvo C40 Ultimate
---
The 2023 Volvo C40 Ultimate is the cream of the crop. It enjoys all of the features found on the Plus trim and adds many more. You'll have heated rear seats, a heated steering wheel, the Volvo Graphical Head-Up Display, adaptive cruise control, and a premium 13-speaker sound system in this version of the bold new Volvo C40.
Volvo C40 Colors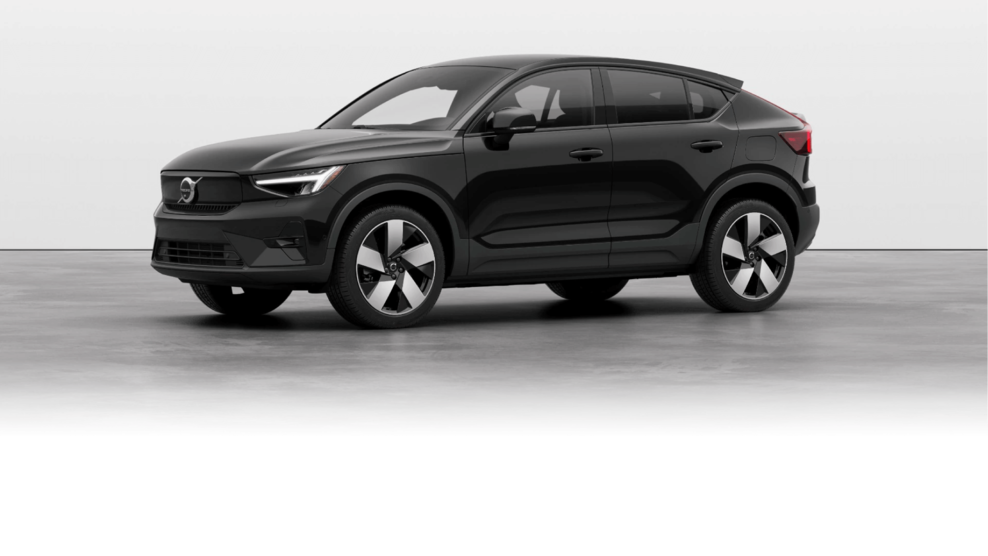 2023 Volvo C40 Safety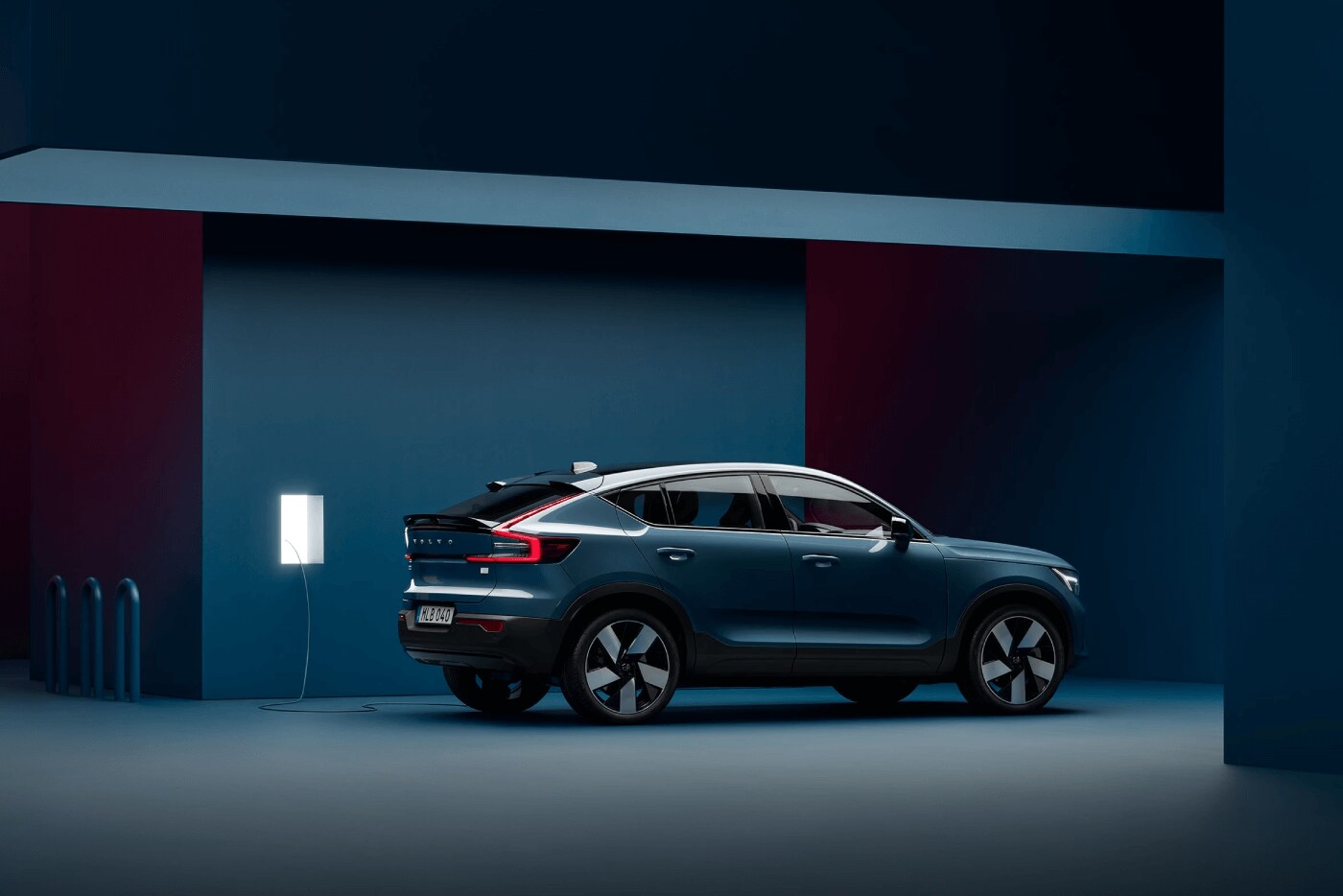 Reliability
All-electric vehicles are lauded as being environmentally friendly, and rightfully so. One advantage of these cars that is less frequently discussed, however, is their reliability. Where a traditional vehicle literally explodes gasoline to power its engine, an electric car just uses batteries and motors. These systems experience much less wear and tear than internal combustion engines and consequently can experience fewer mechanical issues that you'll have to sort out.
It's hard to say precisely how long a new Volvo C40 for sale will last on the road because these all-electric vehicles are only a few years old. We expect that after a decade and a half – give or take several years – you may have to look at replacing the battery. Otherwise, many of the parts that cause problems on other vehicles won't be an issue with an electric car. You don't have to worry about head gaskets, fan belts, or other parts that can require costly repairs on internal combustion engine cars. Your Volvo C40 may still experience problems, but they ought to be few and far between.
Safety Features
The 2023 Volvo C40 comes with a wide-ranging suite of standard safety technologies. Every model has:
Blind-spot monitoring
Rear cross-traffic alerts
Lane-keeping assistance
Oncoming lane mitigation
Rearview camera
Rear parking assistance technology
Road sign information reading
These technologies work together to help you and your family stay safe on the roads in San Antonio, TX. The Plus and Ultimate trims have even more safety features. The Plus trim has a 360-degree camera view and parking assistance technology on the sides and front of the car, in addition to the rear. The Ultimate trim enjoys adaptive cruise control and Volvo Pilot Assist, a semi-autonomous driving technology. The new Volvo C40 is well-equipped to help you try to navigate the dangers of the road.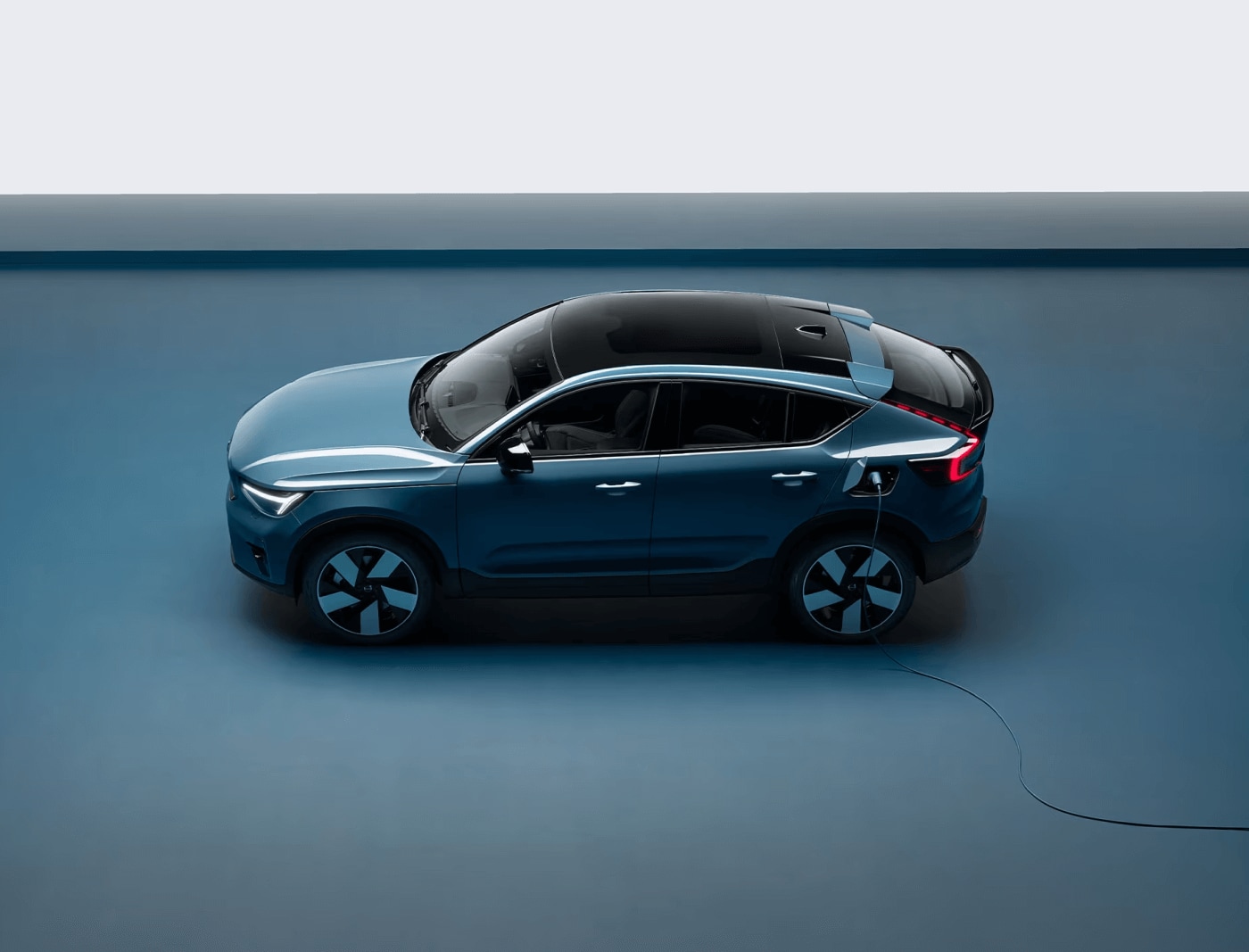 Volvo C40 Charging
Volvo C40 Charging Time
The Volvo C40 can be charged with both DC and AC power. DC fast charging stations are publically available all over the country and are the faster charging method for all-electric vehicles. You can jump from a 10% charge to an 80% charge in just 37 minutes3 at a DC fast charging station. This speed allows you to easily make cross-country trips, stopping every now and then to get some food, use the bathroom, and top off the vehicle.
AC charging is slower than DC, but it is available in the comfort of your own home. You can go from 0% to 100% in eight hours with a 240-volt 48-A charging line. As such, you should be able to charge your car overnight and start the day with a full battery most of the time. Given how much people drive a week on average, you could conceivably commute or complete chores several days in a row without even needing to charge your SUV.
How To Charge Your Volvo C40
Charging your 2023 Volvo C40 is not difficult. Instead of putting the gasoline nozzle into your tank, you'll plug a charger into the port on the outside of your new all-electric SUV. As noted above, you can use the Volvo Cars app on your phone to monitor charging and to set the battery charge level. Volvo Cars recommends charging your vehicle to 90% for normal daily driving and not letting it fall below 20% capacity. Adhering to these standards will help you prolong the life of your battery.
The Volvo C40 can travel hundreds of miles on a single charge. This is a very compelling vehicle between its impressive horsepower specs, luxurious interior, and the Volvo C40 range. With fast-charging capability, this is a road-trip-ready machine. We invite you to visit our dealership in San Antonio, TX, today to test drive the bold new Volvo C40 for sale.
Volvo C40 vs. The Competition
The Volvo C40 is not the only all-electric SUV on the market. We will compare this dynamic Volvo SUV to some of the competing models that are currently available. The first vehicle we will consider is the Ford Mustang Mach-E. While the name is that of a muscle car, the Mach-E is an all-electric SUV. There are three different all-electric powertrains available for this vehicle. The entry-level one makes 266 horsepower, and the mid-tier option gets 346. The top-tier model gets 480 horsepower, which is slightly more than the 402 offered by the Volvo C40, but it costs thousands of dollars more than the Volvo C40 Ultimate. So far, the Volvo vehicle is coming out on top.
The next car on our list is the Tesla Model Y. The base Model Y is currently priced higher than the top-tier Volvo C40. It boasts an all-glass panoramic roof, but the Volvo C40 has its own panoramic moonroof. The Tesla SUV uses a single large touchscreen for all of the functions found on the two displays of the Volvo C40, which gets busy fast.
The last vehicle we will look at in comparison to the 2023 Volvo C40 is the Audi Q4 e-tron. The base models are rear-wheel drive, unlike the all-wheel-drive Volvo C40, and only get 201 horsepower. This pales in comparison to the mighty Volvo SUV. Even the upgraded dual-motor models only get 295 horsepower, which still falls well short of the Volvo C40. With comparable prices and similarly lavish interiors, we give this round to the Volvo C40, too.
Thank you for reading our Volvo C40 review. Our dealership team in San Antonio, TX, is ready to help you with all of your automotive needs. We offer new Volvo vehicles, used cars of all makes and models, and automotive service. Our finance folks go above and beyond to try and secure you the low-rate financing that you deserve. Visit us today to test out our sleek new Volvo C40 for sale.
Frequently Asked Questions
Is the Volvo C40 bigger than the Volvo XC40?
The Volvo C40 is slightly smaller than the Volvo XC40. The Volvo C40 has a fastback design that sees the back of the vehicle taper off, whereas the Volvo XC40 has a more traditional boxy design. Neither of these is better than the other; they're simply different styles. You can test drive both of these all-electric SUVs at our dealership.
Is the Volvo C40 an SUV?
The Volvo C40 is an SUV. It has a sleek fastback design that lends it a sportier look than many other SUVs, but with 49 cubic feet of cargo capacity, it puts the "utility" in "SUV." The vehicle also features all-wheel drive and refined suspension, allowing you to take it off the beaten path. The Volvo C40 is a family-friendly SUV.
Is the Volvo C40 fast?
The Volvo C40 is quite fast. Its dual-motor powertrain makes 402 horsepower, allowing it to leap from 0 to 60 in just 4.5 seconds. Your passengers will be clutching their hand rests when you unleash the full power of your new Volvo C40 SUV. It also gets excellent fuel economy, allowing you to save a bundle on gasoline.
What is the main difference between a Volvo XC40 Recharge and Volvo C40?
One key difference between the two all-electric Volvo SUVs is their style. The Volvo C40 is sleek and sporty, while the Volvo XC40 has a more traditional SUV look. With these two vehicles to choose from, you'll be able to get the one that matches your style. Both the Volvo XC40 and the Volvo C40 offer excellent value for your money.
Can you tow with the Volvo C40?
The Volvo C40 can tow up to 2,000 pounds when it is properly equipped. You can use this sleek machine to bring your jet ski, small boat, pop-up camper, or a smaller trailer along for a weekend excursion or a longer journey. The Volvo C40 can do it all – it gets great gas mileage, has a beautiful interior, and can tow.
Volvo C40 Reviews
Robert Pretli
04.25.2022

Purchased my new C40 Recharge today. Nicole was great, helpful and made the process smooth and easy. Great experience.

Explore Our Other Volvo Models
---
1This is an electric vehicle. Since electricity is not measured in gallons, a conversion factor is used to translate the fuel economy into miles per gallon of gasoline equivalent (MPGe). EPA-estimated 87 combined MPGe. Use for comparison purposes only. Your MPGe will vary for many reasons, including but not limited to, driving conditions, how and where you drive, how you maintain your vehicle battery-package/condition, and other factors. For more information, including information on MPGe, see www.fueleconomy.gov
2When properly equipped.
3Charging times will vary and are dependent on factors such as outdoor temperature, current battery temperature, charging equipment, battery condition and car condition.
)
; ;