2023 Volvo XC90 SUVs For Sale In San Antonio, TX

Expand or Narrow Your Volvo Inventory Search Using These Convenient Quick Links:
2023 Volvo XC90: What's New?
The new Volvo XC90 for sale is a powerful three-row luxury SUV that pairs fuel efficiency with comfort and style. Families in San Antonio, TX, will enjoy the roomy cabin and plentiful luxury features offered by this sleek vehicle. The 2023 model boasts a new lineup of trims: the Core, Plus, and Ultimate. It also does away with the gasoline-only powertrain options that used to be offered on the Volvo XC90. Now, drivers can choose between two mild-hybrid powertrains and a plug-in hybrid option, the Volvo XC90 Recharge. The Volvo XC90 redesign also touches on some aesthetic elements of the vehicle – it will look great on the road and in your driveway. Read on to learn more about the bold new 2023 Volvo XC90.
2023 Volvo XC90 Design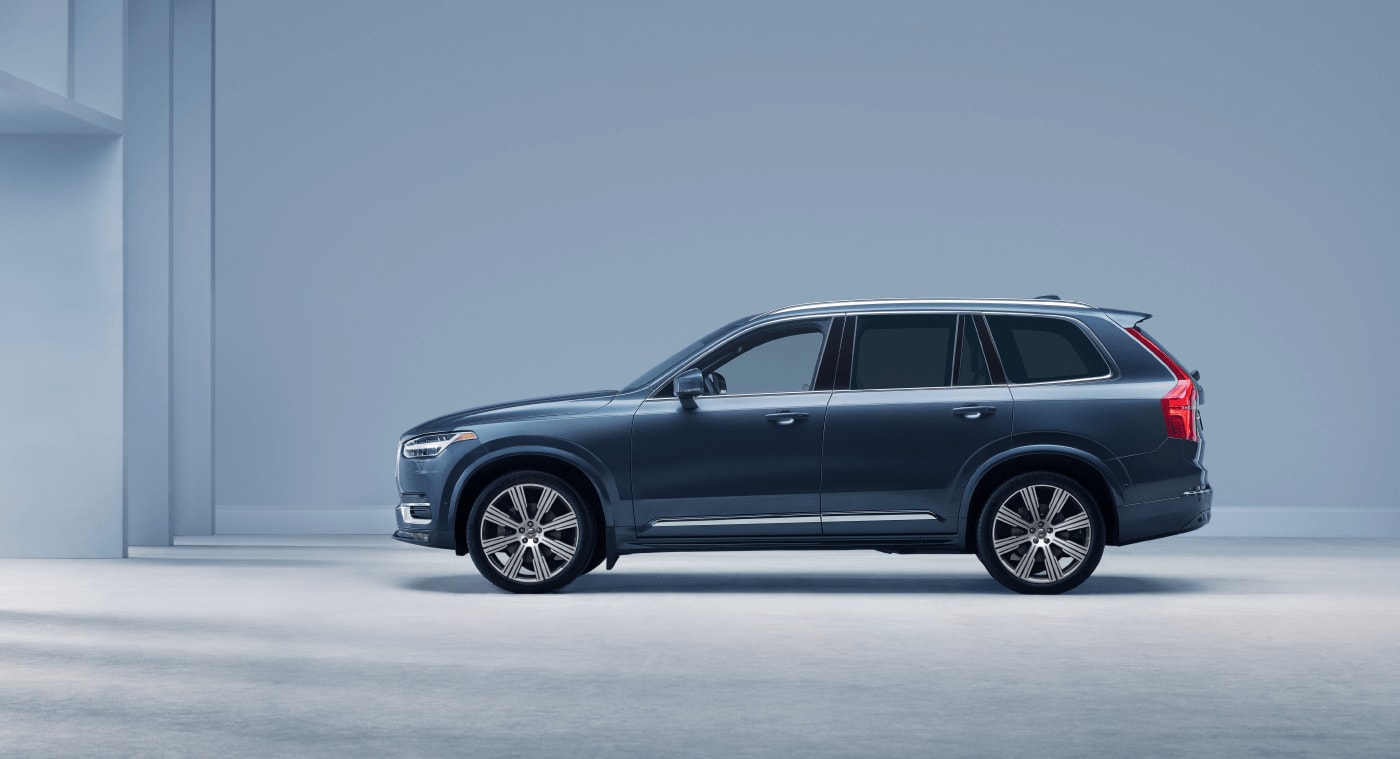 Volvo XC90 Exterior
The new Volvo XC90 for sale has a sleek and rounded design that will remind some folks of a sci-fi film. The refined lines of this luxury three-row SUV guide the eye along its curves, revealing an elegant machine. With a wide number of compelling exterior colors to choose from – you can review all of the options below in this article – you can design this vehicle to match your preferences.
The 2023 Volvo XC90 is 195 inches long, 79.1 inches wide, and 69.9 inches tall. These dimensions offer a spacious three-row interior, but the car is not so long that it is especially difficult to maneuver in tight spaces. This luxury SUV comes with integrated roof rails, tinted rear windows, and a sleek front grille that will draw eyes everywhere you drive. The base model features 19-inch six-spoke wheels, but upgraded versions have even larger wheels.
Volvo XC90 Interior
The Volvo XC90 can seat up to seven people in three spacious rows of seats. However, you can choose to swap the second-row bench for a pair of captain's chairs. Doing so lowers the seating capacity to six but allows folks to get into and out of the third row more easily. Volvo Cars leaves it up to you to decide which option to select.
The driver and front-row passenger will enjoy 38.9 inches of headroom, 56 inches of hip room, and 40.9 inches of legroom. The second row boasts 38.5 inches of headroom, 56.5 inches of hip room, and 37 inches of legroom. The back row has 36.3 inches of headroom, 44.9 inches of hip room, and 31.9 inches of legroom, which beats a lot of other three-row vehicles. You and the family can pile into the Volvo XC90 and set out for a long trip with plenty of space for everyone to stretch out.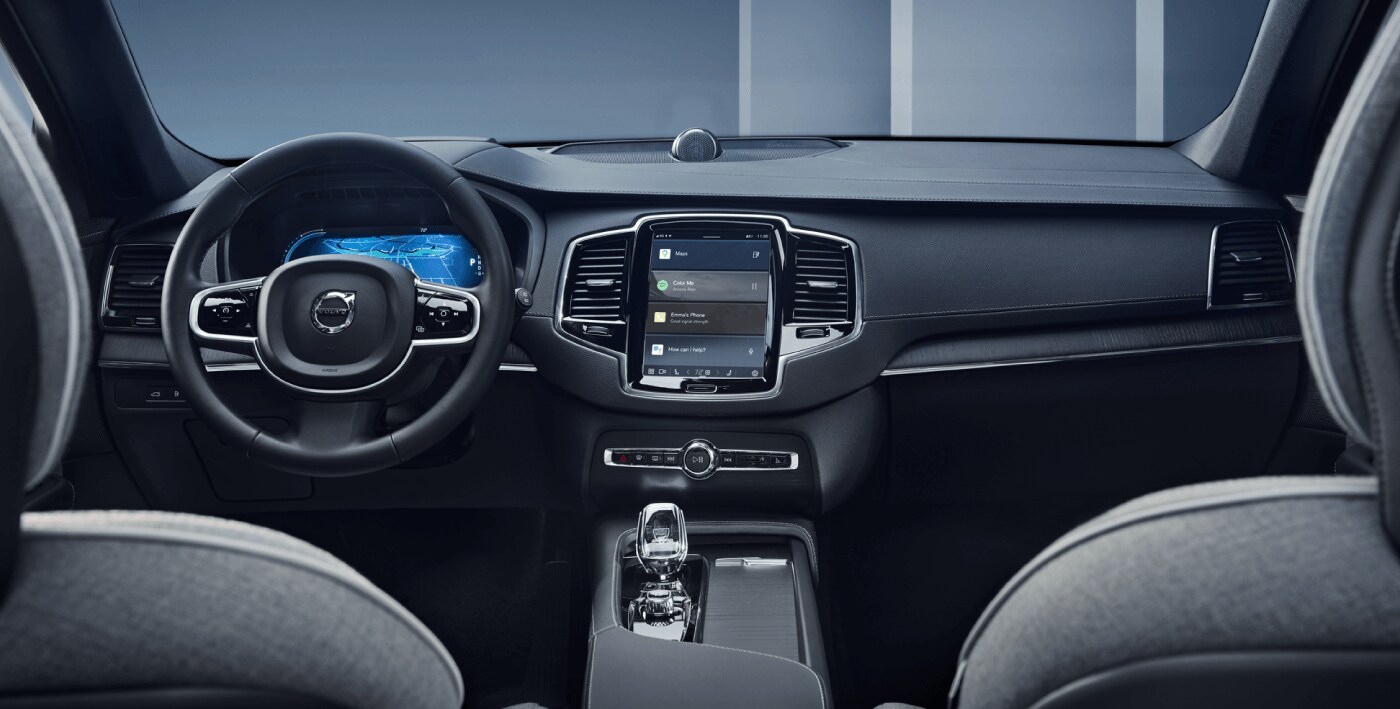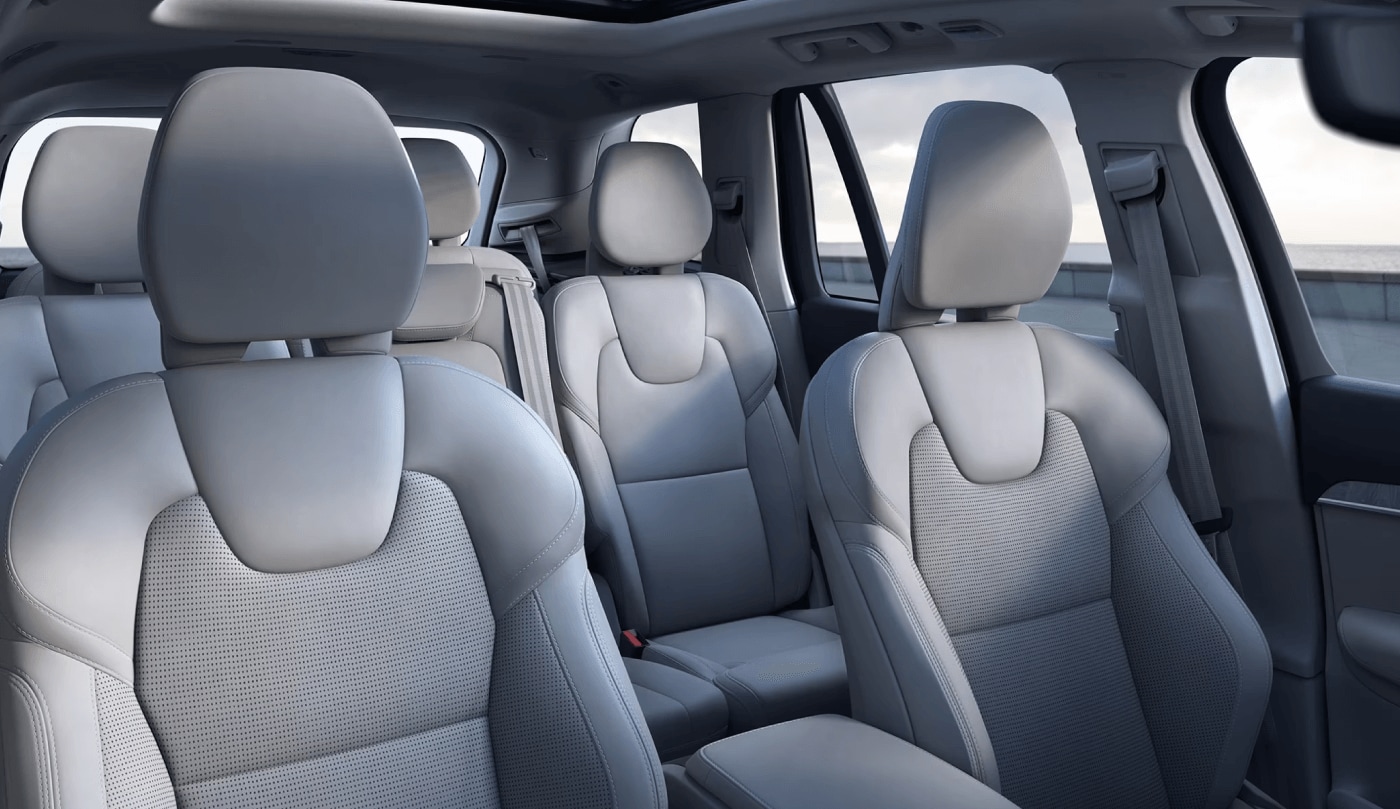 Volvo XC90 Comfort
The cabin of the 2023 Volvo XC90 is rife with luxuries and creature comforts, even on the entry-level model. The base model of the new Volvo XC90 for sale, the Volvo XC90 Core, boasts leatherette upholstery, heated front seats, a four-zone climate control system, and cutting-edge connectivity technology. You'll enjoy the 9-inch touch screen for controlling music and navigation, along with a 12-inch display that shows you crucial vehicle information on a slick digital screen.
The mid- and top-tier versions of the Volvo XC90 are even more impressive. You'll find leather upholstery, heated rear seats, and front seat ventilation as you consider upper-level iterations of the car. Every trim has mid- or high-level interior illumination, making the SUV feel warm and inviting, and the genuine wood interior trim that some versions have is elegant. You and your loved ones will enjoy spending time in the Volvo XC90 interior.
Volvo XC90 Accessories
While the new Volvo XC90 comes with an impressive array of features on every trim, there are also add-on packages and individual elements that you can elect to include on your vehicle. The Climate Package is available for the Core model and includes heated rear seats, headlamp cleaners, and a heated steering wheel. It's not an option for the Volvo XC90 Plus and Ultimate trims because the features come standard on those versions of the SUV.
The other available features package is the Protection Package Premier. It includes wheel locks, a first aid kit, a stainless steel bumper cover, rubber floor mats, and a plastic luggage mat for the cargo area. These items work together to keep your vehicle clean and secure. The first aid kit is something that our team here in San Antonio, TX, hopes you never need. That said, it's better to have it and not need it than to need it and not have it.
You can also purchase individual add-on items like mud flaps, running boards, load bars, a retractable trailer hitch, or a luggage cover. These items allow you to customize your new luxury three-row SUV to meet your individual preferences and needs.
Volvo XC90 Technology
Media and Touch-Screen Displays
As noted above, the Volvo XC90 boasts a 9-inch touch screen and a 12-inch digital driver's display. You can wirelessly connect your cell phone to your new luxury vehicle, allowing you to access your favorite tunes and podcasts through the sleek touch-screen interface. The built-in Google technology that comes with every new Volvo XC90 for sale allows you to call and text your friends and family without taking your hands off the wheel. You can also use Google Maps and the Play Store.
The 12-inch digital driver's display is configurable, showing you the information you want to see. It comes with two different modes: Calm and Navi. The display keeps you updated as to your vehicle's condition. The Volvo XC90 comes standard with all of the technology that you and your loved ones need for our modern age.
Volvo XC90 Features
The Volvo XC90 features list, as we discussed above, is quite impressive. Every model, for example, enjoys heated front seats and four-zone climate control. This pair of features works together to keep you and your passengers comfortable – both on chilly mornings and hot summer afternoons. The Ultimate trim boasts ventilated front seats, heated rear seats, and a heated steering wheel, offering even more control over the climate in your new luxury vehicle.
Some of the other impressive features found in the Volvo XC90 include an auto-dimming rearview mirror, controls built into the steering wheel, and a high-performance audio system. The base sound system is a 10-speaker setup, but an air-ventilated subwoofer and 14-speaker sound system are available for folks who enjoy truly resplendent auditory experiences. The Volvo XC90 features are quite impressive, to say the least.
The Volvo Cars App
The Volvo Cars App enables you to manage a number of different aspects of your new luxury SUV without even having to be in the car. You can use the app to turn on the air conditioning in the morning before you've even gone out to the car. If you've opted to purchase the plug-in hybrid Recharge model, you can also check its charging level from your phone. You can also lock and unlock the car using the app, so your spouse or kid can get whatever they left in the car, even if you're out of the house.
The Volvo Cars App is also useful for scheduling. You can use it to make a service appointment at your friendly local dealership and to get real-time support if you're experiencing an issue on the road. As we'll discuss below, your warranty includes roadside assistance, which you can summon via the app. The Volvo Cars App is a compelling part of owning a new Volvo XC90 for sale.
2023 Volvo XC90 Performance
| | 2023 Volvo XC90 Core | 2023 Volvo XC90 Plus | 2023 Volvo XC90 Ultimate |
| --- | --- | --- | --- |
| Horsepower | 247 hp | 295 hp | 295 hp |
| Torque | 258 lb-ft | 310 lb-ft | 310 lb-ft |
| Transmission | Automatic | Automatic | Automatic |
| Fuel Economy Combined | 25 MPG1 | 22 MPG1 | 22 MPG1 |
| Fuel Type | Gasoline/Mild Electric Hybrid | Gasoline/Mild Electric Hybrid | Gasoline/Mild Electric Hybrid |
| Storage/Cargo Capacity | 65.5 cubic feet | 65.5 cubic feet | 65.5 cubic feet |
| Towing Capacity | 5,000 lbs2 | 5,000 lbs2 | 5,000 lbs2 |
| Seats | 7 | 7 | 7 |
| Dimensions H/L/W | 69.9 in/195 in/79.1 in | 69.9 in/195 in/79.1 in | 69.9 in/195 in/79.1 in |
Volvo XC90 Trims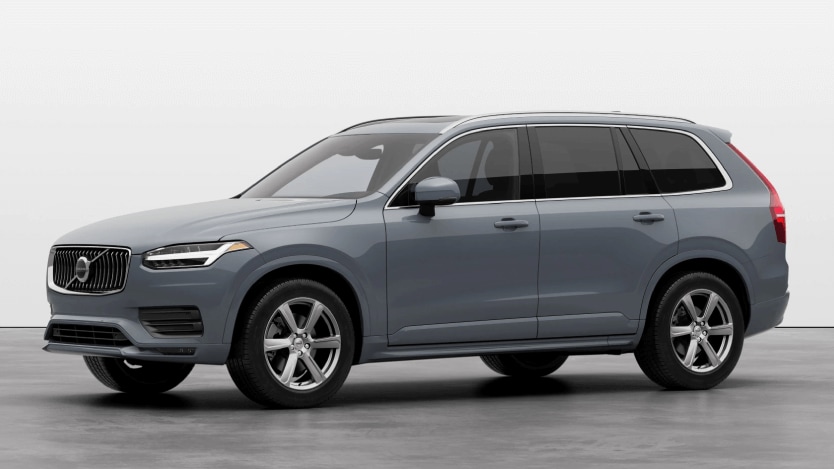 Volvo XC90 Core
---
The Volvo XC90 Core comes with a wide variety of standard features. You and your loved ones will enjoy integrated roof rails that make it easy to pack extra cargo on top of your SUV. The interior boasts leatherette upholstery, mid-level illumination, and sleek Iron Ore illuminated decor that pays homage to Sweden's industrial past.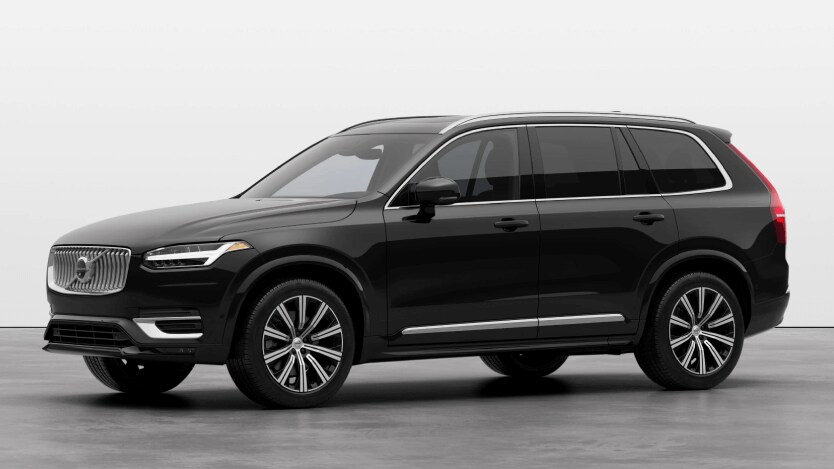 Volvo XC90 Plus
---
The mid-tier option for the Volvo XC90 adds a number of goodies on top of those found on the base model of this sleek luxury SUV. You'll have a 360-degree view camera, a heated steering wheel, heated rear seats, leather upholstery, genuine walnut wood interior decor, and 20-inch wheels. The Plus trim is a great choice for drivers in San Antonio, TX.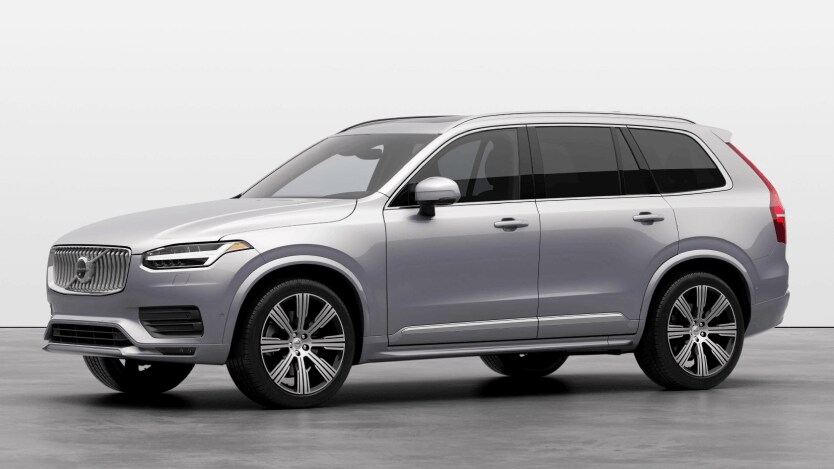 Volvo XC90 Ultimate
---
The Volvo XC90 Ultimate is the top-tier version of this sleek three-row luxury SUV. It boasts Nappa leather upholstery, ventilated front seats, and the mind-boggling Graphical Head-Up Display feature. This futuristic technology projects navigation directions and vehicle information onto the bottom of your windshield, allowing you to focus on the road while staying on track.
2023 Volvo XC90 Colors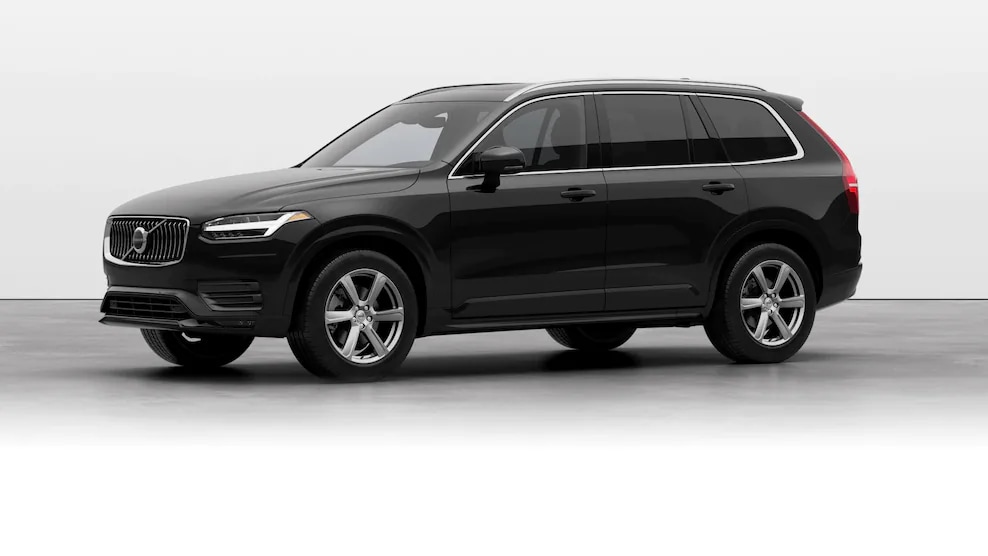 Volvo XC90 Safety
The new Volvo XC90 is replete with safety features to help you navigate the streets and highways near Boca Raton, FL.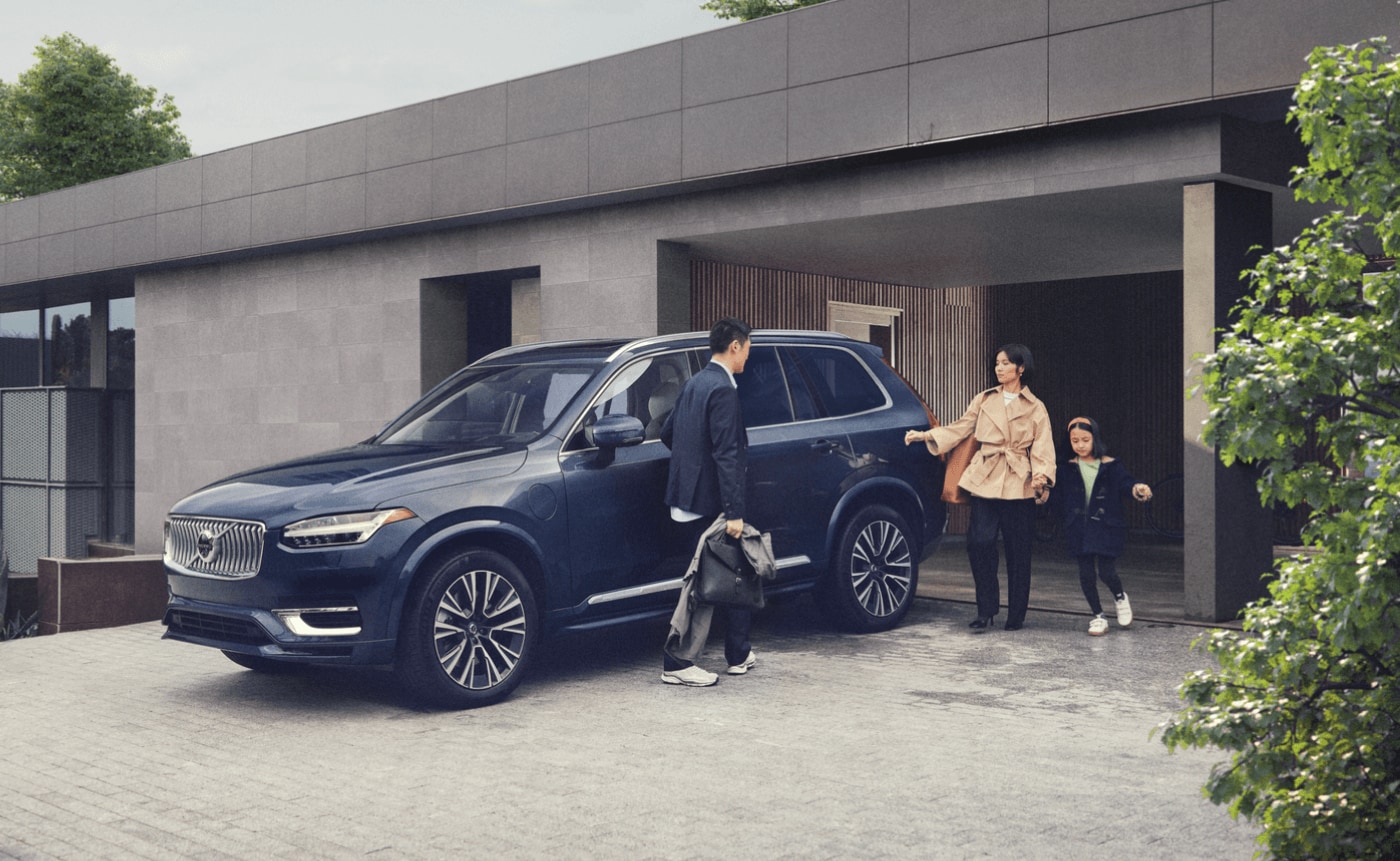 Reliability
Volvo Cars have a reputation for being durable and dependable. The Volvo XC90 specs include the fact that the vehicle is powered by a turbocharged (and at times supercharged) 2.0-liter four-cylinder engine. This configuration is efficient and designed to last for a long time. Volvo Cars uses durable parts in the construction of their vehicles, meaning that you can expect a new Volvo vehicle to serve you well for many years after you purchase it. Of course, this depends on you to an extent – if you skip maintenance, the car is more likely to suffer problems.
The durable construction and effective design of the new Volvo XC90 for sale generally keep these SUVs on the road for many years. As we'll discuss below, your purchase of a new Volvo XC90 also includes some complimentary maintenance services that will help you keep your new luxury SUV running smoothly.
Volvo XC90 Safety Features
Volvo Cars places a significant emphasis on safety. Every model of the 2023 Volvo XC90 comes with a wide variety of safety features, including:
Adaptive cruise control
Road sign information system
Blind-spot monitoring with rear cross-traffic alerts
Lane-keeping assistance
Rain-sensing technology with slippery road alerts
A rearview camera
An oncoming lane mitigation system
Parking assistance technology
These features work together to try and keep you and your loved ones safe on the roads and highways in San Antonio, TX. While these systems are cutting-edge, they are not a substitute for safe driving. They can, however, help you navigate the dangers of the road more effectively.
The Plus and Ultimate trims offer even more safety features. The 360-degree view camera makes it easier to park in tight spaces, while the Graphical Head-Up Display helps you keep up with navigation directions without taking your eyes off the road.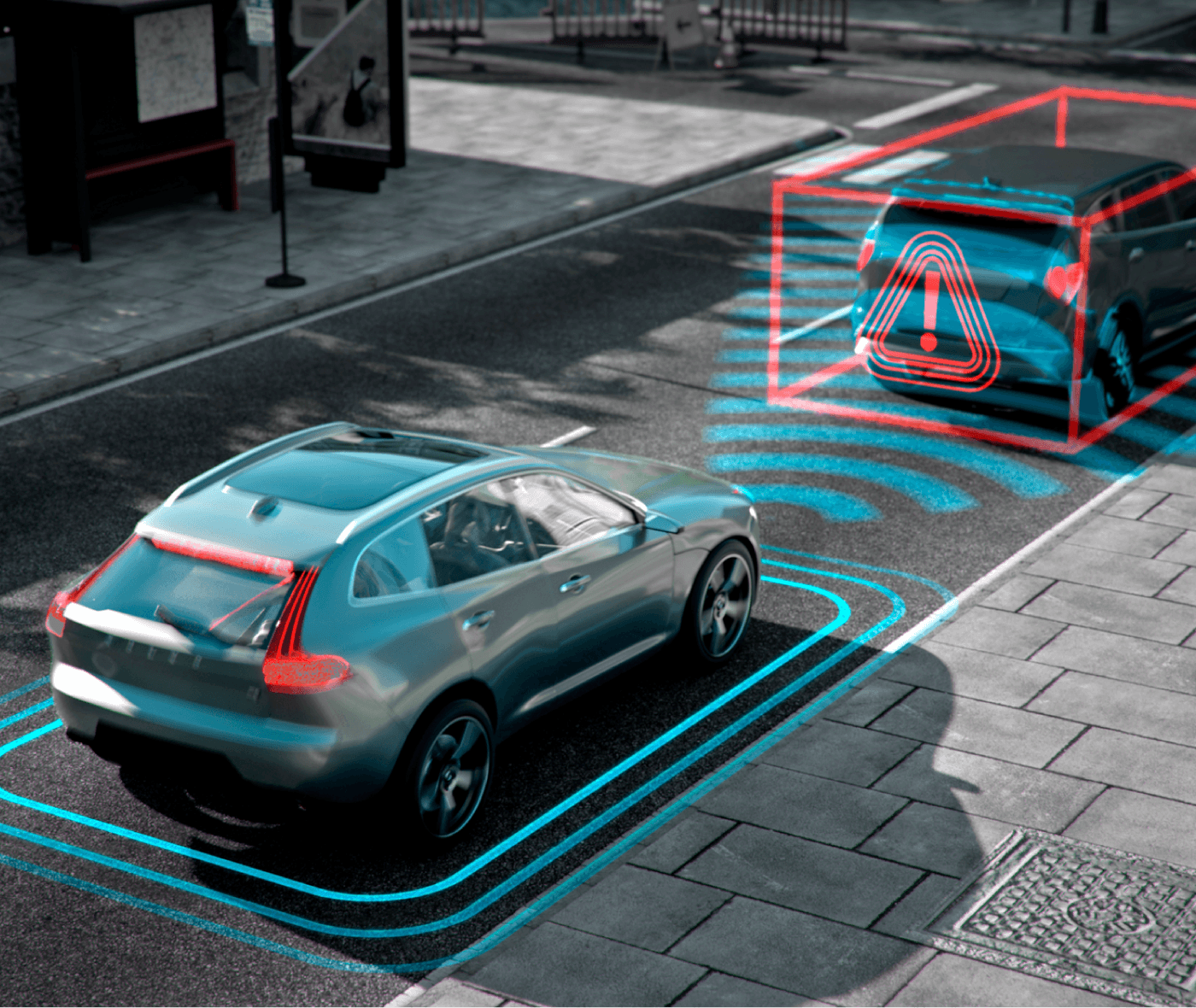 2023 Volvo XC90 Warranty and Maintenance
The Volvo Warranties
When you buy a new Volvo XC90 for sale, it will enjoy bumper-to-bumper coverage for four years or 50,000 miles on the road, whichever comes first.2 This coverage is incredibly competitive – some other automotive manufacturers offer only two or three years of coverage, with lower mileage caps. Once you've surpassed the 50,000-mile mark or four years of ownership, the warranty enters a new phase of coverage.
Your 2023 Volvo XC90 enjoys 12 years of corrosion coverage that does not have a mileage cap.2 Your vehicle also has an eight-year or 80,000-mile federal emissions warranty2 that covers the catalytic converter and other emissions-related parts and systems on your new luxury SUV. This level of coverage provides peace of mind to drivers in San Antonio, TX.
Volvo Maintenance Coverage
Your new Volvo vehicle comes with the Factory Scheduled Maintenance program when you purchase it. It lasts for three years or 36,000 miles of driving in your new car, whichever comes first.2 This program covers your first three years of regularly scheduled maintenance visits, including thorough examinations of a variety of active and passive systems in your vehicle. The Factory Scheduled Maintenance program offers incredible value on top of the already luxurious and powerful Volvo XC90.
The Volvo Cars team understands that your schedule is busy and that fitting a maintenance appointment into your busy week can be a real pain. The Volvo Valet program works to solve this problem. A team member will pick up your vehicle, bring it to the service bay, and bring it back to you once your service appointment has been completed.3 Getting your vehicle maintained has never been easier.
Volvo XC90 Competition
Both the Volvo XC90 and INFINITI QX80 are luxury three-row SUVs, but the Volvo XC90 has several advantages over the other vehicle. Whereas the least efficient Volvo XC90 gets more than 20 miles to the gallon,1 the INFINITI QX80 doesn't. Over the course of a few years, the INFINITI QX80 will cost you far more at the pump than the Volvo XC90 will.
The Volvo XC90 also boasts a refined sense of style. The INFINITI SUV is boxy; it won't stand out on the road or in your driveway. The Volvo XC90, on the other hand, is sleek and stylish, ensuring that folks will notice when you arrive – and when you leave.
Volvo XC90 vs. Lexus RX 350
The Lexus RX 350 used to be offered as a two- or three-row luxury SUV. For the 2023 model year, however, the three-row option has been removed. Right off the bat, the Volvo XC90 looks more appealing. When we peer under the hoods of these two luxury SUVs, it becomes apparent that the Volvo XC90 also has a better powertrain lineup.
The strongest engine on the Lexus RX 350 is the base engine, a turbocharged four-cylinder that makes 275 horsepower. If you upgrade to the Lexus RX 500h F Sport Performance model, you can unlock the turbocharged 2.4-liter engine, which outputs 367 horsepower. The most powerful Volvo XC90 engine, however, comes on the Recharge model. It makes 455 horsepower, blowing the Lexus SUV out of the water. Again, the Volvo vehicle is the winner.
Volvo XC90 vs. Acura MDX
The Acura MDX is another three-row SUV that tries to compete with the Volvo XC90. While it has better fuel economy than the INFINITI QX80 and a stronger base engine than the Lexus RX 350, the vehicle fails to unseat the Volvo XC90. The Volvo vehicle has a more refined interior with a better lineup of standard features, to say nothing of its more fuel-efficient engine options.
Thank you for reading our Volvo XC90 review. This vehicle offers efficiency, power, luxury, and style to drivers in San Antonio, TX. No matter the configuration you select, it provides excellent value for your money. Visit our dealership today to take our bold new Volvo XC90 for sale out on a test drive.
Frequently Asked Questions
How much horsepower does the Volvo XC90 have?
The Volvo XC90 has three different available powertrains. The entry-level B5 AWD setup makes 247 horsepower and 258 pound-feet of torque. The mid-level B6 AWD powertrain outputs 295 horsepower and 310 pound-feet of torque. The plug-in hybrid T8 eAWD powertrain makes a whopping 455 horsepower and 523 pound-feet of torque.
How fast is the Volvo XC90?
The answer to this question depends on the powertrain you select. A 2023 Volvo XC90 B5 AWD can accelerate from 0 to 60 MPH in 7.3 seconds. The upgraded B6 AWD powertrain allows you to do this in 6.4 seconds. The plug-in hybrid Volvo XC90 Recharge can rocket from 0 to 60 MPH in just five seconds, thanks to its muscular plug-in hybrid powertrain.
How much cargo space does the Volvo XC90 have?
The bold new Volvo XC90 offers drivers 65.5 cubic feet of cargo space with the third row folded down and 85.7 cubes with the second row folded flat. These are tremendous capacities that will allow you to haul all sorts of things around with ease. You can take the kids and everyone's gear out for a weekend getaway in the Volvo XC90.
Does the Volvo XC90 have good gas mileage?
Every version of the Volvo XC90 uses hybrid technology and gets great fuel economy ratings. A Volvo XC90 B5 gets an EPA-estimated 22/28/25 MPG (City/Highway/Combined).1 The B6 model, which adds a supercharger to the B5 configuration, gets an EPA-estimated 20/26/22 MPG (City/Highway/Combined).1 The plug-in hybrid Recharge model gets an EPA-estimated 58 MPGe (Combined).4
Is the Volvo XC90 an AWD vehicle?
Every version of our new Volvo XC90 comes with all-wheel drive as a standard feature. This drivetrain offers you a better connection to the road and more control over your vehicle. During a storm or after a freeze, this can help you stay safe on the roads. Visit us today to take the all-wheel-drive Volvo XC90 for a test drive.
Explore Our Other Volvo Models
---
1For more information, please visit the official US government source for all fuel economy at www.fueleconomy.gov.
2Warranties listed on this webpage shall not be solely relied upon. Warranties may be subject to specific terms, restrictions, exclusions, and fees. Additional warranty information may be obtained by visiting the official website of the warranty provider. Contact our dealership for complete details.
3Volvo Valet is only available at participating retailers. Loaner vehicles are subject to dealer availability and policies.
4This is a hybrid plug in vehicle. Since electricity is not measured in gallons, a conversion factor is used to translate the fuel economy into miles per gallon of gasoline equivalent (MPGe). Use for comparison purposes only. Your MPGe will vary for many reasons, including but not limited to, driving conditions, how and where you drive, how you maintain your vehicle battery-package/condition, and other factors. For more information, including information on MPGe, see www.fueleconomy.gov